How to Solve the Challenge of Marketing ROI
For decades, marketers have hidden behind the tacit acceptance that "half of the marketing we do is effective, we just don't know which half."
While John Wanamaker was specifically referring to advertising all those years ago, we know this challenge applies to all the marketing channels we use in in today's digital, social, and mobile-connected world.
A Demandbase study found that 71% of advertising campaigns fail to meet expectations.  And 96% of digital marketers admitted that their advertising was a waste of money. Digital ads don't work. And everyone knows it.
The pressure from CEOs and boards will only increase, as they demand to see marketing investments produce business results and a measurable return. Marketers need to highlight the value we bring to our organizations and present marketing as a strategic financial asset, with strategic business value that executives can understand in their own terms.
Solving the challenge of Marketing ROI does not have to be rocket science. The first step is simply in committing to measuring it. In this article we'll cover the challenges, considerations, and approaches you can take right now to solve the marketing ROI challenge.
Marketing ROI Challenges
Since marketing is such a varied field, there are a gazillion obstacles that affect the smooth execution of every campaign. The most common challenges in proving ROI on your marketing include: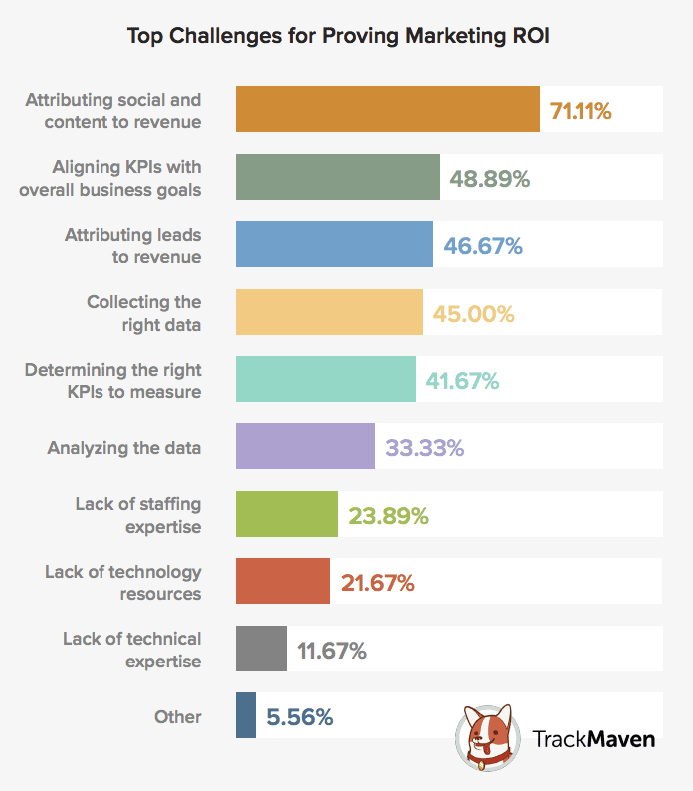 Many marketers struggle with measuring marketing ROI due to following reasons:
Time: The process seems overwhelming when you consider all the channels, content, and agencies that support marketing efforts.
Data and Tools: How will we collect the data and what tools do we need to get the job done?
Skills: Analytics, Finance and Accounting are the not the strongest skill sets for many traditional marketers. The mad-men days are over as analytics is now a key skill for marketers to possess.
Approach: What's the best or easiest way to calculate ROI for your business?
Overcoming these challenges does not require an MBA in Finance, huge investments in technology, or a whole new team.
Difficulty in Quantifying Marketing ROI
According to a global survey conducted by programmatic marketing and analytics firm DataXu, this is the greatest challenge marketers currently face.
Over two-thirds of marketers surveyed say developing a deeper understanding of marketing technologies is critical to their marketing ROI and success. Further, 41% of global marketers and 37% of U.S. marketers said the biggest challenge facing their organizations is developing an efficient marketing mix across channels and platforms to deliver the best marketing ROI possible.
But a common roadblock they face in doing so is poor visibility into their metrics to identify what is working and isn't, making it extremely difficult to measure the effectiveness of each channel. Some of the marketers surveyed attributed this challenge to the number of marketing technology platforms and vendors they need to manage. For many, they are working with ten or more platforms and vendors across the martech landscape, which makes it difficult for marketers to get a unified measurement.
The president and CEO of DataXu Mike Baker also thinks the measurement problem is caused by the "wall gardens" many companies have built around their channels. Digital platforms like Facebook and Google may be able to offer marketers better customer insights into how their marketing is performing within each wall garden, but the problem for marketers is that these platforms cannot measure one another.
Without a unified measurement across these different walled gardens, marketers do not have a way to effectively measure and compare their marketing investment and ROI.
Solving The Marketing ROI Challenge With "Simple ROI"
Can your business answer the question: "what's the ROI of your Marketing?"
Warning! Math ahead: The answer is as simple as measuring revenue generated from marketing activities, less the investment you made to generate that revenue, and divided by the investment.
Now I am not a math expert. (In fact, I became an English Literature major in college after taking Finance and Accounting 101 courses.)
But even I can see that what's interesting about this simple calculation, is that investment shows up twice. This means that for the majority of organizations, all you have to do is get more results from the same budget. Or get the same results with less budget.
This involves making trade-off calculations. And it means canceling programs that don't produce a measurable return.
How are those banner ads working out for you? What about the sales brochures your team spend a ton of money creating?
If you can't measure the return on marketing activities, simply stop investing in them. This is why content marketing is so effective. With a relatively low cost (compared to advertising) and a high measurability factor, showing the ROI of content marketing is just simple math.
Building the Business Case for Your Campaigns
Too often, budgets and marketing plans are simply based on last year (minus some standard percent). Or we look at all the people we have and determine who should have funds based loosely on the priorities those people represent. I have met and spoken to people from companies far and wide who have shared this experience! And this makes me want to scream: Whatever happened to the business case?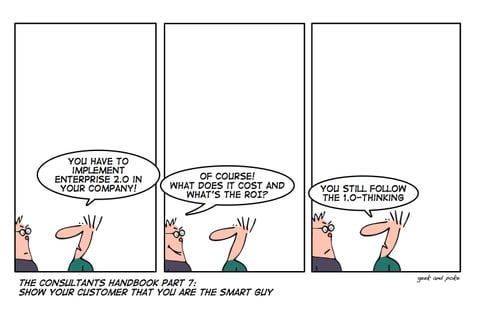 Building a business case is hard because it starts by questioning the conventional wisdom. It can mean challenging those above you. But if it is done right, this approach can mean better results and accolades for you and your management team. Higher risk = higher reward. I don't even believe there are risks. Challenging conventional wisdom in a respectful way can lead to the kind of insights that most people miss. And that can bring huge rewards.
In the marketing strategy post I referenced above, I mention an old boss. He was the marketing leader of a former company. I actually followed him on my own career path as he rose through the ranks. He was respected in some cases and in other cases he was more feared. I just thought he was smart. And here's why: if you wanted funding, you had to create a business plan. If you had a new idea and wanted to propose a change in strategy, you had to present a clear and concise business case.
What I am talking about is an actual document, not a series of slides. And the document had to include words in complete sentences and financial calculations and projections performed by a financial business partner in our company. Sales projections? These had to be validated by the sales folks. Operational dependencies? These had to be agreed to by the Ops folks with the expected costs and required resources identified.
That can all sound very intimidating. And here is what he used to say: I know it sounds like a pain.  But it will force you to focus your ideas. And at the end of the process, you may find you don't have a strong business case. Great! Move on. But if you do, then you've not only proven the potential, but also practiced how you'll sell it to your organization.
So as you finalize your new marketing campaign for each channel, ask yourself if you have a solid business case. Are you solving the harder but more pressing issues faced by your company? Or are you surviving and going with the flow?
8 Steps to Marketing ROI: Approaches and Considerations
So you've committed to measuring and presenting ROI for your marketing activities. How do you get started?
Take a "simple ROI" approach for your entire team by identifying and including all "variable costs" such as media spend (advertising), and agency costs, as well as "fixed costs" such as salaries plus benefits and technology investments.
Then use marketing-generated revenue to calculate overall Marketing ROI. Present this to the CEO and show him that Marketing has strategic value and is tied to the larger business objectives. Track and present overall Marketing ROI at each board meeting, and then optimize your marketing activities that produce the best return.
Analyze campaign-level ROI. Here again, I recommend taking the simple approach. Measure the return of each program you run based on only the variable campaign investments of increased creative, content, media and agency expenses. And then approach every campaign with the same "simple" lens.
The alternative is to apply a percentage of the fixed costs (salary, benefits, technology) to every campaign but this adds complexity that can be burdensome. For example, do you include corporate expenses? I think it's important to understand that ROI measures are different from Financial statements and P&Ls which should include all fixed and variable costs. Still stuck?
Partner with your finance and accounting colleagues. They can help with complicated formulas such as "hurdle rates," NPV (Net Present Value), and IRR (Internal Rate of Return) when considering investments in various marketing activities. The variables they use should also be included in analyzing ROI after a campaign has run. Get their support and alignment as you present to the management team.
Consider time-frames. Marketing results don't happen overnight. And many campaigns from last year might continue generating results this year and next. My advice is to look at your average deal cycles. If it takes your customers 6 months to navigate their buyer journey to a purchase, then look at an even longer timeframe for Marketing ROI.
Tools and technology can be used to help. CRM systems have become ubiquitous and mandatory technology for modern marketers. Make sure every campaign has a tracking code, measures some results that can be quantified (leads if not revenue). And if you can, ask your team to include variable budgets in your CRM system.
Some research suggests that the average buyer touches 10-20 pieces of content before making a purchase decision. "Multi-Touch Attribution" can help assign value across multiple campaigns. This may require some special tools and skills, but some common approaches are "first-touch" (assigning all value to the first campaign that touches a buyer), "last touch," or "weighted" where some level of attribution is applied across all marketing campaigns that touch the buyer.
See also: 7 Content Marketing ROI Tools and Templates
Marketing Investments With Compounding Rates of Return
The best way to demonstrate marketing ROI: Stick to programs you can measure. What's the ROI of logos on a famous golfer's hat? I have no idea.
Digital Content Marketing programs are financial assets with real value that you can prove!
Content marketing is about acting like a publisher and sharing your expertise on a digital property you own.
If you track the sales and leads from these platforms, you will see a compounding rate of return from marketing, much like your 401K retirement account. See this example:
ROI is not a perfect science for marketing. The biggest challenge is committing to measure it in the first place. Then use it in making budget and investment decisions.
Because the "investment" part of the equation is so important, just stopping the marketing activities that don't provide a measurable return is often the easiest way to improve your Marketing ROI. Then invest that "found" money into content marketing and other digital programs you can measure and optimize.
Get a Free Consultation
for Content Marketing