I just read that in the year 2100, Nigeria will be the 2nd most populous country. And that by 2100, populations will plunge a lot across what we call the  "developed world" (hate that term – it's so condescending isn't it?)
Statistics can help us see into (and plan) for the future. This is true for life and one of my favorite things to do for marketing. Recently, we looked at quotes from CMOs and influencers on the future of marketing.
Now let's look at some of the hard data. so you can plot the right marketing strategy for your team's future.
Traditional market research often falls short when new technology and new ideas have the potential to become game-changers. With today's tech-driven world, then, marketers must look for developments that are possible — and promise huge impact.
The future of marketing, it would seem, must include a futurist's intuition, a dash of creativity, and the ability to see what can lie ahead. When it comes to marketing, fortune indeed favors the bold.
Quick Takeaways:
Diversity is not a political issue. It's a fact. So open your culture to a diverse workforce, and leveraging that knowledge.
Optimize all your marketing for mobile, emphasizing geolocation and AI-enabled suggestions.
Keep an eye out for new trends and technologies that can streamline your marketing strategy.
Use these statistics as your springboard into innovation.
1. Millennials Will Not Compose 75% of the Future Workforce
Conventional wisdom has pounded the point home that by 2025 (or in some versions of the myth, by 2030), millennials will become three-fourths of the nation's workforce. As Anita Lettink shows, that old saw is a bit of a myth.
Blame a few fuzzy data in a 2011 study. And the chorus of otherwise sensible publications — including PWC, Brookings, EY, Deloitte, Allianz, and the World Economic Forum, to name a few — echoed the tune.
Marketers glommed onto it, plotting their future strategy on its gospel truth. If you read marketing publications as much as I do, you've seen your fair share of blog posts, white papers, and videos that reference it.
Certainly, millennials will become a driving force in tomorrow's workplace. However, they've already maxed out their presence in the workforce, as Lettink points out.
Generation Z, she shows, will rise in numbers among the nation's workers. In fact, unless plenty of 65-plus workers buck today's trend of staying on the job longer, millennials won't likely even reach the 50 percent mark.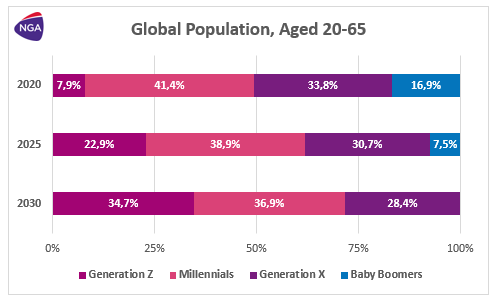 For marketers, this myth-busting fact means that they'll need to diversify their approach to reach every generation.
It makes my case for personalizing content, doesn't it?
When you personalize content for every segment of your target customer base, you'll be sure to hit the mark every time.
2. A Billion New Consumers in Emerging Countries Will Tip the CPG Market Balance
A McKinsey report predicts that the growth of consumer packaged goods (CPG) outside the traditional West foreshadows an overseas boom, particularly in Asia. With US soda brands bringing in over half their revenue from outside the country, other CPG brands have leaped into the fray.
Their collective revenue has caught the attention of investors, driving CPG stocks to outperform the S&P — and even high-tech industries, such as IT, telecom, and energy. With a 10-percent rise in shareholder returns over the past 25 years, this industry shows no sign of stopping.
In fact, CPG industry leaders have upped the ante on innovation, anticipating changes to maintain their lead. Their move outside the West continues that drive. With a billion new consumers emerging from non-Western, largely Asian, markets, it looks to be a savvy move.

Marketers would be wise to create content that appeals to Asian and other markets in emerging nations. Hiring locals who know the nuances of the language is critical to avoiding "lost-in-translation" moments.
Creating an internal culture that celebrates diversity across the global enterprise shouldn't only be HR's responsibility. Your marketing team should take the lead in communicating that openness.
Last year alone, CPG online sales in the U.S. totaled $58.6 billion, which accounts for 11% of total CPG retail sales.
3. The Role of the Digital Consumer Will Continue to Rise
That same McKinsey study reported that in 2010, the percentage of online CPG purchases was already at six percent. It's now at 11 percent and rising.
I'd bet good money that the shift to digital during the current pandemic will cause this number to rise even faster. As people become used to the convenience of ordering online, it doesn't take a crystal ball to see that consumers won't be likely to give up that advantage.
For marketers, this development means that they'll need to invest more time and money in understanding potential customers and their needs. Audience and content analytics will rise in importance, as will detailed enterprise content marketing strategies that deliver on business goals and ROI.
Social listening will become even more important, as will user-generated content. As consumers do more research online, they'll depend more on what others say about your products and services.
An overwhelming number of consumers (70 percent) already depend on user reviews for information about products and services. That number will only rise as they turn online to do business.
4. Mobile Commerce Will Rise to 44 Percent of Digital Commerce by 2024
What Zenith Media once dubbed the "I-Street" will shift increasingly to mobile in the coming years. In fact, the Business Insider intelligence team believes that mobile commerce will become 44 percent of all digital transactions by 2024.
The reason: convenience. From voice search to delivery and everything in between, a consumer can shop and buy practically anything right from the palm of their hand.
Content marketing needs to lead this transformation. They must:
Optimize everything from static web content to blog posts for mobile consumption, including natural-language searches.
Personalize mobile messaging.
Create intuitive, seamless mobile experiences that make it easy for people to research and buy from a mobile device.
Use in-store messaging to assist customers in finding what they need at a price they want to pay.
5. Virtual Reality Will Likely Generate Nearly $2 Billion in Revenue in 2022
As futurist Blake Morgan points out, virtual and augmented reality (VR and AR) will rise in importance during the next few years. Studies project that the technology will do about $1.8 billion in business during 2022. Consumers are steadily adopting more and more AR and VR applications.
Even for B2B companies, VR will account for 40 percent of their buyer experiences by 2022. The trend shows no sign of stopping, nor should it. Studies show that it slashes garment returns by 25 percent. And, a majority of customers are more likely to buy products or services from a brand that offers them a VR experience.
To prepare for the future of VR marketing, content teams should plan now to get ahead of the game. Using 3D videos and photos, live videos, 3D models, and simulations should be a central part of their digital marketing strategy.
6. Artificial Intelligence Looks to Double Developed Countries' Economic Growth by 2035
Imagine what your team could accomplish if they could hand over most of their customer research to a machine? According to Morgan, if artificial intelligence (AI) usage continues to grow at its current pace, quite a bit.
Studies indicate that the time and effort AI can save will double the economic growth in developed countries by 2035. Even by 2022, Morgan says, AI will replace many of the tasks of data analysts, freeing them to work on other tasks.
Imagine what even this one application could do for your content team. Combine that advantage with AI's personalization and predictive capabilities, and you could double your productivity.
Now imagine what this application of AI technology could accomplish on a global scale. And that's just marketing.
It's no wonder futurists predict an economic growth spurt. If your content team isn't leveraging the power of AI, it's time to start.
7. Geolocation Marketing Looks to Reach $38.1 Billion in 2025
The benefits of geotargeting are indisputable.
Life's about to get real for all those marketers who thought all they had to do was write "best plumber in Pittsburgh" and sprinkle that phrase at awkward places in every post they write.
Today's geolocation allows content teams to pinpoint their audience's location exactly.
Just think of the possibilities.
Dynamic content: In the case of our Pittsburgh plumber, their content could suggest water treatment for those areas around town that have trouble with lime and rust deposits. Customers in high-end neighborhoods might get suggestions about instant hot water installations, and so on.
Shopping suggestions: Geolocation can tell a shoe store, for instance, that a shoe-addicted fashionista is in the area. Automated messaging can alert that potential customer that the store is offering a two-for-one deal on sizzling Ferragamo flats. Or, to get the jump on the competition, that shoe store can send messages to shoe lovers while they're in a competitor's store.
Precise location-based search results: The future of location-based searches takes yesterday's "best X in Y" searches to a whole new level, thanks to mobile technology and voice-based searches. Content marketers can use keywords in a whole new way — to answer questions — to become the one Google suggests when potential customers are out and about.
And much more. It's no wonder that studies project that geolocation marketing will reach over a $38 billion spend by 2025.
For marketers, it pays to have one eye on the now and another firmly focused on the future. Putting these key trends to work for your business is a strategic place to stars.
If you are ready to get more traffic to your site with timely content published consistently, do talk to me about our Content Builder Services. Get started today — and generate more traffic and leads for your business.