I've been working in B2B Marketing long enough to remember how we started as the folks who work the booths at trade shows and created brochures for sales. B2B Marketing has certainly evolved from those simple beginnings.
Soon B2B marketing industry is expected to be worth almost $19 billion by 2027, meaning that this growing digital space is full of opportunity for all of us. As more and more businesses migrate their brick and mortar presence to digital channels, it's important to understand how to succeed in a world saturated with B2B marketing strategies.
Although it can be a challenge, B2B marketing an exciting process that delivers real results. In this post, we're taking an in-depth look at B2B marketing and how each element works to generate quality leads and increase revenue.
Quick Takeaways
B2B marketing refers to any strategy or content used by a business intended to target and sell to another business
About 93% of successful B2B marketing professionals are committed to content marketing
B2B and B2C marketing strategies differ greatly as they are intended to achieve different goals and objectives
Blogs, search, social media and emails are some of most common B2B marketing formats included in effective B2B marketing
73% of B2B companies have recently increased their marketing budgets by 60% 
B2B marketing is adopted by companies to build awareness, generate leads, increase traffic, improve rankings and build genuine relationships.
What Is B2B Marketing?
B2B, or business-to-business, marketing refers to any strategy or content used by a business intended to target and sell products or services to another business. For example, companies that sell SaaS, or software as a service, often target other organizations with B2B marketing.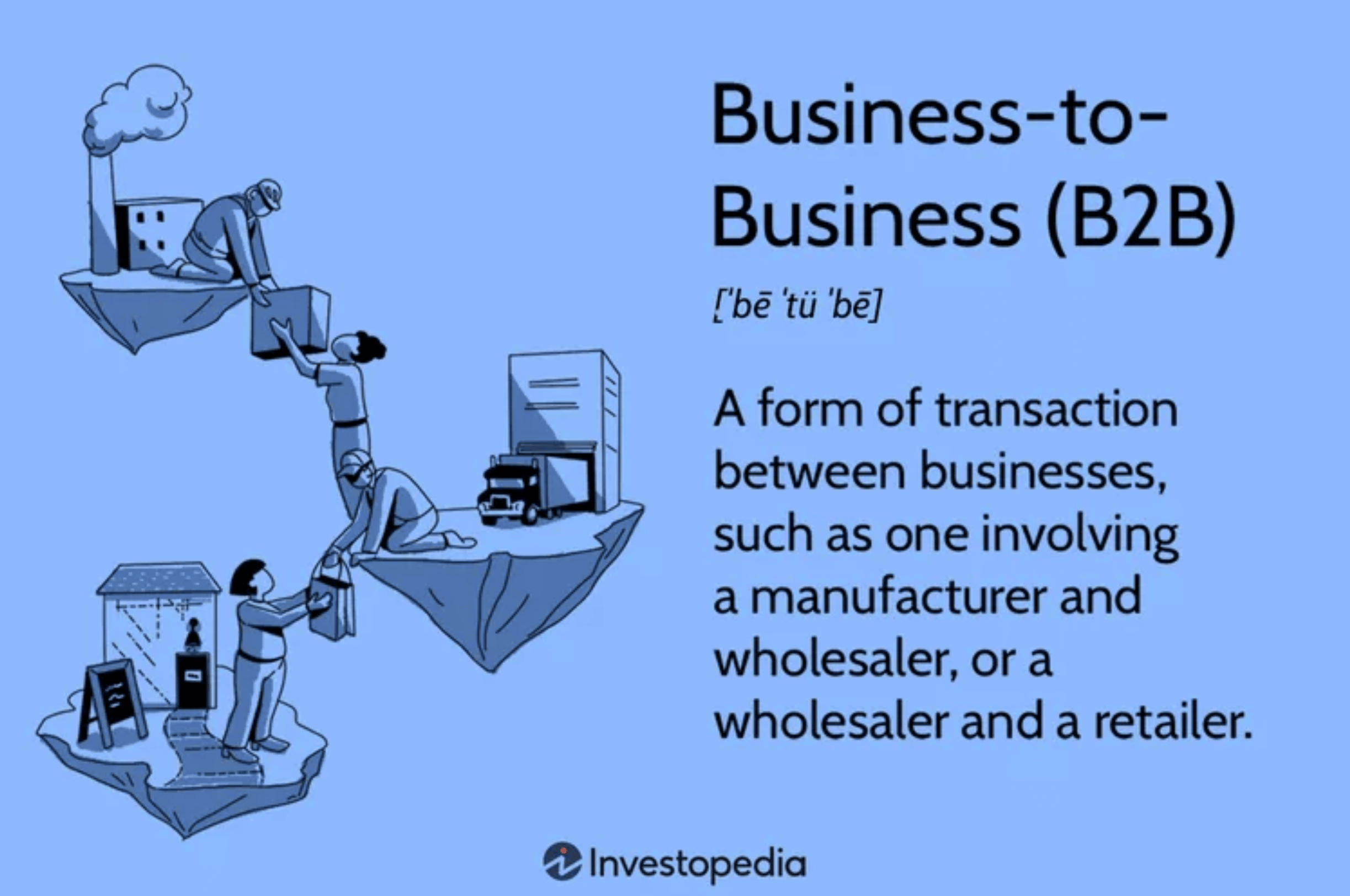 Image Source: Investopedia
As with all types of marketing, B2B marketing is performed to attract quality leads and convert them into loyal customers. Great marketing is key to grabbing and keeping the attention of potential customers, and ultimately turning them into conversions.
And as with traditional marketing, B2B Marketing has a bit of a marketing problem. It needs a bit of a re-definition. Companies don't buy products and services, people do. Let's say that again:
Companies don't buy products and services. People do!
So we need to think about B2B marketing as a form of marketing that is looking to find, engage, convert and retain buyers for B2B products and services. As with the more general definition of marketing, it needs to focus on the people involved. It needs to focus on meeting their needs and solving their problems. It needs to consider that marketing is a conversation. And buildings don't talk back!
Now let's look at some other ways B2B Marketing is different…
B2B vs. B2C Marketing
Now that you know a little about B2B marketing, it's important to understand how it differs from B2C marketing. Instead of targeting businesses, B2C marketing targets customers. B2C companies focus on measuring customer needs, interests and challenges rather than things like delivery of ROI.
Image Source: Cognism
It's important to note that the tone, targeting and style of each type of company's marketing strategy will differ greatly. By understanding the key differences between B2B and B2C companies, you can better develop your own B2B marketing strategy that effectively achieves your goals.
Who Uses B2B Marketing?
B2B marketing is used by companies trying to sell products and services to other companies. Some of the most common B2B companies include:
Marketing Agencies. As more and more companies take their business online, digital marketing is key to generating revenue. Building websites, boosting search rankings and content creation qualify as some of the most in-demand B2B services offered.
Software Companies. Most businesses need software to satisfy their customers and operate efficiently. Whether it's to keep track of expenses or boost productivity, software acts as a solution to many problems experienced by businesses.
Bookkeeping and Accounting. Many companies outsource accounting and tax preparation to save both time and money. Whether you're a startup or Fortune 500 company, hiring a professional to handle your bookkeeping can allow you to focus your attention elsewhere.
Office Suppliers. Today's advancements in technology still require a well-supplied workspace. Furniture, security cameras, ID badges and phone systems are just a few examples of supplies that are crucial to many businesses' operation.
Although these are the most common, there are many types of B2B companies to consider when analyzing the industry and resources required to create products and services.
How To Create A B2B Marketing Strategy
Remember, it takes strategic planning to gain and keep the attention of potential buyers. Building an effective B2B marketing strategy will help your company stand out in a crowded market.
1. Develop Your Vision
Before you dive deep into your new B2B marketing strategy, you need to identify specific and measurable business goals. Then, you can establish a framework for how your marketing strategy will achieve your objectives.
You'll also need to determine how your product and brand are different from those of your competition. By focusing on elements like quality, customer service and competitive pricing, you can address how your business will effectively serve its customers.
2. Define Your Market
Understanding your ideal customer, or target audience, is key to developing a strategy that speaks directly to prospective customers with relevant messaging. Consider the following attributes to help determine who your product serves:
Industry
Company size
Location
Annual revenue
Years in operation
After extensively researching these demographics, analyze your results to match them with your ideal customer. Accurately identifying your market will help generate quality leads in the future.
3. Identify Marketing Tactics & Channels
Once you've identified your market, it's time to hone in on how and where you can reach them. Considering the appropriate marketing channels is key to effectively sharing your content:
Social Media
Email
Paid Advertising
Blog
When determining the best channels for reaching your audience, remember to consider their demographics. Knowing where they spend their time online and what questions they're asking search engines will help ensure you deliver relevant content on the right channel.
4. Create Assets & Run Campaigns
Did you know that buyers do an average of 12 online searches before making a purchase? This means that your company's assets are one of the first interactions prospects have with your brand. To ensure you make a good first impression, it's critical to share content where prospective buyers will find genuine value.
Image Source: Finances Online
Whether you're sharing blog posts, videos or webinars, your assets act as a direct gateway to conversion. With a creative approach, valuable insight and strong CTAs, you can create effective content that generates revenue.
5. Measure & Improve
Analyzing how your content performs is an ongoing process. Understanding why your top-performing content does well and why your low-performing content doesn't will help you create better content in the future.
Measuring your content's performance will also help maximize your company resources and ensure you invest wisely in future efforts. With more focus on analytics and applying your learnings, it's more likely that you'll improve the performance of your content and achieve your goals.
B2B Marketing Content & Tactics
Not sure which forms of marketing content & tactics will work for your business? Here's some of the most common B2B marketing formats to start incorporating into your strategy.
Blogs. Consistently sharing new blog posts and updating old content is one of the best ways to generate organic traffic and visibility. Within your blog, you can discuss any number of topics related to your industry to establish credibility.
Search. Every great B2B marketing strategy accounts for SEO, or search engine optimization. While considering likely-to-rank keywords is key to performing well, it's also crucial to generate high quality content written to answer your audience's questions.
Social Media. Consider both organic and paid marketing to reach and engage potential customers. B2B buyers often use social media channels to research potential purchase decisions.
Whitepapers, Ebooks & Infographics. Assets containing valuable information related to your business can perform as an effective lead generation tool. Consider offering whitepapers, Ebooks and infographics in downloadable forms to demonstrate value and engage your audience.
Email. Encouraging newsletter sign-ups and sending valuable content via email acts as a reminder for prospects to engage with your business.
Livestream Events & Webinars. On average, LinkedIn Live videos get 7x more engagement and 24x more comments than content uploaded directly to a social network. Taking advantage of livestream events and webinars will demonstrate expertise and showcase your dedication to educating your audience.
Case Studies & Customer Testimonials. Demonstrating expertise and establishing credibility within your industry is non-negotiable. Sharing case studies, testimonials and positive customer reviews are effective tools for convincing prospects that your business delivers.
Consistently sharing marketing content is key to making your business stand out from the competition. Developing a B2B marketing strategy that prioritizes content creation is likely to have a positive impact on your audience – so much so that 73% of companies have recently increased their marketing budgets by 60%.
Image Source: Backlinko
B2B Marketing Best Practices
There are many elements that can determine whether a B2B marketing strategy is effective. However, there are a few specific best practices that can help you make the most of your marketing budget.
1. Take Advantage of Data
Data is essential to making quick, accurate decisions and improving customer experiences. Without the use of data in your marketing strategy, you're more likely to waste marketing dollars and lose loyal customers.
By gathering data about customers, analyzing data for trends, categorizing your audience and creating targeted marketing campaigns, you can maximize your marketing efforts and resources. To learn more about different types of marketing data, enjoy the short video below.
Video Source: Multiview
While you're likely to run into challenges as you build a data-driven strategy, using analytics to improve the effectiveness of your efforts is the key to success.
2. Create Personalized Content Consistently
Beating out the competition is much easier when you create a memorable customer experience. Personalized marketing tactics are proven to improve:
Engagement
Customer experiences
Lead generation
Customer acquisition
A recent survey found that 80% of customers are more likely to make a purchase with a brand that offers a personalized experience. Clearly, sharing personalized messages consistently is likely to deliver a positive experience and increase customer loyalty.
3. Share High Quality Content
About 93% of successful B2B marketing professionals are committed to content marketing. That's because with an effective strategy, it's easy to increase leads, boost engagement and demonstrate thought leadership.
Although, it's nearly impossible to reap the benefits of an effective B2B marketing strategy without sharing high quality content. High quality content is defined as content that adds value to its reader and increases their understanding of a topic. It's also important to write content intended to satisfy humans, not search engines.
By consistently sharing high quality content with your audience, it's more likely that you'll address their questions and concerns, and keep them coming back to learn more.
Benefits of B2B Marketing
If you're just beginning your B2B marketing journey, you may be on the fence about its ROI. There's no question that an effective marketing strategy requires commitment, but the benefits make it worth your effort. So much so that 69% of the most successful B2B marketers have a documented content marketing strategy.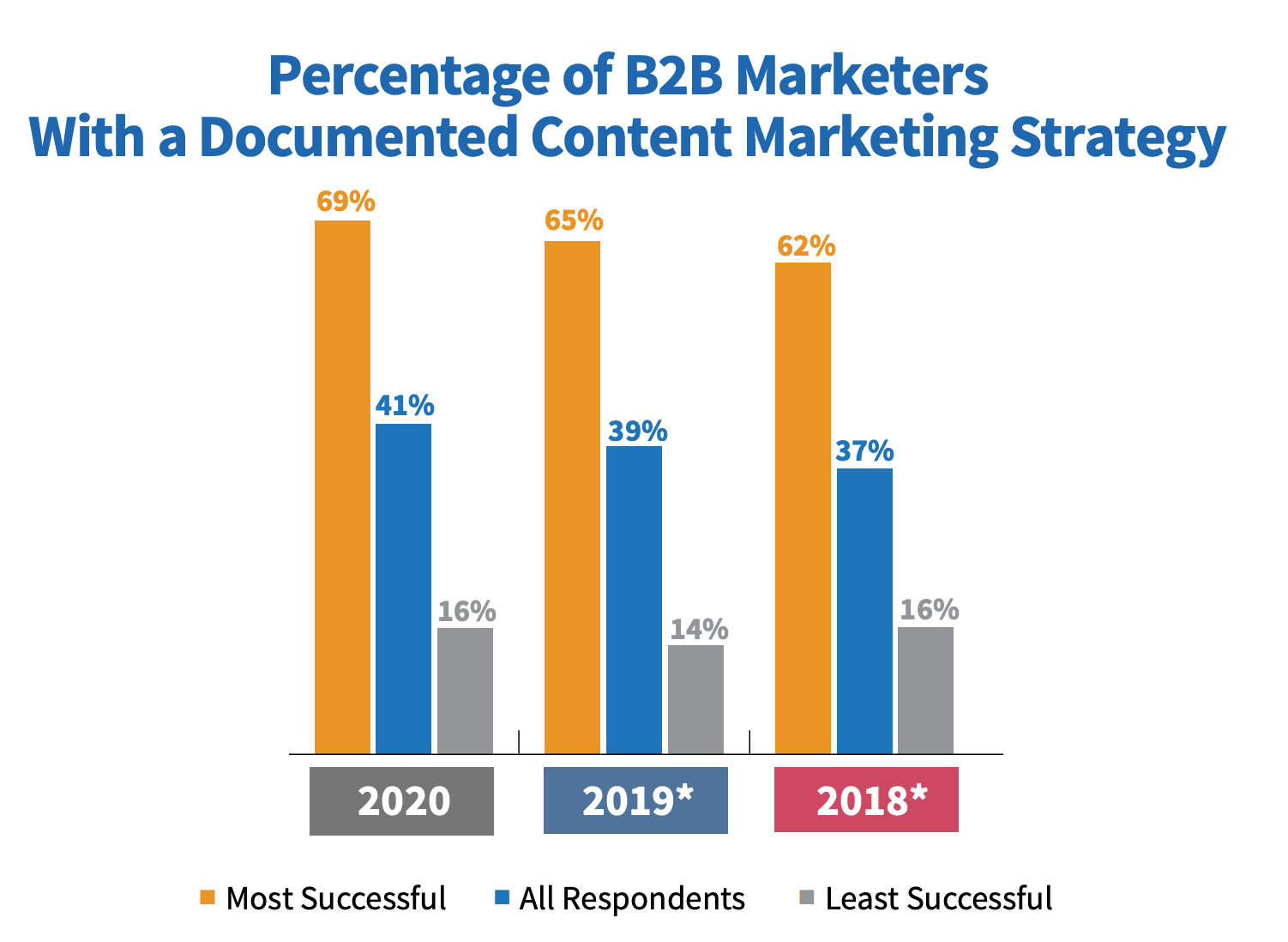 Image Source: Foundation Marketing
Some of the most prominent benefits of an effective B2B marketing strategy include:
Building Brand Awareness. It's important for potential customers to know your business, what it can deliver and how it will benefit them.
Generating Quality Leads. A well-defined B2B marketing strategy will generate leads and introduce your business to prospects.
Driving Traffic. Whether marketing content is viewed on your website or posted to LinkedIn, B2B content marketing will drive traffic to your business.
Improving Rankings. Great B2B marketing will improve your ranking on SERPs, ultimately enhancing your visibility to prospective customers.
Building Relationships. Successful marketing strategies establish your business as an industry expert and build credibility in your field, ultimately helping to build long-term relationships with customers.
Providing Customer Insight. B2B digital marketing strategies offer significant insight into how companies and customers interact with your business.
An effective B2B marketing strategy will enhance the productivity of your business. When your business is productive, you can better maximize both company resources and revenue.
Develop Your B2B Marketing Strategy Today
Building and applying an effective B2B marketing strategy will help build brand awareness, generate quality leads and increase revenue – but it takes a lot of dedication and commitment to see success.
With the help of Marketing Insider Group, you can implement a marketing strategy with minimal effort and expert knowledge. Start perfecting your B2B marketing strategy today by checking out our weekly blog content service today, or schedule a free consultation now!
Get a Free Consultation
for Content Marketing