How to Boost Your Conversion Rate With Predictive Lead Scoring
To make the most out of your marketing budget, it's essential to focus on your leads with the highest chance of conversion. But how do you identify these leads?
It can be very difficult for a human to accurately identify high-quality leads, even with a large amount of data. In fact, the more data you collect, the harder it becomes – as the number of different variables grows, working out the probability of conversion becomes more complex.
Human brains are not great at processing vast amounts of data. This is something that computers excel at. Which is where predictive analytics comes into the picture.
Quick Takeaways:
Predictive analytics uses ML to spot patterns in large data sets and make predictions that aid decision making.
Traditional lead scoring is not good at judging the quality of leads.
Predictive analysis helps identify the most valuable leads, which the sales team can then nurture.
Automation lets you send the right marketing messages to leads, depending on where they are in the funnel.
What is Predictive Analytics?
Predictive analytics uses machine learning algorithms to spot patterns in large sets of data and to predict trends and outcomes.
These are predictions only. There are no guarantees that the outcomes identified will be correct, but statistically speaking, they are more likely to occur than other outcomes.
Predictive lead scoring is just one use of predictive analytics in marketing. As well as identifying potential customers, it can also be used to predict the success of products and project a customer's future buying habits based on his past behavior, optimizing your marketing materials and helping to improve the ROI of your marketing activities as a whole.
Based on these predictions, you can use "prescriptive analytics" to make decisions and analyze their effects.
Predictive Vs. Traditional Lead Scoring
In traditional lead scoring, a sales team will manually assign a score to each lead based on how likely they think they are to convert.
These scores are usually based on a combination of data such as age, gender, job title, and salary range along with any information available about their past behavior and interactions such as email opens and click-throughs.
The problem with traditional lead scoring is that it's overly simplified. It's better at identifying bad leads than picking out the best leads. Scores are also fairly arbitrarily assigned based on personal experience or intuition rather than thorough data analysis, and may not be terribly accurate.
Predictive lead scoring uses predictive analytics to take data from various sources including CRM systems, marketing automation platforms, and social media, and then assigns a score based on algorithmically-calculated predictions of buying behavior.
As the algorithm is constantly learning and adjusting based on real-time data, it is continually improving. It will become more accurate as it processes more data and leads.
Predictive Lead Scoring Bridges the Gap Between Marketing and Sales
Your marketing and sales teams both have roles that are vital to your business success, but they need to work closely together to achieve success.
In very simplified terms, it's the marketing team's job to generate leads, while the sales team are relied on to turn those leads into sales.
The problem is that if a bunch of low-quality leads are passed over to the sales team, they will waste time and resources working on leads that are never going to convert. Meanwhile, great leads that are waiting in the pipeline are neglected and may be lost before a member of the sales team has had a chance to pitch.
Manual lead scoring can help to eliminate leads that have a very poor chance of converting, but might not always be able to distinguish the difference between a $100 client and a $10,000 client.
Predictive lead scoring not only automates the task to free up the sales team for doing actual sales, but it can also identify the most valuable leads so they can concentrate their efforts on those leads most likely to result in the greatest ROI.
Leads that are not yet ready for a sale can then be left with the marketing team for further nurturing down the sales funnel. They then may eventually convert into a sale at a later date, rather than being abandoned.
Predictive lead scoring uses data both from the web-based analytics and social media platforms of the marketing side and the CRM of the sales side. As everything is automated, there are fewer mistakes due to human error and no delays in processing leads due to lack of communication between the two teams.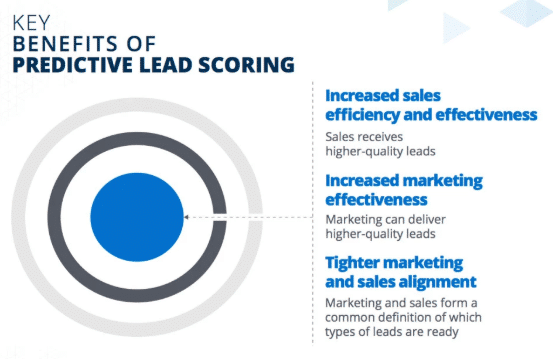 Unsurprisingly, over 90% of marketers in a 2017 study said that a tool that helps their teams "review, analyze, and act upon customer and marketing data in a continuous and real-time fashion" would be a valuable investment for their organization.
Marketing Automation and Predictive Lead Scoring
You can get the most out of predictive lead scoring when you use it with a marketing automation platform.
When lead quality is scored in a detailed and accurate way, you can nurture each individual prospect through the marketing funnel on a unique path that's most likely to lead to a conversion.
What's more, this whole process can be automated, freeing up the marketing team to develop new campaigns and the sales team to concentrate on their most valuable leads.
A marketing automation platform sits between your web-based systems such as your mailing list and your CRM. Data is shared between all platforms so there's no risk of duplication or out-of-date information that has been updated on one platform but not on another.
The software uses this data to assign each lead a score, which changes dynamically depending on this data. For example, if a lead opens one of your emails and clicks through to make a download from your site, this might automatically increase their score.
The power of the automation platform means you can automatically trigger events based on user actions. Also, you can customize your marketing messages for different scores, depending on where they are currently in your sales funnel.
The Wrap
Leads that have just found out about your company and show few signs of converting are not likely to result in a sale. You can use the power of automation to continue to nurture them over time, gradually increasing their score until they are a more valuable lead and can eventually increase your lead conversion rate.
Get a Free Consultation
for Content Marketing