The way people use the Internet to find information online is changing. We're no longer sitting at our desks typing at a keyboard. Instead, we're on the move and using our phone to keep us informed while we're on the go.
We use our phones to search while we're waiting in line at the post office, while we're commuting to work on public transport, and hands-free in the car to get directions or other information en-route.
It's this hands-free technology that has triggered the massive growth of voice search. As search users are becoming increasingly mobile, the technology is also becoming more convenient, so it's no longer even necessary to pull your phone out of your pocket and start typing.
Voice search is expected to account for half of all searches online by 2020 – a little over a year from now – and so it's vital to evolve and change with this shift so that your business can benefit from it, rather than feeling negative effects.
Voice search users search in a different way to those who type, and so optimizing for voice search needs a different SEO strategy than what you may have become accustomed to as standard.
How is Voice Search Different?
Voice search queries are fundamentally different from those typed at a desktop computer. Most voice searches come from either mobile or smart speakers, and they tend to have significantly different needs and intentions to traditional searchers.
More complex search queries
While traditional typed searchers have become simpler over time as users have figured out it's quicker to type "car rental Houston" rather than "where can I rent a car in Houston?", the opposite is true of voice search.
As voice processing algorithms have become more advanced and now understand human speech about as well as another human, users are learning to speak naturally and ask more complex questions.
This development means that the traditional approach to optimizing for set keywords will have to change. Rather than targeting specific keyword terms, there's going to be a shift towards optimizing for broader topics.
More local intent
Many voice searchers are on the go and are looking for business information in their immediate area. A local SEO and content strategy is needed to capture those queries from users in the local area.
Shorter time spent on-site
Up until recently a high bounce rate or low time spent on-site might be an indication that users are not getting value from your site and are clicking back to the search results to find something else that answers their need.
This is not the case with voice searchers, who are usually looking for information quickly and will generally not spend a lot of time browsing around your site.
In fact, Google's rich snippets, business listings, shopping results, and "Knowledge Graph" mean that in many cases voice search users won't click through to your site at all, as they've got all the information they need right in the search engine results.
Looking for different information
You can get a peek into the most popular searches on Google in general by taking a look at Google Trends. The most popular search terms tend to be broad, general, topical, and informational. For example looking at the trends for 2017 you can see some of the hot searches included:
Hurricane Irma
Solar eclipse
Las Vegas shooting
Bitcoin price
Meghan Markle
iPhone 8
Other popular searches generally fall into the same categories which include:
"How to" questions
Recipes
Famous people
Brands
Movies and music
"What is" questions
Voice search is different. While data is still limited, one user's analysis of his own searches found that top queries included
Playing music
Operating smart home devices
Asking about the weather
Making traffic inquiries
Finding restaurants and businesses
Ordering food
Finding recipes
Although voice search has evolved quite a bit in the last few years, this official research from Google confirms that users tend to use voice search for actions such as asking for directions and finding opening times, rather than more general informational queries.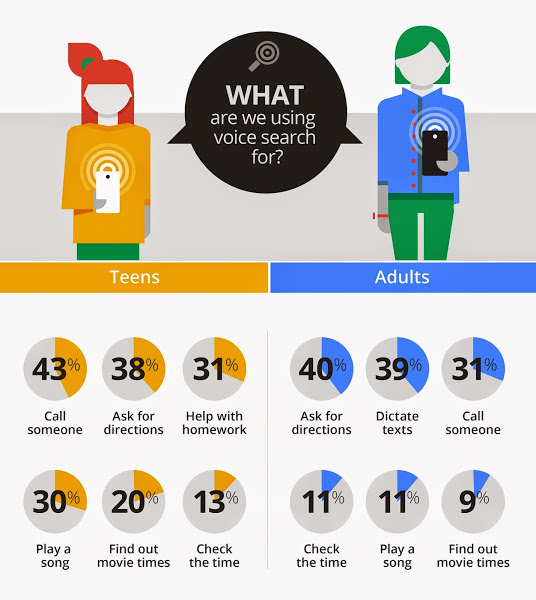 So now you have more insight into exactly how people are using voice search and what they're using it for, how does this impact on your SEO strategy?
Concentrate on Local SEO
Unless you're an online-only or a large multinational business, it makes sense to focus your efforts on your local SEO strategy.
Google is paying more attention to local rankings as mobile and voice searches grow, and so it's vital to make sure you've covered the basics such as optimizing your Google My Business listing and making sure all your entries in local business directories are up to date and correct.
There are a couple of extra benefits to using this strategy – not only is it generally easier to rank locally, but an improved ranking for local searches can also help to improve your profile nationally and globally.
Focus on Long-tail Queries and Broad Topic Areas
SEO as we know it is going to change rapidly in the next few years. The days of optimizing for a few two or three-word search terms are almost over.
As search queries become longer, more complex, and closer to natural language than the paired-down search terms of recent years, it's going to make more sense to build your SEO strategy around more general topics rather than specific keywords.
Long-tail queries such as "best custom tailor in Boston" are still working well, particularly for local search.
However going forward, you'd be wise to remove emphasis on creating content to include specific keywords, and rather making sure that you cover the topics in your industry broadly and thoroughly.
Keep User Intent in Mind When Developing Content
If you're not already being penalized by focusing more on what you can gain from searchers than what you can offer them, there's a good chance you will be in the near future.
Rather than mindlessly creating long-form content designed to keep people on your site as long as possible, look into the real intent of your actual searches and think about how you can best serve that user.
Don't make your users crawl through thousands of words of content to find the information they're looking for, and make sure that vital information such as your address and opening times are instantly visible.
Re-think Your Paid Ads Strategy
If you're using PPC or other types of paid ads alongside SEO, it may be time to re-think your strategy.
Voice search users interact with ads in a different way to users sitting at a keyboard, and you may well find that your current ads are not as effective as they once were.
Keep an eye on your click-through and conversion stats and consider experimenting with different ad formats. Remember, the keyword research that informs your SEO strategy will also impact on the keywords you're targeting in PPC.
Get Ready for Voice Search
We're still at the very start of the voice revolution, and it's not yet entirely clear what SEO will look like a year or two in the future.
However, one thing we can be certain of is that change is coming and you'd be wise to keep up to date with technology and trends as they evolve.
Hopefully, you've at least started to consider how the increase in voice searches might impact on your SEO and your overall marketing strategy.