How to Become an Agile Marketing Machine
Michael Brenner on Apr 10, 2017 in Marketing Strategy
Top brands across industries, from eCornell to Verizon are adopting the nimble and unstoppable approach of agile marketing. Rooted in the disruption-hungry world of software development, agile is a powerful tech industry legacy that has proven itself to be the perfect solution to today's toughest marketing challenges.
How do we keep up with customer expectations, which become more sophisticated with every smartphone upgrade and new social media trend?
How can marketers compete in the vast and ever-expanding universe of online content?
With today's demand for multidimensional marketing campaigns, what in the world can we do to get a clear picture of ROI – and provide our worth to C-suite and clients?
And, the top challenge of marketers today – how can we identify the optimal platforms to use to generate traffic and leads for a specific industry, niche, and brand?
The answer my friend, isn't blowing in the wind. It's swimming past you like a slippery fish. Agile is fluid, continuous, incredibly flexible – and not the easiest thing in the world to grasp. With an agile approach, you no longer have to climb over those seemingly insurmountable mountains of work. Now you can flow past them in order to reach your lead generation/ROI/brand loyalty building goals.
It's about following the path of least resistance. This is better than the already beaten path, which comes with the very dangerous risk of diminishing returns, explains Ed Hewett, a former industry strategy and marketing team senior manager for Adobe. And, agile is about being quick and flexible enough to catch those shiny opportunities that pop up and disappear like bubbles foaming along our watery analogy.
Great. So, how does one become agile?
Glad you asked.
Read the Manifesto
Or tattoo it to the back of your hand. However you approach agile marketing, whatever methodology you use, it is important to understand the core concepts of agile. These are the principles of agile marketing – adopted from the original agile manifesto for software development.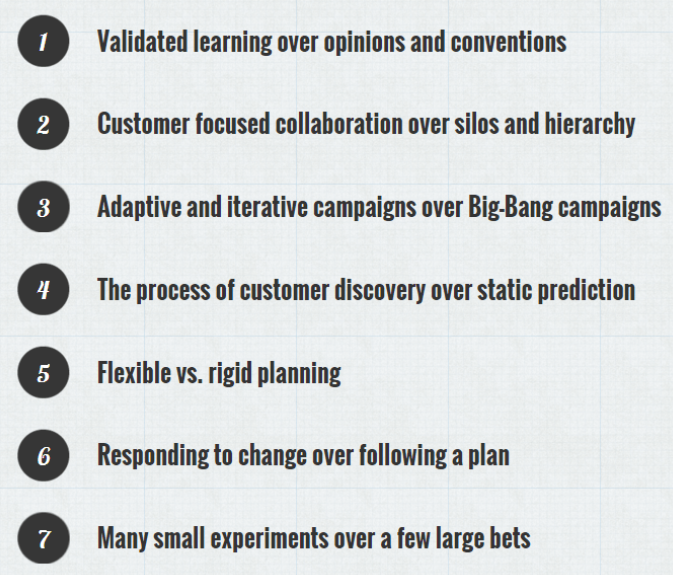 Learn Scrum
There are different ways to be agile. The one you've probably heard the most about already is Scrum. This is the dominant methodology in the software industry. A look at agile marketing in 2016 found that over in our neck of woods, the rigid structure of Scrum doesn't always fit. Marketing professionals tend to prefer Lean, Kanban, and Scrumban, the other three primary methods.
Andrea Fryrear from MarketerGizmo suggests Scrum for new agile teams who feel like they could use the structure, or for larger teams that need a framework to help them collaborate with management. If your marketing department is a four-person strong establishment or less and is already familiar with agile principles, Scrum may feel too restrictive.
Of course, being agile, you would dive in, try out each, evaluate the results, dump what doesn't work, and move ahead with what does.
Scrum can, however, be a good place to start. Marcus Miller, Managing Director of UK-based SEO and digital marketing company Bowler Hat, has found Scrum to work well for improving the speed and quality of his team's marketing campaigns.
Scrum, nor any of the methods for that matter, cannot be easily boiled down. It's a process of continuous improvement that involves small groups of people working together in short bursts called 'sprints.' There is a lot of planning, but all the planning is flexible. Basically, your initial roadmap, or big picture plan, will evolve as you learn along the way.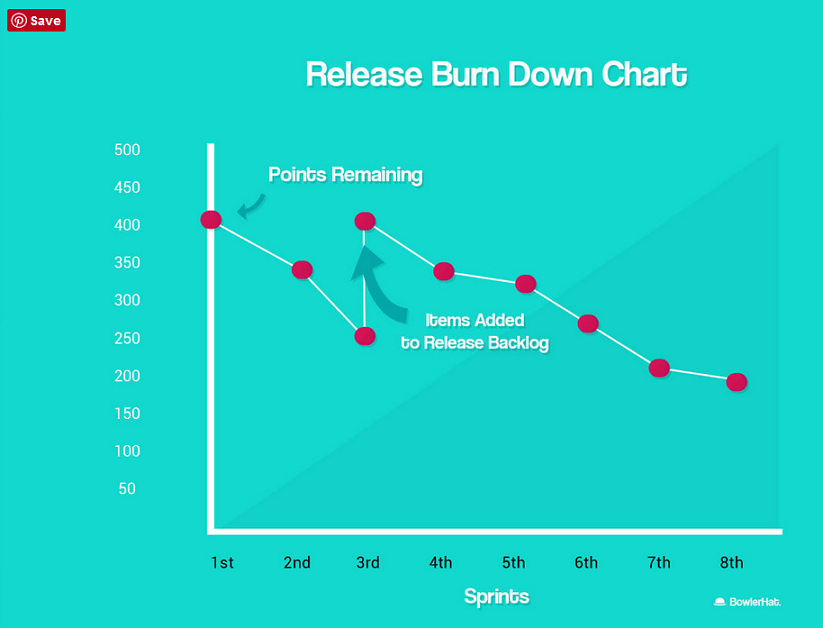 image source
Tools like burn charts and visual task boards, and even the Fibonacci sequence, are used to keep a sharp eye on what needs to be done, what is being worked on, and what's completed. A big part of agile marketing are the daily meetings – preferably standing up, less than fifteen minutes, and everyone is expected to contribute. An even bigger part of agile is the measuring. Every project is, in a sense, another experiment to learn from in order to continually improve – ideally driving better and better results.
There's a lot to Scrum, so you may want to brew a pot of coffee and put on your reading glasses. The Scrum Alliance is an excellent place to start. This is where you'll find the official Scrum Guide as well as a thriving community of Scrum experts.
Start with One Project
Now, it's time to get started. Start with one small project. Put together your Scrum team, get out your white board, and start sprinting. Starting small is important as you develop your team's approach to agile. It also gives you the opportunity to see how the process works, make a few mistakes, and improve your group's approach before presenting agile marketing to the rest of your team or your organization. The more success you have with agile, the easier it will be to convince others that transforming your agency culture is worth it.
Agile marketing guru Jim Ewel recommends introducing agile in increments rather than trying to do everything at once. So, you can try one or two aspects of Scrum – or Kanban, Lean, or Scrumban – and work with them for a few weeks. Then, as you become more agile, you can introduce more.
Stick with It
You can't just get out a rule book and follow the instructions for agile marketing. This is a mindset, one that will likely require some mental and creative stretching. That means adopting agile marketing is a process, a never-ending one. Once you start, keep growing, learning, and expanding along the way.
Not everyone is using agile marketing. In fact, few have really adopted the methodology. In 2016, only 11% of content marketers reported using agile. The biggest reason marketing professionals haven't taken the plunge is a simple lack of training or knowledge. There is indeed a learning curve to agile marketing – just as there was with SEO, social media, and video.
If you want to evolve your approach and discover why so many successful marketers are excited about agile, then start walking the path until you've immersed yourself in the method and truly understand what it can do. Once you see how much more effective it makes your marketing, you may find yourself shouting from the rooftops about amazing, game changing agile.
Image Credit: Pixabay