How Account-Based Marketing Works: Digital And Traditional Tactics
The biggest challenge marketers face right now is reaching their target audience, and I mean really reaching them. Not just publishing an advertisement or piece of content that an audience might see or read; but reaching them with a message that piques their interest and starts a conversation.
This is where account-based marketing (ABM) comes in—and, it's no wonder that ABM was deemed the second most popular marketing strategy for 2020, according to Sagefrog's 2020 B2B Marketing Mix Report. Learn about the goals of ABM and how to execute an effective strategy through digital and traditional tactics.
What Is Account-Based Marketing?
Account-based marketing, otherwise known as key account marketing, is a B2B tactic that targets specific companies and decision-makers, versus casting a wide net across a full market or contact list. ABM requires input from marketing and sales and is most effective when the lead is highly qualified.
What Are the Goals of Account-Based Marketing?
Of course, the goal of ABM is to close deals and grow your business. But that's the primary goal of most marketing tactics. So, what's different about account-based marketing? ABM is extremely strategic. Identifying and closing right-fit clients can have a major impact on your business. Picture your client roster: imagine that every account on the list is the ideal size, spends the right amount of money, and shares the same values as your company. The downstream effects of targeting right-fit clients are major:
Elevate the quality of accounts showcased in your portfolio
Boost employee satisfaction by working with right-fit clients
Increase company morale by setting and achieving specific goals
Ensure client satisfaction and ROI by working with ideal profiles
Unite marketing and sales teams to avoid internal competition
Improve your reputation through case studies and testimonials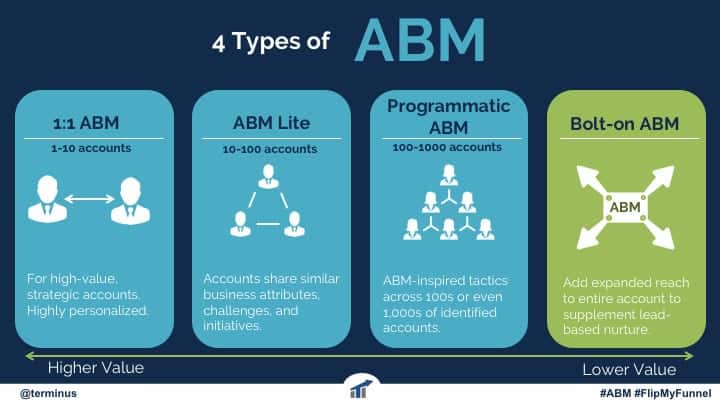 ABM can set your entire company up for success. It's an approach that supports your company's vision, from the type of clients it works with to the way departments work together. Here's how you do it.
How Do You Create an ABM Strategy for B2B?
Because ABM is a highly strategic and valuable approach that can bring big merits to your company, you want to do it right. There are three main steps to creating an account-based marketing strategy for B2B:
Compile your list of accounts (this might be just a few)
Define your ideal client profile and make a list of the companies that fit your criteria. Gather the contact information for the decision-makers and research their situation. Rank the accounts by priority and target 15-20% of your list with your first ABM campaign.
Create the content you want them to engage with
Decide which type of ABM tactic is right for these accounts: digital or traditional (keep reading to learn about your options) and create the content that will be associated with it.
Execute the digital or traditional ABM tactic right
Develop all the assets needed to execute the tactic you decide upon. Consider everything: the day and time you launch the tactic; how it looks, sounds, and feels; and what your projected outcome is.
What Are Your Options for ABM Tactics?
ABM is not a new tactic. In fact, it's been around for a while but resurfaced in recent years as a way for marketers to cut through all the noise and content online. More sophisticated targeting methods, like LinkedIn InMail and programmatic advertising, have also modernized ABM, bringing it back into the mainstream marketing mix. Here's a breakdown of the top digital and traditional approaches to ABM:
LinkedIn InMail
LinkedIn InMail lets companies send personalized messages to LinkedIn members based on demographic criteria you set. It generates a list of people for you and sends your message to the recipients when they're online: this improves the open rate to increase your chances of a response. This tactic is an effective way to avoid the regular email inbox, and get your message seen and read.
Programmatic Advertising
Programmatic advertising uses automated processes to buy digital ad space. Rather than working with a media company to determine when and where your ad will be published, you use intelligent platforms like Addaptive or Terminus to match the location of your ad with where your decision-makers are at online. You'll set criteria for demographics, time of day, websites, and so forth, and these platform's will tap into the latest, valid business data to match your ad with your audience.
Direct Mail
An oldie but a goodie: direct mail maintains its merit as an effective marketing tactic. Direct mail is a timeless traditional marketing approach that puts something tangible in front of your decision-makers—and because it's a rare approach in our digitized world, it can have more of an impact. Sending a personalized mailer in the form of a package, letter, or postcard demonstrates thought and effort and can be more effective in eliciting a response and starting a conversation.
A Final Thought
Most companies are planning their 2020 marketing program right now, and it's the perfect opportunity to engage your marketing and sales departments to discuss budgeting for ABM in the new year. You have a few months to create your list and content and can be ready to launch your tactics in January.
Don't let another year go by without testing the power of ABM. With the right list, tactics, and timing, you can start conversations with right-fit accounts and get a few steps closer to achieving your vision.
Get a Free Consultation
for Content Marketing