For the past 20 years, Mary Meeker, a VC and former Wall Street analyst, has taken a hard look at the global economy, consumer trends and technology data, and created the "Internet Trends Report." She has been on top of the internet, technology and all of its global implications since 1995 when she published the first "Internet Report" at Morgan Stanley.
Her official Kleiner Perkins Caufield & Byers bio reads: "Mary is credited with having a deep understanding of what makes businesses succeed and fail." She is a serious boss. As a tech company, we always read the report closely, but wanted to share the major takeaways marketers and content marketers should be aware of.
Meeker's report is sprawling and overwhelming as always, but from our outlook, the 2015 Internet Trends Report is all about the 3 M's: Mobile, Messaging, and Millennials. If you pay any heed to Meeker, those are three things your business should focus on when it comes to your content marketing strategy.
1. Big Data Will Drive Decisions
This quote really drives home how we think about personalized marketing. In a time when we study our customers based on their content journey, and then cater to their interests to woo them to a sale, it's crazy to think that people just used to make cold calls out of a phone book or slap an ad on TV and hope the right person saw it. We are entering an age of truly unprecedented data and information – smart marketers will know what to do with it.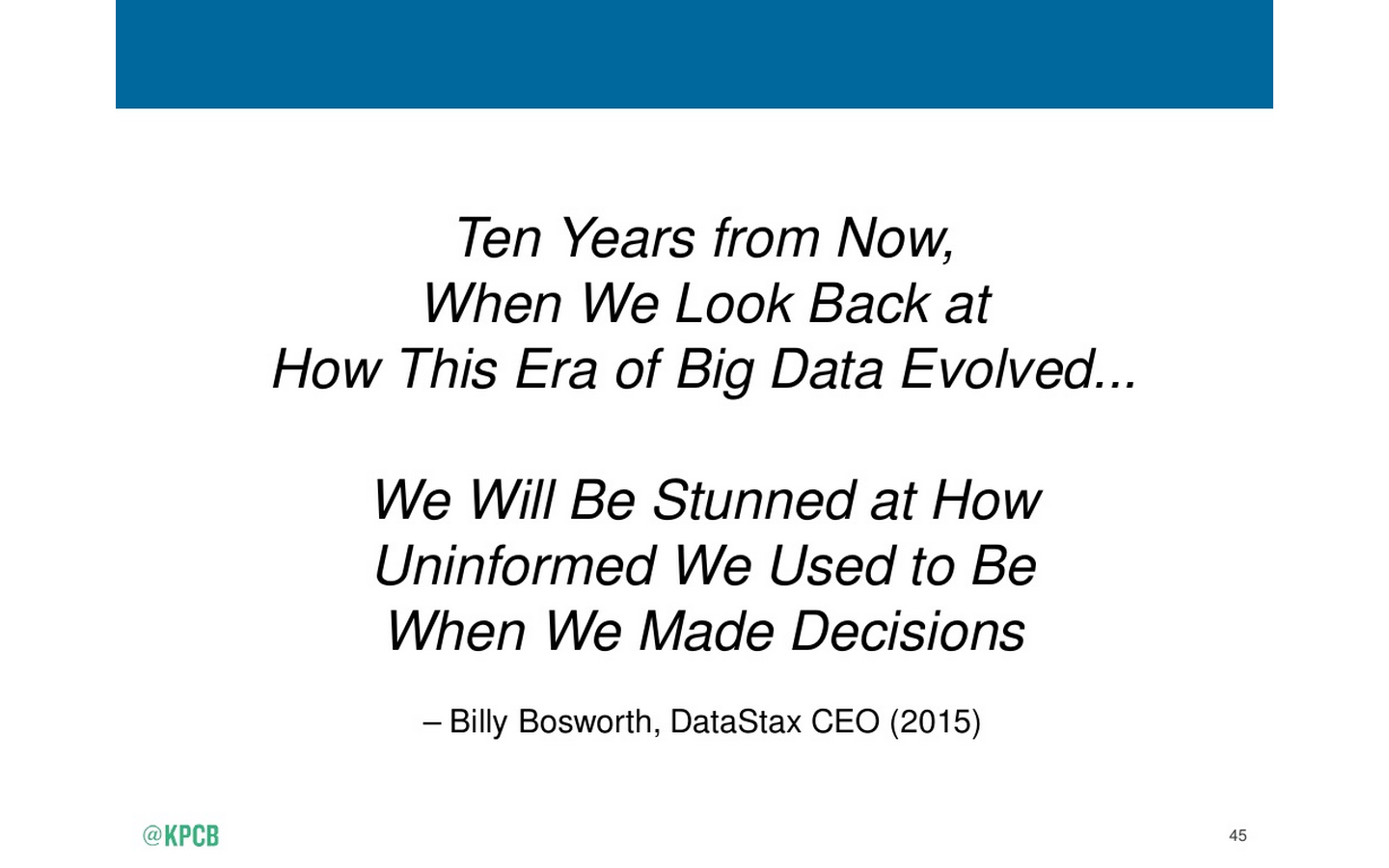 2. Americans Spend 24% Of Their Time On Mobile, But Only 8% Of Ad Dollars
When it comes to selling advertising, mobile still has a MASSIVE growth opportunity. Print is somehow, still making too much money for what it's selling. Measuring the success of ad dollars with time spent is a trend that favors content. People will spend time with amazing, can't-look-away content marketing. They won't spend that time with ads.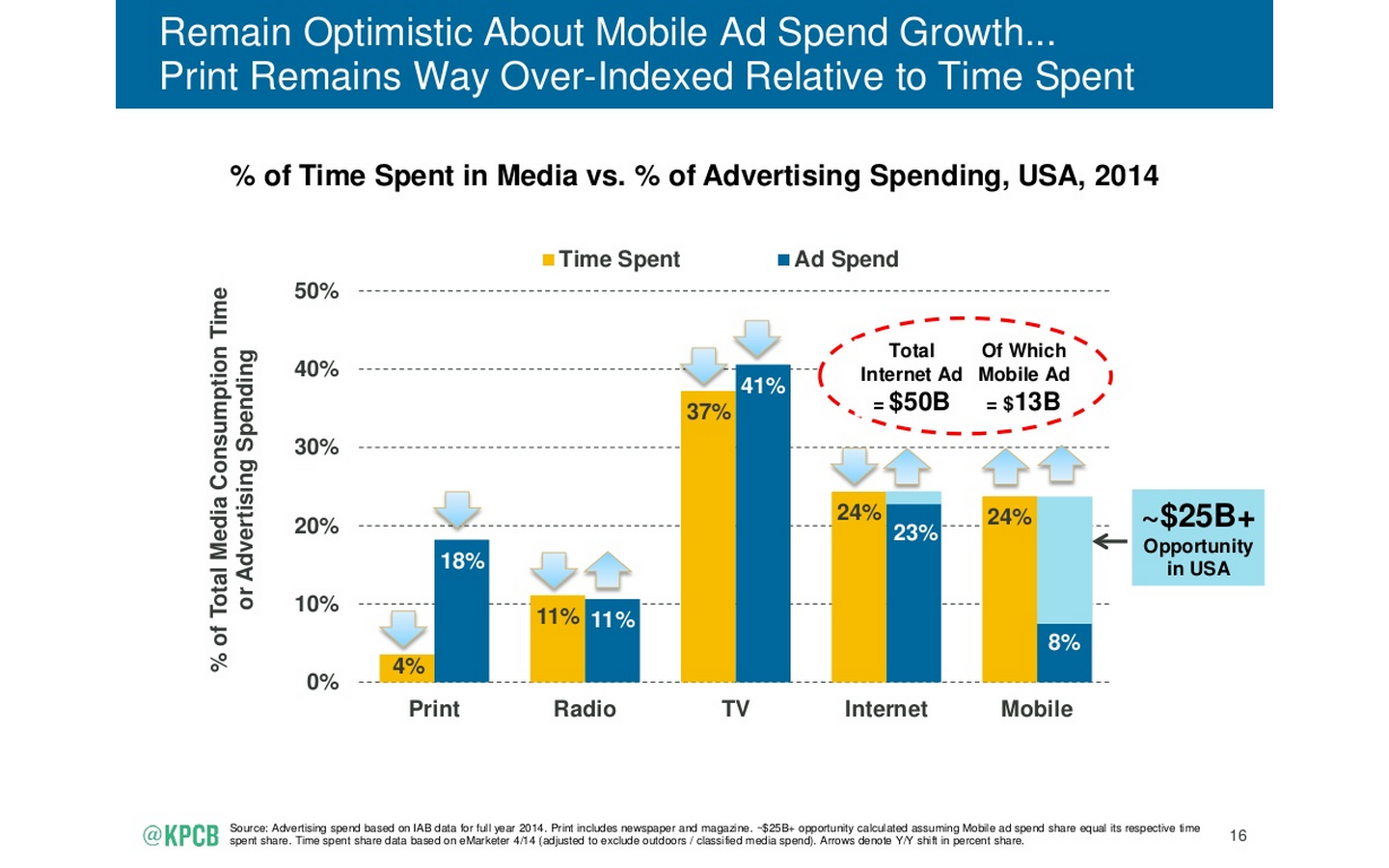 3. Vertical Viewing On Mobile Is A Thing Now
Speaking of the proliferation of viewing content on mobile, remember when having a TV the size of your wall was a thing? Now audiences are spending more time with mobile and that time-spent is growing. Also, vertical video ads, like on Snapchat, are completed 9X more than their horizontal counterparts. This means rethinking how we create content for the mobile screen from the very first shot.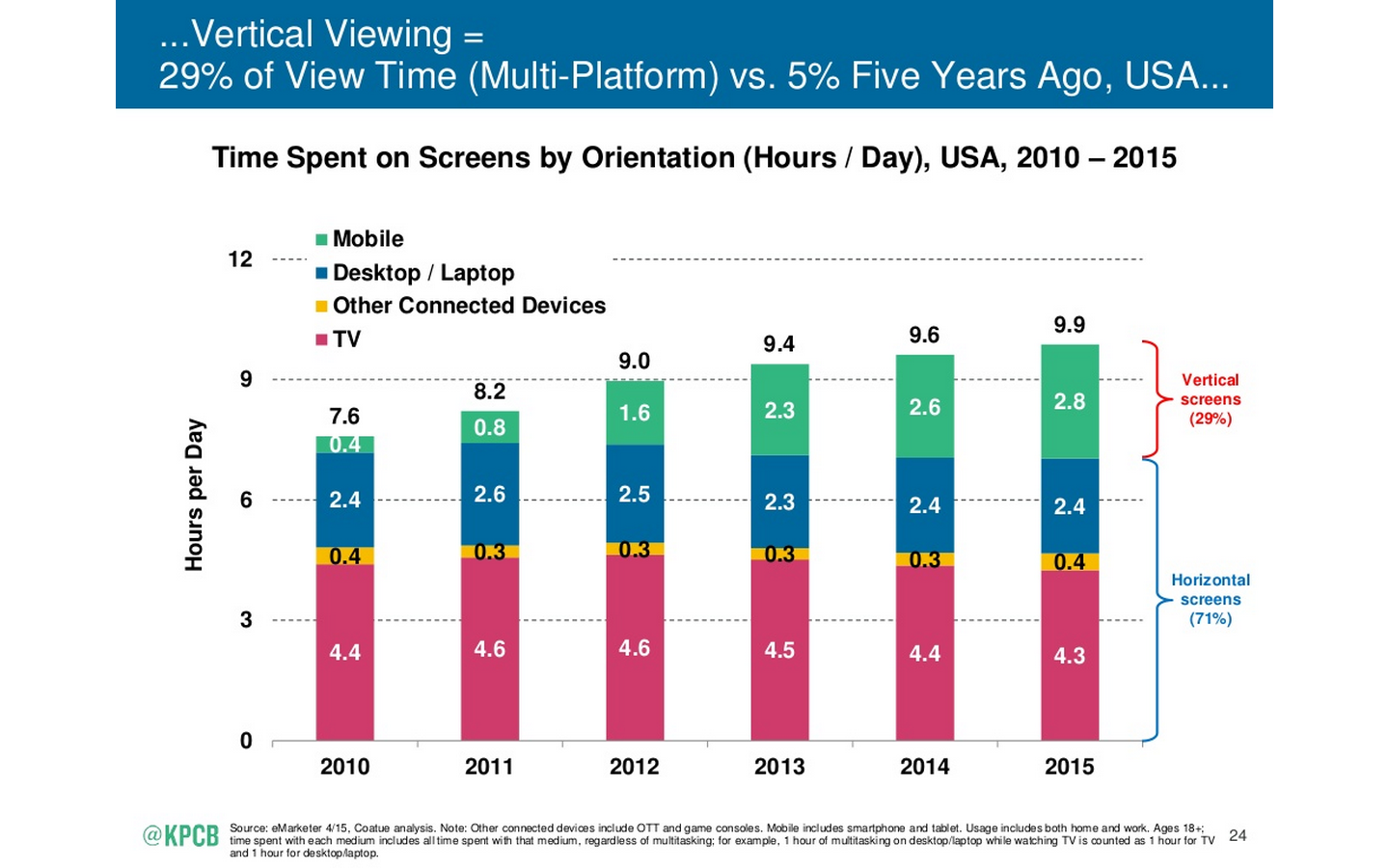 4. Put Your Money On Messaging
You may see this slide, and aside from Snapchat, find little opportunity for marketers. This is where we need to adapt. In parts of the world where phone service is costly, businesses are putting their WhatsApp info on ads and using it to talk directly with consumers. Korean beauty companies are reaching consumers with display ads and gift offers on KakaoTalk, and Disney and L'Oreal are running brand awareness campaigns and flash sales on Line. Most of this experimentation is happening outside the US, so American marketers need to be prepared for this growing global trend.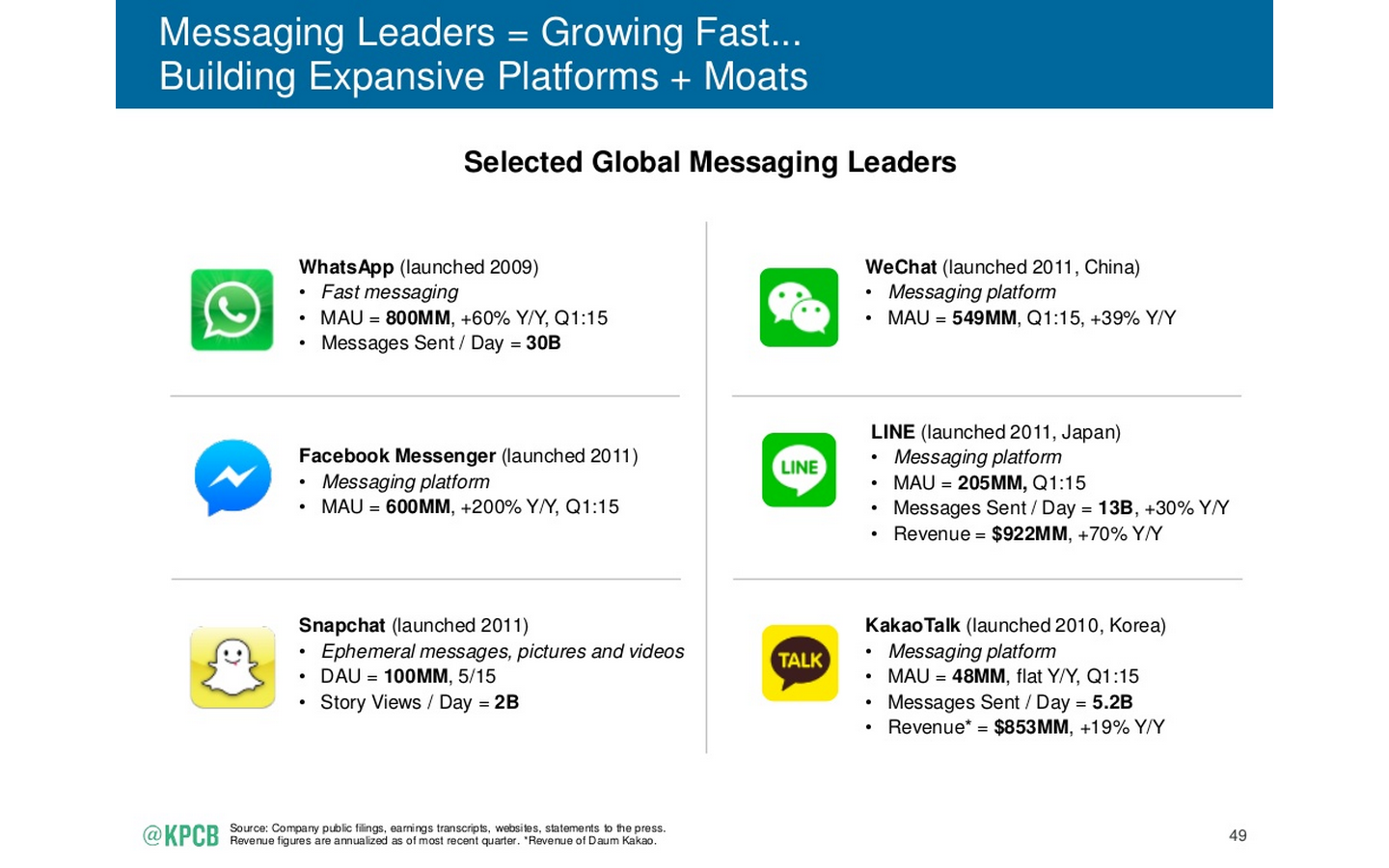 5. Because Everything Will Eventually Be On Messaging Platforms
As platforms continue their global expansion, consumers are moving more of their time to messaging platforms where they choose who to interact with, who to share with, and when to directly engage. For a generation who grew up with leaked photo scandals and their entire family (not to mention their baby pictures) already on Facebook, these choices for interaction and sharing offer a welcome reprieve. But as focus shifts to these platforms, the rest of the internet will follow, turning them into massive communication hubs for all digital interaction. The brands who are first in line to greet early adopters will have the most opportunity.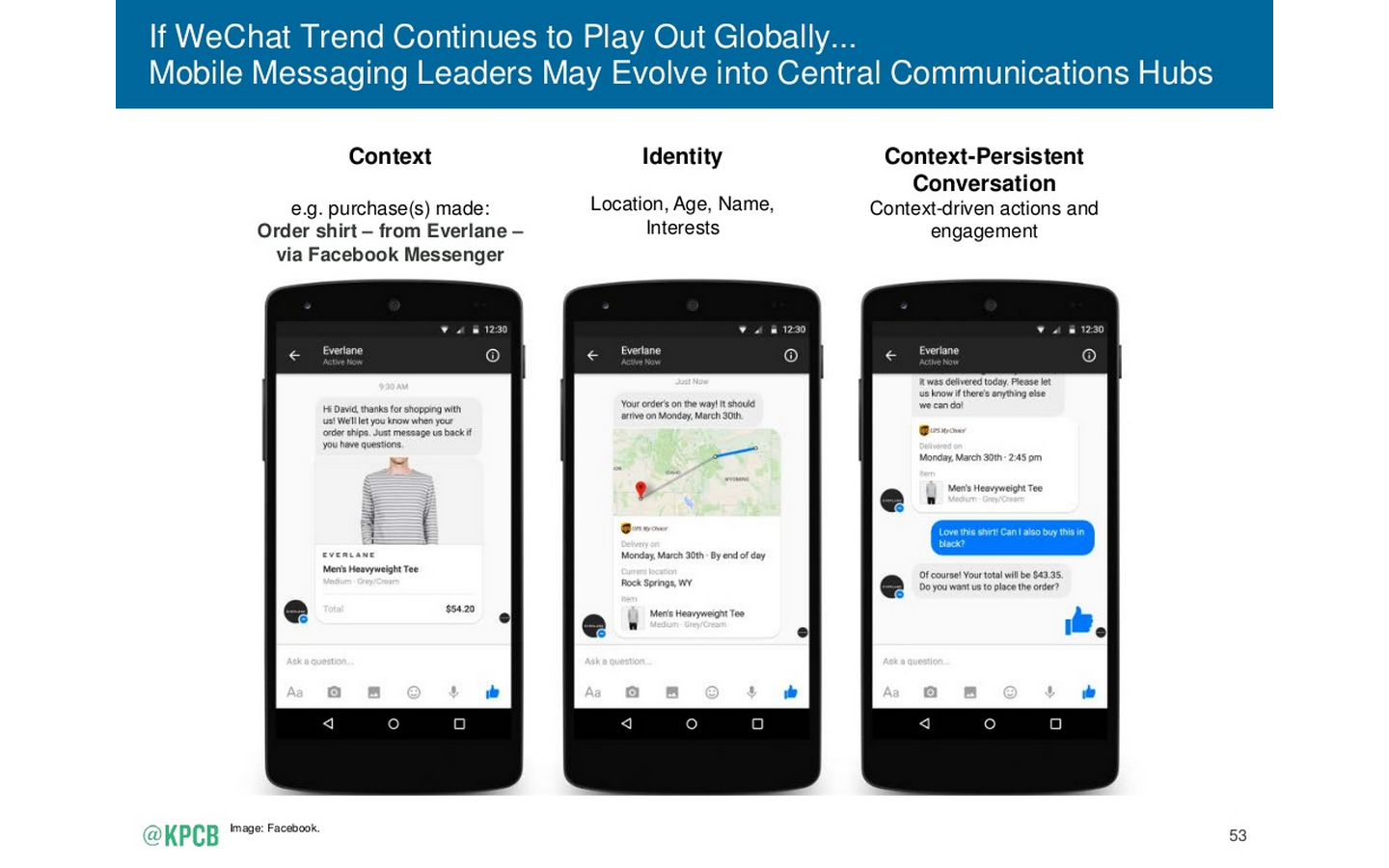 6. New Internet Adopters Are All About Messaging Platforms
The global brands who are first to messaging strategy will be the first to greet the newest internet users, who will likely move directly and seamlessly onto these platforms.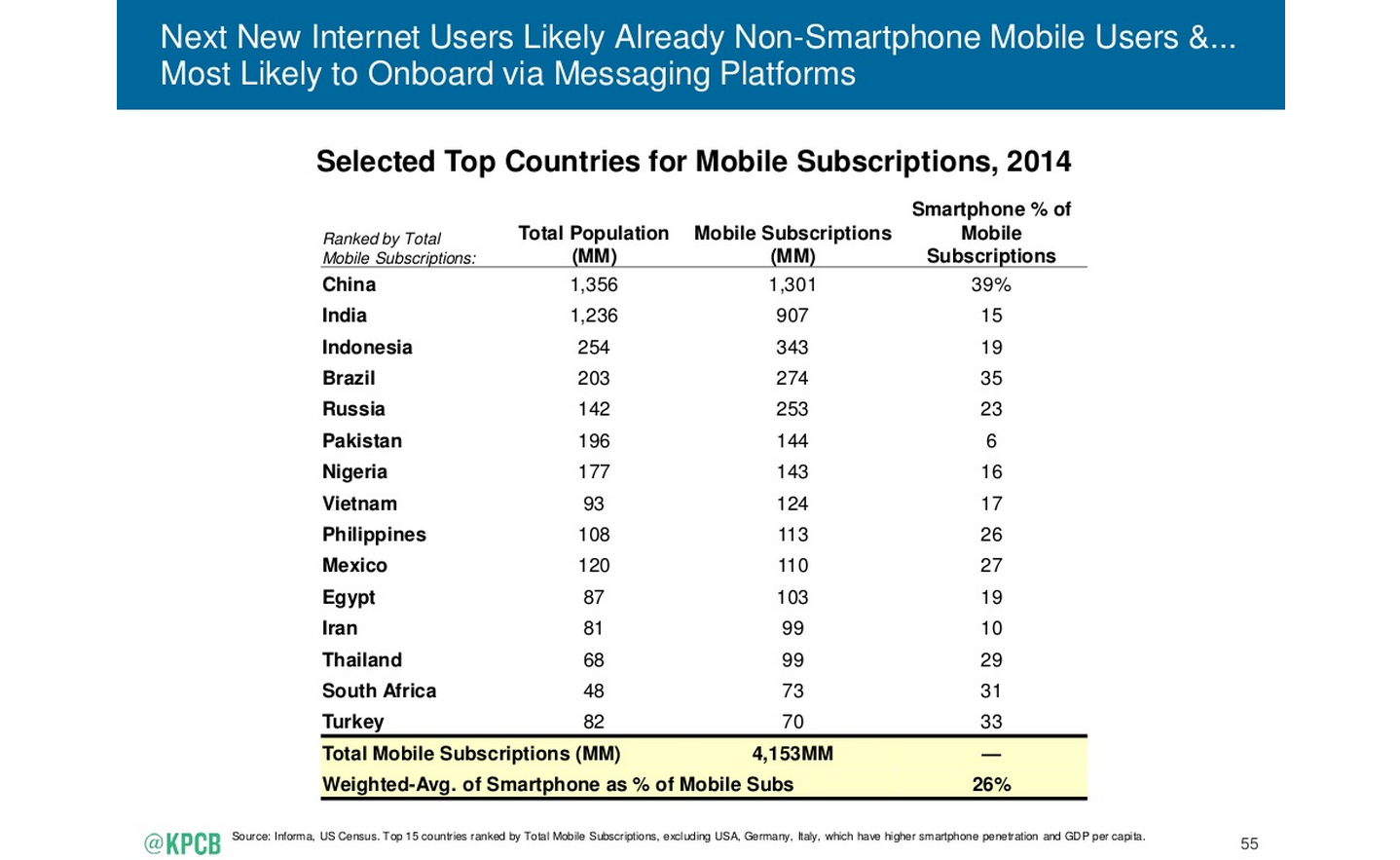 7. UGC Is Massive And Growing
Any marketer worth their salt knows the popularity and usefulness of User Generated Content is on the rise. Across Facebook, Snapchat, and Pinterest, people are sharing videos and images at a mind-melting rate and even more people are engaging with that content. For example, people watch 4B Facebook user-generated videos a day, up 4x from the last 6 months. Additionally, YouTube and online video users watch 16B minutes of live-gaming UGC per month, up 33% from last year. UGC is YouTube's bread and butter, (and all social platforms for that matter) but brands can use it to approach audiences in an authentic way that already aligns with the platform and audience. A New York moving company saw a 47% increase in campaign performance by using UGC photos instead of stock photos on their website.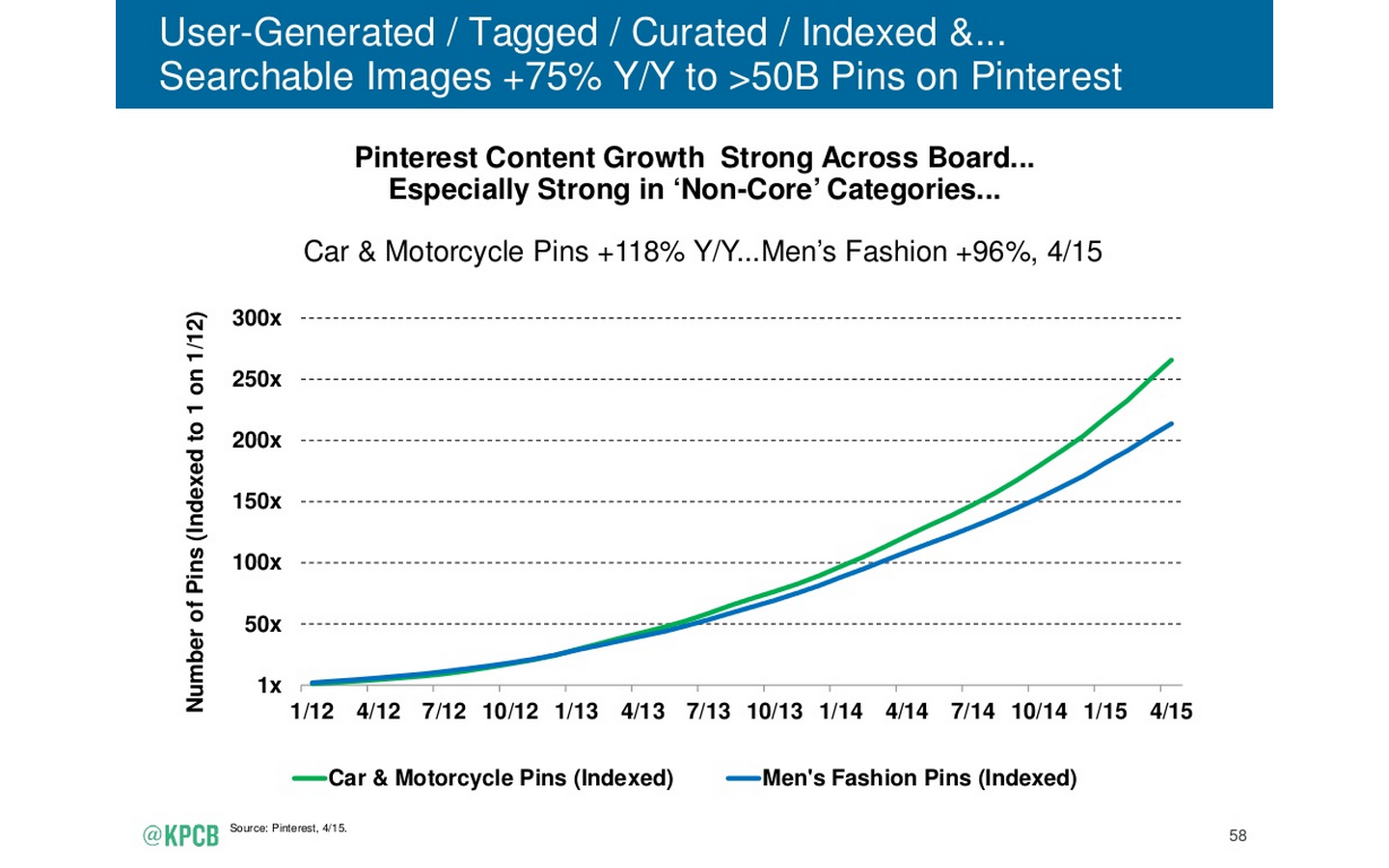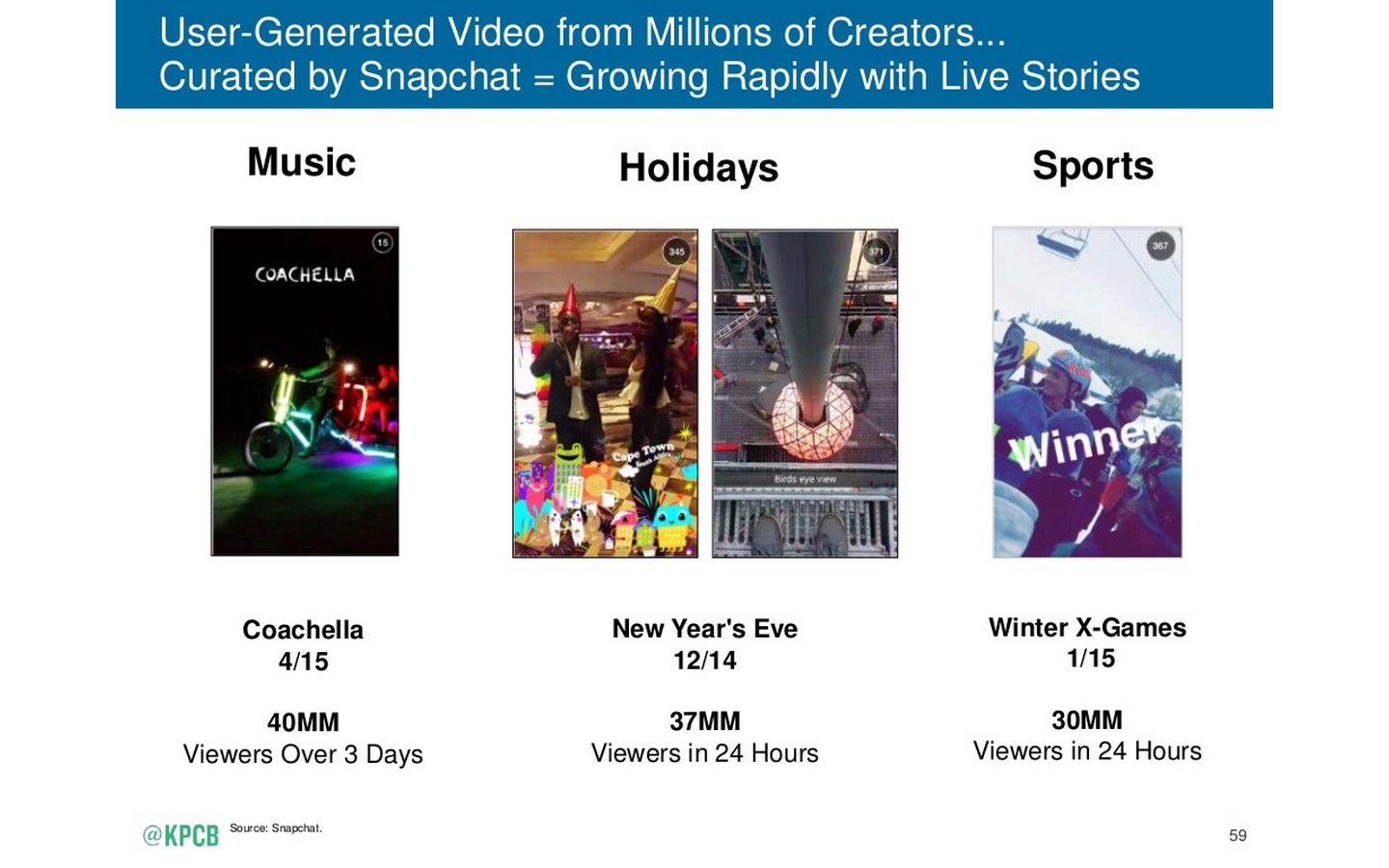 8. Visual Content Is King
Visual content, like Instagram, Snapchat and Pinterest continue to grow in popularity among 12-24-year-olds, while Facebook, Tumblr, and LinkedIn are declining.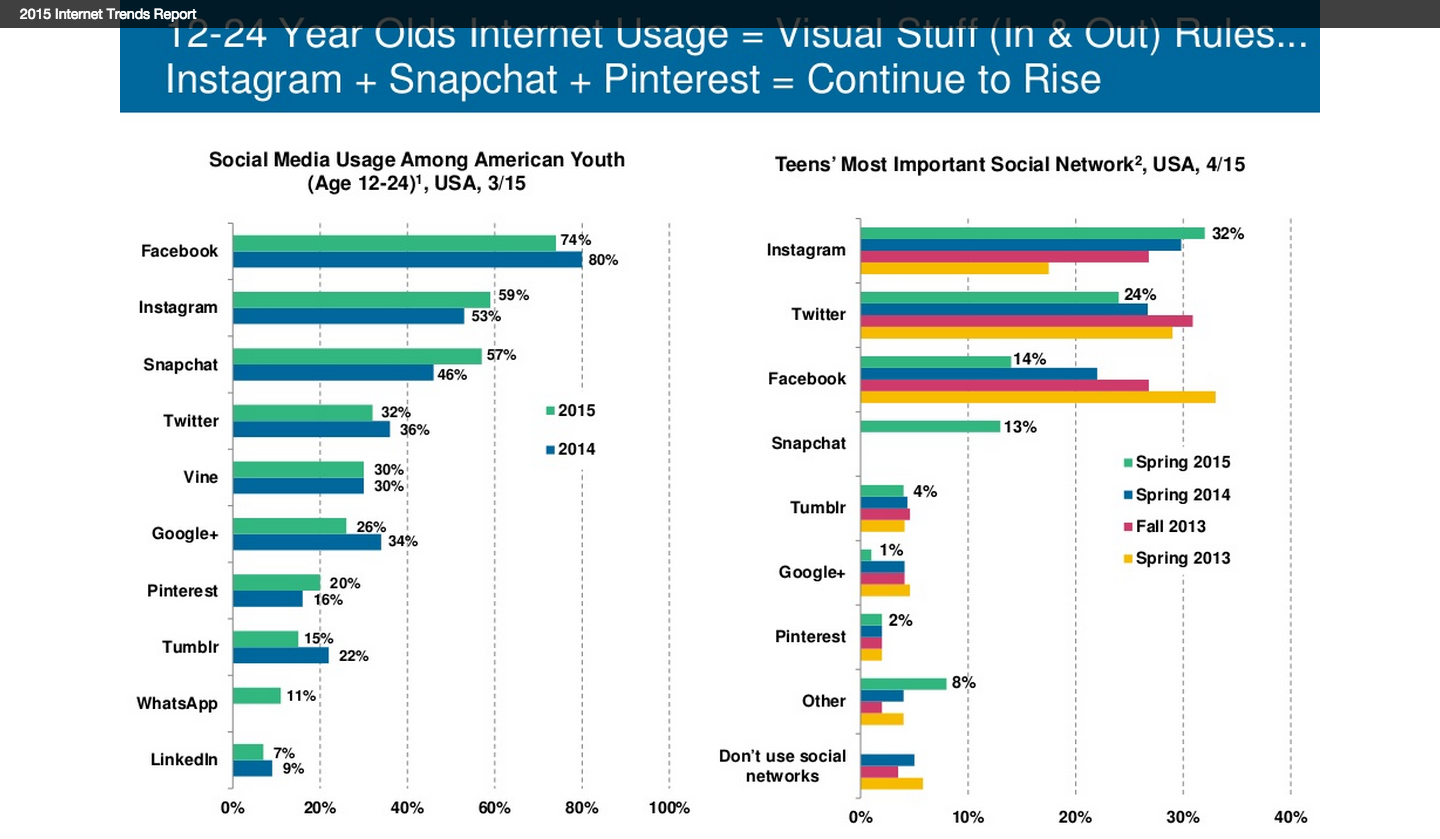 9. Millennials Dominate The New Workforce
This one is for all the B2B marketers out there. Think you're selling to a middle-age man? Think again. More millennials are in the workforce than any other generation. Your content should be tailored to their interests and preferred platforms as they will be the ones buying your business-focused products.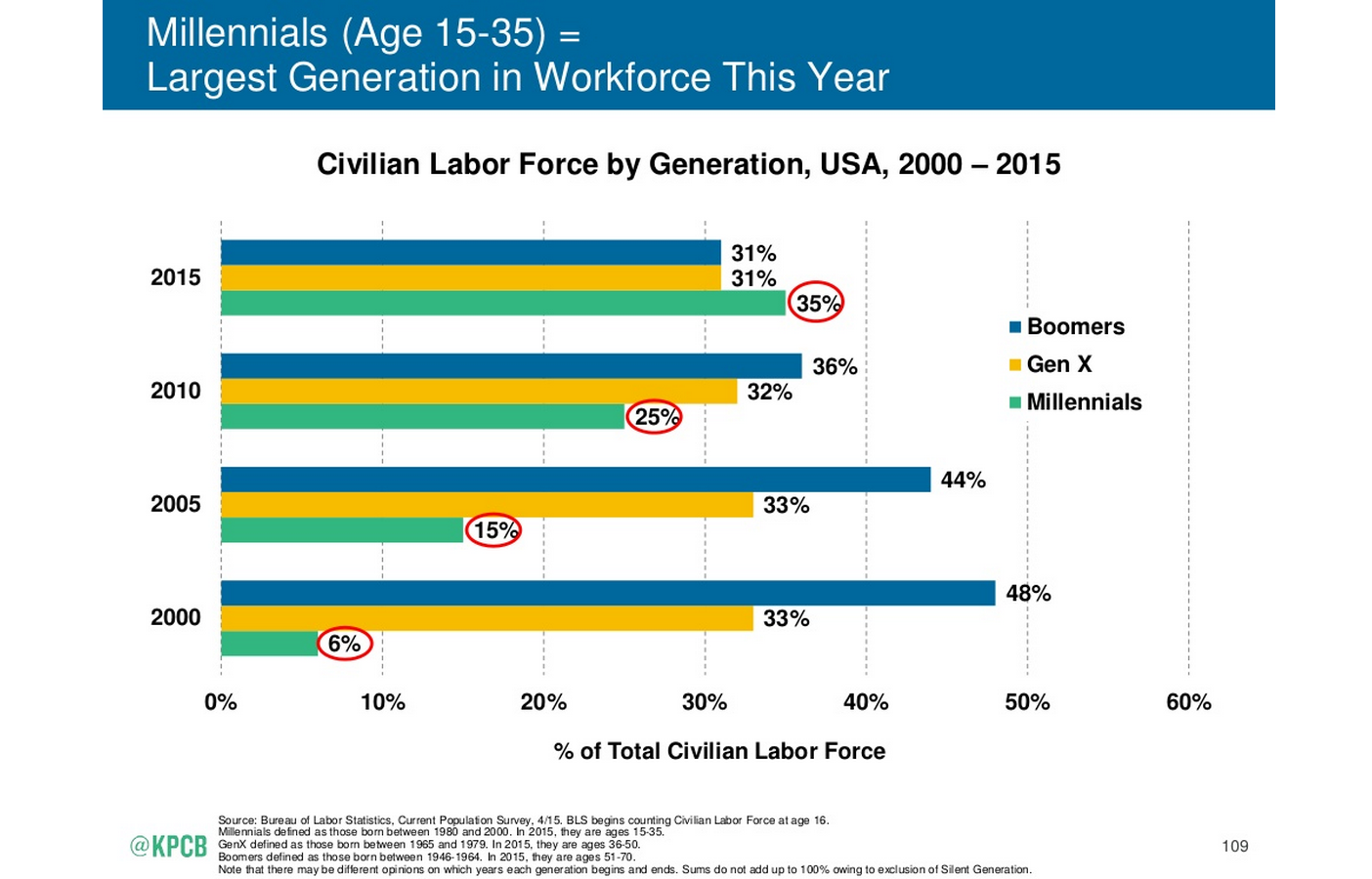 2015 Internet Trends Report from Kleiner Perkins Caufield & Byers
So what did we learn? The mobile rules everything around me, messaging platforms are taking over, UGC is the most popular and fastest-growing content out there, and B2B marketers can't forget about millennials. Anything we missed?