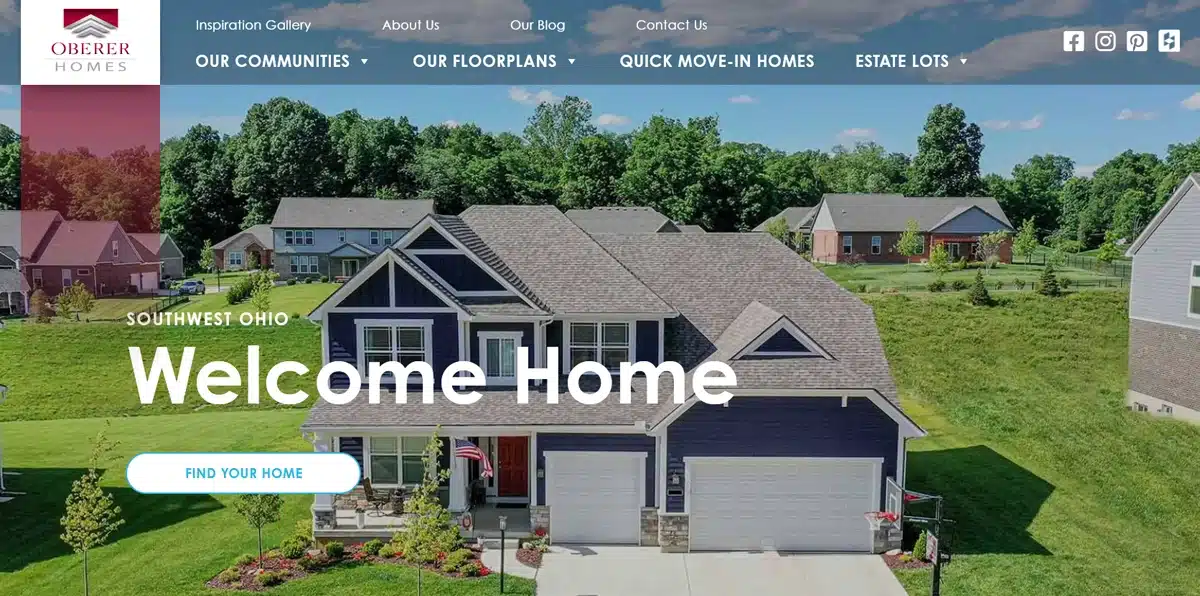 Case Study - Oberer Homes
For Oberer Homes, a full-service real estate company and semi-custom home builder in Dayton, Ohio, being found on Google was one of their top goals. As a family-owned and locally focused business, Oberer also aimed to be considered a neighborhood expert by current and potential residents.
The team at Oberer, headed by Marketing Director Traci Bohn, has long known that content marketing was the right approach to establish this reputation. But by mid-2020, with the world turned upside down and the real estate industry facing huge uncertainty, they knew they needed to level up their approach.
The Challenges
Oberer had recently shifted their marketing focus exclusively to digital channels, which included a content marketing strategy centered around an active blog. They were working with multiple partners to produce content. Still, their efforts fell short as they admittedly lacked focus and the level of research necessary to get noticed by Google.
The team knew they needed a new solution, but understandable reservations lingered about bringing on a new partner. There were already too many cooks in the content kitchen, and budget was also a consideration. To boot, Oberer Homes is a specialty builder with offerings that don't fit squarely into a single category, and they focus heavily in their immediate geographic area. Finding an agency and writer that could accurately capture their brand felt like an insurmountable mountain.
The Approach
Oberer's goal of establishing their reputation as both an industry leader and local expert was top-of-mind for the MIG team as we developed their content plan. After a look at their existing content, extensive keyword research, and ongoing strategy meetings with the Oberer team, it was time to start publishing.
Dayton city guides
Tips on navigating the new construction and custom home building processes
Resources for tackling home improvement projects
Inspiration for designing spaces throughout the home.
The Final Outcomes
Rankings reports covering the duration of Oberer's partnership with MIG include even more impressive achievements, including 110+ keywords ranking in the top 20 slots on Google, and huge jumps in visibility, traffic, and average ranking position (as shown in their all-time performance report pictured below).
Most importantly, the Oberer Team feels confident in their content and happy that it represents their brand well. Thanks to seamless collaboration with the MIG team, Traci has been able to publish articles without getting bogged down with time-consuming edits.
Oberer has gained significant real estate (pun intended!) on Google's search results pages. Here's what the numbers say:
Organic search has gone up 26% YOY compared to 2021
Number of web visitors have increased by 17% over the same period
6 of Oberer's current top-10 web pages are blog posts
These statistics demonstratethe importance and effectiveness of Content Marketing to reach your target audience.
MIG combines great expertise and thought-leadership with humbleness; persuasiveness with empathy; reliability with elements of surprise. In short, working with them feels super effective and enjoyable. Hiring MIG usually means getting more than you asked for.
Sales Representative Oberer Homes