LinkedIn is undoubtedly one of the best social platforms for B2B marketing. With 675 million monthly users and 30 million companies active on the platform, it lends itself well to promoting business services, networking, building an audience, and content marketing.
Just like any other social network, you need to have a good strategy in place to succeed with LinkedIn marketing. Likewise, as an enterprise, your strategy will need to be different than that of a startup or small business.
Most businesses have some kind of presence on LinkedIn, but many are not making the most of this valuable platform.
If you want to up your LinkedIn game and start seeing results, you need to follow these top tips for LinkedIn Marketing success.
Quick Takeaways:
LinkedIn is a highly valuable marketing platform for businesses of all sizes.
You need a proper LinkedIn marketing strategy to make the most of your time and content.
Treat LinkedIn as a way to generate leads rather than a place to publish content.
Optimize Your Company Page for Lead Generation
Many companies put some basic information about their company on their LinkedIn page and leave it at that.
If this is the case for your business, you're missing out on a huge opportunity. You don't use your website simply to list a few facts about your company and contact details. If you have a good website, it will be designed to capture leads and convert visitors into followers and potential customers. The same should be true of your social media pages.
Make sure your LinkedIn page is optimized for conversions. This usually means having a prominent CTA linking to your company website. Write your company information as a pitch, rather than a simple description. Make sure the first couple of lines are compelling enough for users to click the "Read more" link.
Share Your LinkedIn Page
Once you have a LinkedIn page set up for your enterprise, don't just sit back and expect the traffic to come rolling in.
Start by sharing it with your employees. Send out a company newsletter with a link to your page and encourage everyone to follow it.
Make sure to share with your customers and clients too. You can ask for follows and shares in emails, on other social media networks, and on your website.
Speaking of your website, you should have clear social media icons linking to your business profiles. Add buttons to your blog posts and other content to make it easy to share on LinkedIn too.
Understand Your LinkedIn Audience
Before you start creating content for LinkedIn, you should have a clear idea of who exactly you're targeting and what your marketing goals are.
LinkedIn users generally skew toward older groups, and the platform is most popular with 46- to 55-year-olds. Forty-five percent of LinkedIn users are in upper management and the largest income bracket is those who are earning $75,000 and above. LinkedIn users are all over the world, but of course, your individual audience may vary depending on where your enterprise operates.
When you're planning your LinkedIn content strategy, you need to decide which of these users you're writing content for and what you hope to achieve.
If you're running ads on LinkedIn, you can take a look at your business analytics to get detailed campaign demographics.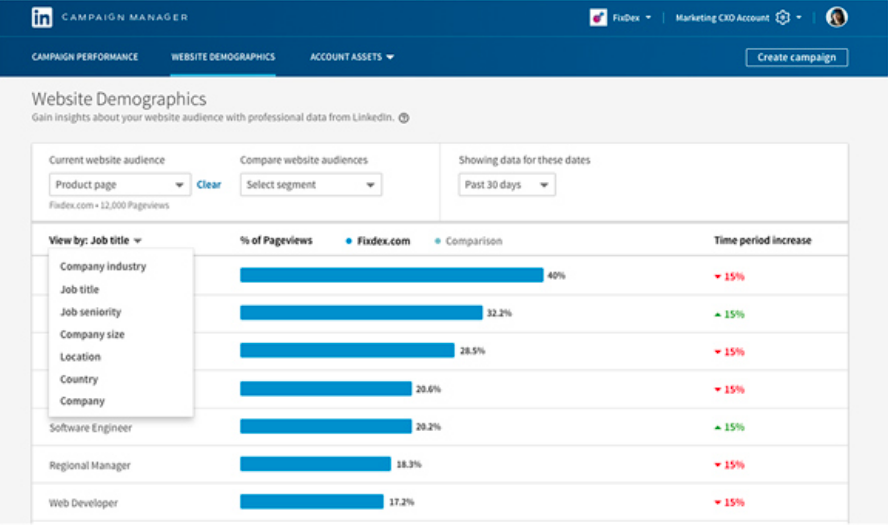 You can use LinkedIn for a number of different marketing strategies including:
Recruitment
Sales
Content marketing
Communicating with customers and clients
Raising your brand profile
And more
Plan Out Your LinkedIn Content
Now you know exactly what you're trying to achieve with LinkedIn, you can start planning out your content.
The LinkedIn content platform can be a highly effective way to drive traffic to your site, establish a following, generate leads, and build your brand authority.
The type of content that does well on LinkedIn includes:
Thought leadership articles
Industry news and research
Storytelling
How-to pieces and tips
Case studies
Videos
Slides and presentations

Once you've brainstormed some content ideas to reach your target audience, plan them out on a content calendar, and stick to a consistent publication schedule.
Make sure to plan out content around dates such as product launches and other important dates for your company and industry.
When you post is important. As LinkedIn users typically use the platform at work, content posted on a weekday is much more likely to get seen. Avoid posting on Friday afternoons too.
Turn Your Employees into Advocates
Employees are 14x more likely to share content from their employees than they are to share other content on the platform.
People are also more likely to engage with content published on social by an individual rather than a brand and are more likely to trust the information too.
These facts mean that if you can get your engaged employees on board with creating and sharing content related to your business, you're on to a winner.
Every enterprise should build an employee advocacy strategy into their overall content marketing plan. Employee-generated content is cost-effective to produce (often free), can help your content reach a wider audience, improves your brand profile, and helps your employees to feel even more engaged.
Engage With Your Audience
Just like any other social network, being active on LinkedIn is a two-way street. Don't just post content and wait for your audience to come to you. Be active in conversations and building relationships.
Sometimes simply asking your audience a question can create valuable discussion and can be even more effective than a long-form content piece.
Be sure to share the content of other individuals and businesses too, and take the time to respond to as many comments and questions as possible.
Part of your strategy should include visiting the brand pages of other businesses in your industry and individual professional accounts. Joining groups is another great way to generate leads. Treat LinkedIn as a networking opportunity as well as a marketing platform.
Content Holds It Together
Having an optimized LinkedIn page and planning your marketing strategy is a good start, but it's not enough. You also need to publish great content.
If you are ready to get more traffic to your site with quality content published consistently, check out our Content Builder Service. Set up a quick consultation, and I'll send you a free PDF version of my books. Get started today — and generate more traffic and leads for your business.