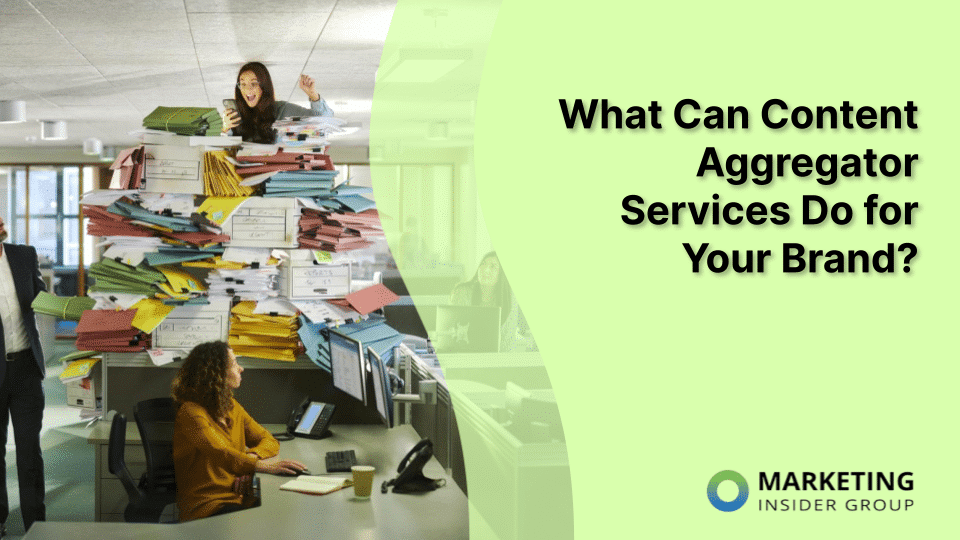 What Can Content Aggregator Services Do for Your Brand?
As a marketer, it can feel like getting your brand noticed in today's crowded digital landscape requires a herculean effort. Content aggregation is one powerful solution that many are using to earn more traffic and leads.
It works like this: A content aggregator funnels content into a content aggregation platform, then uses algorithms to decide where it should be distributed on other websites around the web.
The result? You reach your target audiences even when they don't encounter your brand directly online. You boost your brand visibility, and widen your marketing reach beyond what you can achieve with internal efforts alone.
Plus, you can use aggregators internally to stay on top of important topics, news, and competitors in your own space and build smart strategies that give your brand an edge.
In this guide, we'll cover the process in more detail and how you can use content aggregation to scale up your content strategy for bigger results.
Quick Takeaways:
Content aggregation collects and organizes content from multiple sources into a single, unified platform or feed.

Aggregators exist for social media platforms, search engines, and individual websites.

Marketers use content aggregation both to curate outside content and to distribute their own content more widely across the web.

Key marketing benefits of content aggregation include: more diverse content, wider marketing reach, increased brand visibility, and greater brand authority.
What Is Content Aggregation, Anyway?
Before we dive into the details and benefits of content aggregation, it's important to understand its full scope and purpose. Why should companies care about it in the first place?
Content Aggregation: What It Is and How It Works
By definition, content aggregation means collecting and organizing content from multiple sources into a single, unified platform. It creates curated digital libraries of content targeted to a specific audience. A well-executed and recognizable example is Google News—for any search you perform, Google allows you to see a summary of top news on it.
For example: When I google a sports topic, like the upcoming start of the NFL season, then click "news," I get a summary of top articles from ESPN, NFL.com, and other trusted sources.
Image Source: Google
If you go to Google's regular news site, you can see even wider content aggregation in action. You're taken to a page that shows you world and local news, but then can select specific topics like technology, business, sports, science, health, or entertainment.
Image Source: Google News
No matter what topics you care about most, Google makes it easy for you to find the best and latest content about them in one place. It's easy and convenient for users, and it keeps them coming back to Google rather than individual websites for updates. This is the power of content aggregation.
Types of Content Aggregators
There are different types of content aggregators that exist across the internet to align with a wide variety of user browsing behaviors and preferences. These include:
Search Engine Aggregators
Search engine aggregators streamline the process of performing web searches. They simultaneously query multiple search engines (such as Google, Bing, and Yahoo), then present the combined results to users in a single list.
Users, typically researchers and information seekers, utilize search engine aggregators to save time and obtain a broader range of information.
RSS Feeds
RSS Feeds are digital channels for distributing and subscribing to content from various websites and blogs. Publishers can create RSS feeds that contain summaries or full-text versions of articles and content from across their website. Users subscribe to these feeds to get automatic updates.
RSS readers and news aggregators also scan and pull from RSS feeds to distribute content on other sites across the web.
On-site Content Aggregators
On-site content aggregators are website components or features that consolidate and display content from various sources within a single web page or platform. They are commonly used by news websites, blogs, and other content-heavy platforms to curate and present diverse content to their audiences.
On-site aggregators can aggregate many content types, including articles, videos, social media posts, user-generated content, and more. Users benefit from this type of aggregator by accessing a variety of content on a single platform, enhancing their browsing experience and keeping them engaged.
Social Media Aggregators
Social Media Aggregators are tools or services that collect and present content from multiple social media platforms in one unified interface. Marketers, brands, and individuals use social media aggregators to monitor and manage their social media presence efficiently.
These aggregators gather content like posts, comments, images, and videos from platforms such as Facebook, Twitter, Instagram, and LinkedIn. By aggregating social media content, users can track brand mentions, engage with their audience, and curate content for marketing campaigns, all from a single dashboard.
Social media aggregators simplify the process of maintaining a consistent online presence and interacting with followers across various platforms.
How Can Marketers Use Content Aggregator Services?
There are two main ways marketers use content aggregation to enhance their content strategies:
To curate outside content for purposes like research, ideation, or diversifying content

To distribute brand-generated content to reach target audiences in other places across the web
Both of these purposes are important and can have significant benefits for brands that use them. Let's dive into each one in more detail.
Curating Outside Content
Marketers use content aggregator services as powerful tools for curating outside content. The process involves gathering relevant, high-quality content from external sources like industry publications, blogs, news outlets, and authoritative websites.
This helps marketers achieve a few key objectives:
Research
Content aggregators help marketers stay up to date on industry trends, competitor activities, and emerging topics. They can use these insights to inform content strategies, identify gaps in the market, and discover fresh ideas for content creation.
Idea Generation
Curating diverse content from various sources sparks creativity and offers unique perspectives. Marketers can draw inspiration from outside content to come up with new angles, topics, or approaches for their own content marketing initiatives.
Building Authority
Sharing high-quality external content reinforces a brand's authority within its niche. It demonstrates a commitment to providing valuable information to the audience, fosters trust, and positions a brand as an industry leader.
Distributing Brand-Generated Content
Content aggregator services also play a pivotal role in distributing brand-generated content effectively. Marketers utilize these services to extend the reach of their content and engage with a broader audience across the web. Here's how:
Content Syndication
Marketers can leverage content aggregator platforms to syndicate their content to various channels and platforms. This includes publishing articles, blog posts, or other multimedia content to reach wider audiences beyond their owned properties.
Multi-Channel Engagement
Content aggregators enable marketers to maintain a consistent online presence across multiple platforms. This is crucial for reaching diverse audience segments and ensuring brand visibility.
Content Amplification
Aggregating and distributing brand content through a content aggregator service amplifies its impact. By exposing content to a larger, more diverse audience, marketers can increase brand awareness, drive traffic to their websites, and generate leads or conversions.
Why Content Aggregation Makes Your Brand Look Better
Content aggregation has the potential to make your brand a content leader in multiple ways. You can use aggregators to become trusted publishers of top content in your space, both created by you and other sources. At the same time, you can feed your own content to aggregators so that it's included in other companies' aggregated content across the web.
It's a win-win—one that builds your brand authority, visibility, and overall reputation with audiences who benefit from the content you create and share.
Create More High-Performing Content
Content aggregation proves the power of wide content distribution—but content creation has to come first. It can be a time consuming process, which is why more than 70% of in-house marketers choose to outsource it.Marketing Insider Group can create and deliver optimized, ready-to-publish content tailored to your unique audience every single week so that you can focus on key growth strategies like aggregation. Book a quick 15-minute call with me to learn more and get started.
Get a Free Consultation
for Content Marketing