Your Brand Is Your Culture! (And How That Impacts Content Marketing)
Your company culture forms the basis of everything you do. No matter how much time or how many resources you plow into marketing, if your audience and customers don't align with your key values, your success will be limited.
Company culture and brand are now merging and some experts already consider them to be synonymous. To put it another way, your branding and content marketing strategy can't be separated from your company culture as a whole.
It's always a good time to review the trends we've seen in company culture and some predicted shifts as we move into the future. For your business to enjoy growth and success in the coming years, it's well worth considering how these shifts align with your own company culture, and how they may affect your content marketing strategy and results in the future.
Quick Takeaways
Company culture is more important than ever before when it comes to attracting and retaining talent.
Employees who align with your corporate culture are more likely to be engaged at work and act as brand advocates.
A diverse workforce has the potential for greater creativity and stronger connections to your audience than a workforce that isn't inclusive.
1. Trust and Transparency
Employees who work in a trust-based company culture are 8x more likely to say they're proud to share where they work, which helps to promote the company brand.
However, less than half of the employees surveyed in a global study say they have "a great deal of trust" in the company they work for. This lack of trust is due to unfair compensation and sparse opportunities for promotion, lack of leadership, and a work environment that's not conducive to collaboration.
For brands to succeed in the new era of influencer marketing, where their advocates are their own employees rather than celebrities and social media personalities, it's vital to build this culture of trust.
Research into the Fortune100 Best Companies to Work For list found that companies ranking highly for trust shared many of the same practices for improving communication and increasing transparency:
Important information is made available and is easily accessible to all employees
Leaders and managers are approachable and available for feedback
Employees are actively asked for their opinions and ideas relating to the running of the business.
Transparency is essential for building great employee relationships. This is critical for your brand as it is your employees who can produce honest, authentic content on your behalf. This authentic content is also more valued by your audience. Consumers have, quite frankly, had enough of being advertised at – whether this is in the form of traditional advertising, or more subtly through content marketing.
86% of Americans say that they value transparency from businesses more than ever before, and 73% are willing to pay more for products that guarantee transparency.
2. HR and Marketing Merging Roles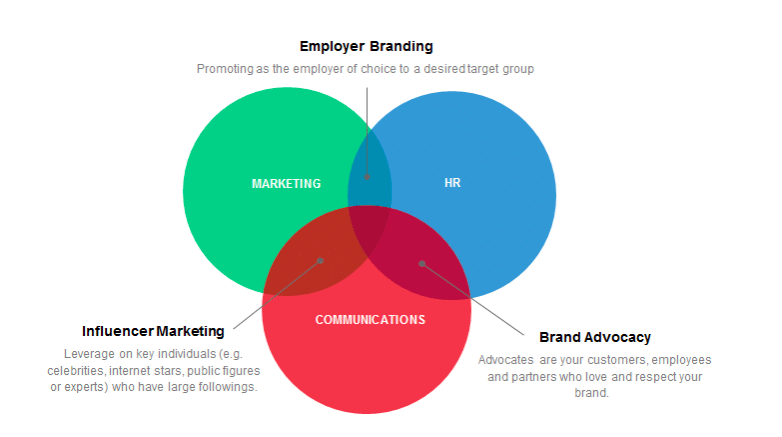 As trust and transparency continue to be some of the most important considerations for both your employees and your customers when they think about your brand, the roles of your HR and marketing department will start to blend and overlap.
In the past, these teams would complete totally separate tasks and rarely intersect. However, now that company culture is such an important part of your overall brand, HR and marketing must collaborate and work together to develop your brand as an employer.
Developing your employer brand means you'll attract individuals who align with your mission and values and retain talent that fits well into your company culture. Over a third of US workers say that they would reject the "perfect" job if the corporate culture was not a good fit.
HR also plays a critical role in driving employee engagement. And engaged employees can be an effective part of your content marketing strategy by creating and sharing content around your brand.
3. Diversity and Inclusion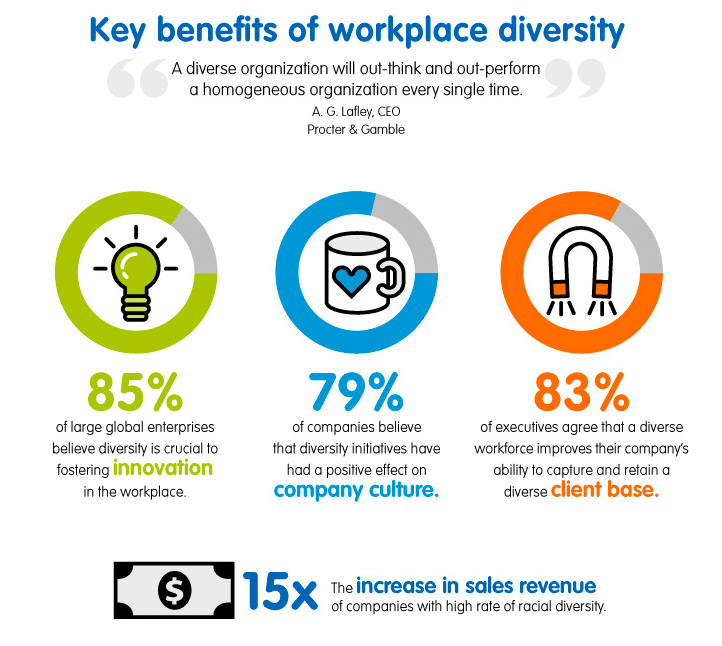 Diversity and inclusion are hardly new concepts. But in the past, some companies have built them into their systems and procedures as more of a "box-ticking" exercise than an integral part of their company culture.
The Millennial generation, which now forms the majority of the US workforce, is more diverse than any other generation that came before them. So it's no real surprise that they consider diversity at work one of the most important factors when they're looking for a new job.
The workforce is also aging, with people living and working longer than ever before. Companies must overcome any stereotypes about older workers in order to benefit from the skills and experience they can bring to the table.
Diversity in the workplace now means much more than age, sex, and race, however. Educational level is no longer a deciding factor in recruitment for many major companies including Google and Ernst & Young, who have ditched degrees from their job requirements.
This all leads back to the idea of "fairness", which was identified as one of the most important aspects of company culture in the previously referenced report into America's best companies to work for.
Again, companies that treat their employees fairly and embrace diversity are more likely to have engaged employees, who are happy to act as brand advocates by creating and promoting content.
Diversity is also important for the overall creative process and creating content that resonates with your audience. It's no surprise that brands and teams with the most creative ideas are often culturally diverse.
Communicating and collaborating with people who have a different background than your own can help in approaching challenges from a different viewpoint and sparking ideas, as well as empathizing with a wider audience.
4. Ongoing Learning and Development
The modern career path no longer follows the standard of school, college, and a job where we essentially stop learning.
The growth of the internet and e-learning opportunities, as well as reduced emphasis on traditional education and degrees, means that employees are keen to continue learning and developing their skills at work to further their careers.
Several brands are now using education as a marketing strategy, developing internal educational content to upskill their employees and using content distributed as free online courses to collect customer data and increase their customer retention rate.
If you are ready to get more traffic to your site with quality content that's consistently published, check out our Content Builder Service. Set up a quick consultation, and I'll send you a free PDF version of my books. Get started today and generate more traffic and leads for your business.
Get a Free Consultation
for Content Marketing