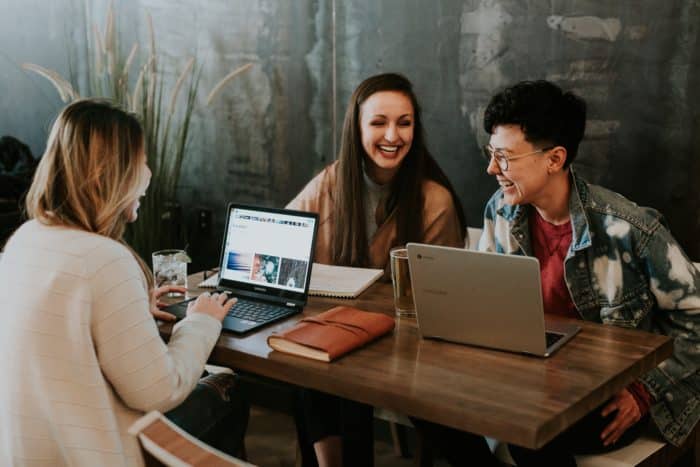 How to Build an Ad That Grabs Attention in 2 Seconds or Less
There's a war brewing on our televisions. It's not a climactic battle from "Game of Thrones," but one between the companies providing the content. Streaming platforms from Disney, Apple, NBC, CBS, and HBO, among others, strive to plant a flag on the mountain that Netflix once peaked.
And how will this battle be fought? With more and more competitors entering the fray, the essential strategy lies in capturing consumers' attention.
The same is true for competition in any industry or market. After all, there's no sense in trying to build customer loyalty — or even attempting a sale — if no one is looking. The first step is always to turn eyes toward your business.
Quick Takeaways:
Marketers are constantly complaining of waning attention spans, but have themselves to blame for incessant push marketing. Worse, there are few things that intrigue customers, thanks to information overload.
You can influence customers by grabbing their attention for as little as two seconds.
The nature of your target audience is changing. Your messaging needs to change accordingly.
Offer future value if you want to build a loyal customer base.
The Attention Economy
Customer attention is finite and fleeting. It's difficult to capture and even harder to keep. 
With customer interactions occurring increasingly on the internet, the amount of time that brands have to capture attention in an advertisement is incredibly small. The average ad on Facebook is viewed for only 2.5 seconds by desktop users. On mobile, that number drops to a mere 1.7 seconds. 
A fair number of companies try to work around this by gaming the system, from using unskippable ads to deploying frequent, unnecessary notifications on mobile apps. But these methods only cause consumers to change their behavior in an effort to avoid intrusive advertising. They delete apps, develop "banner blindness," and focus more on finding an escape than engaging with the ad in front of them.
"Brands often want to be all things to all people, and in our age of fractured attention, vague messaging is easy to scroll past without a second thought," notes Hamish McCollester, senior vice president and group creative director for RAPP LA. "This means that great creative is more important than ever, as it takes skill and ingenuity to articulate a brand's story and tell it compellingly in the blink of an eye."
The Instant Spark
Your best option is to distill your business's pitch into a single, clear message. It's a tough task, but it's what our new attention economy requires.
Although capturing consumer attention may seem difficult, it's not impossible. In fact, even low amounts of attention bring returns for a brand. You really just have to get a consumer from pre-attention to low attention. According to Nielsen research, even 2 seconds of attention can increase recall, raise brand awareness, and inspire purchase intent. Good thing marketers have 2.5 seconds to work with! 
So how do you perform that distillation and craft a message that can inspire and draw consumers in a flash? These few steps will get you started:
1. Rethink your target.
You won't catch and keep attention if your messages are irrelevant to viewers. It's possible that your messaging is going to the wrong eyes while sending signals that would put off your most valuable demographics.
Women over 40, for example, often feel both overlooked and misunderstood by brands and advertisers. Despite having major influence over household spending, this market segment is frequently targeted by ads for de-aging makeup and wrinkle reducers — and little else. This could be due to a lack of representation in marketing teams, as well as a fundamental misunderstanding by brands. 
Sparkling Ice is one brand that's bucking the trend and looking more closely at its potential customer base. By testing and studying shopper behavior, the company made connections between who was buying its product and what other services or lifestyle choices were on their minds. This led Sparkling Ice to target groups such as women on the Weight Watchers program or those pursuing the popular keto diet — specific, nuanced demographics that would be likely to appreciate the company's message.
2. Engage emotions.
The most engaged and loyal customers are those who develop an emotional connection with a brand. According to Harvard Business Review, these emotionally connected customers have about twice the value to brands compared to customers who are simply satisfied with their purchase.
Why can't this same emotional connection help an ad grab audience members' attention? 
Halo Top has managed it. While much of the company's growth has come from word-of-mouth influence, the minimal advertising that got the ball rolling had a decidedly emotional through-line. The ice cream company's ads contain a comical, yet heart-tugging, take on eating as a respite from the pain of adulthood, a topic that resonates deeply with its Millennial target audience. 
https://www.youtube.com/watch?v=88UfqoPLJcI
3. Offer future value.
Loyalty programs are often viewed simply as a way to keep current customers coming back, but they can also bring in new customers. Most importantly, they encourage customers to share data with a company and tell friends and family about the brand, according to Prizelogic's "Incentivized Engagement Report." 
The data companies receive from those loyalty programs can help them build more accurate customer profiles. In turn, this helps them create better, more targeted ads. Ulta Beauty, which has a loyalty program with more than 31 million active users, reached $6.7 billion of revenue in 2018. That represented a 14 percent increase from the year before. The data Ulta gleaned from existing customers improved the quality of its ad game; the regular additions of new perks kept the word-of-mouth conversations going.
Attention spans aren't waning. It's just that there's more out there — more shows, more news, and more brands — vying for our attention. Rise above the noise with a clear message and an emotional connection to the right audience, and you'll capture the attention you need.
Get a Free Consultation
for Content Marketing