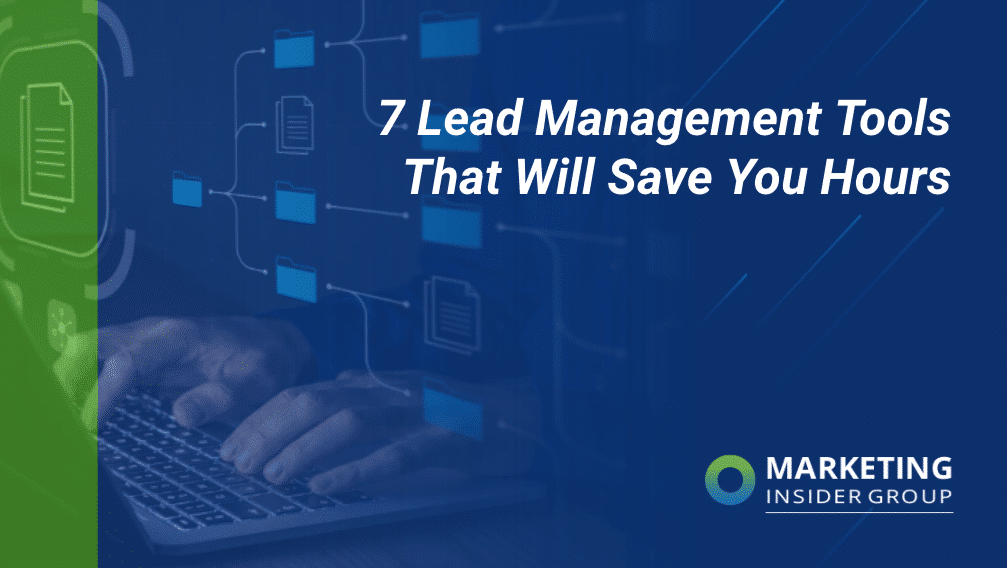 7 Lead Management Tools That Will Save You Hours
Successfully managing leads from inquiry to closed sales opportunity can often feel like a monumental task. Especially for a small business. Add multiple divisions and product lines in a larger company and the job of managing leads becomes impossible manually.
While related to CRM software which manages the potential customer's contact information, and Marketing automation software which manages the automated nurturing of colder leads, lead management tools help your sales team to track and manage the flow of leads across the pipeline. This way, your sales team knows what they need to do next. And your management team knows how much pipeline there is, how likely it is to convert, and how reliable their sales forecasting will be.
In this post, we'll report on the top lead management tools and what you need to know to manage leads for your company.
The Challenges of Lead Management
Lead management usually entails the long hard task of separating legitimate prospects from duds, organizing data and consistently tracking key leads on a regular basis. Sometimes, you also need to use competitive intelligence tools to try and steal your competitors' customers.
Lead generation and management is 61% of marketers biggest challenges. Part of this is because of all of the moving parts involved.
From inquiries to lead qualification, to tracking, to nurturing, every step of the process requires a different kind of attention to detail. Not to mention the fact that the sales funnel looks different for almost every customer.
When it gets right down to it, manual lead management can be a huge, boring and largely inefficient task. Fortunately, there are all sorts of tools that can help your company get the job done faster.
The Top Lead Management Tools
We scoured the web and asked our customers which lead management tools they preferred the most. There was one comment we keot coming back to: none of these tools are awesome because the lead management process is so complex, unique and often not very well defined.
Our take on this is that it is not the lead management tools fault that you haven't mapped your sales enablement process. So take the reviews with a grain of salt.
For example, G2's top Lead Capture tools show a pretty crowded landscape:
Here's a few of the contenders from our own research:
Zoominfo is the one stop shop for company data. The application organizes and cross references data between companies to help you find not only who's in your market, but who within that group has buyer intent that matches your products.
Zoominfo has application options that can help organize emails, automate and tailor website chats, and optimize timing for outreach. They help you find the right buyer, at the right time, with the right message.
Sales Navigator can be an effective tool from the beginning of the lead generation process to the end. This tool has specific search experiences geared towards finding worthwhile leads.
There's also features to set your sales team up for success through email management. By helping understand your audience, LinkedIn Sales Navigator helps you and your team make faster decisions.
The application displays relevant information about contacts by pulling from it's parent site, LinkedIn, to help your team have access to all the information they need.
Known for their Google Workspace integration, Copper positions themselves as a user-friendly lead management tool. The software offers detailed, living timelines regarding the sales process.
They boast having zero learning curve and being easy to manage. Not only that, but Copper has software options for once the deal is closed. This way the project can be born in and live in the Copper software.
Boomerang is a Gmail extension built to help organize your company email. The installment offers email features like the boomerang button. This feature literally boomerangs the incoming mail you aren't ready for yet.
Say you get an email that you know will be important come next week, but you're in the middle of this week's mess. The boomerang feature will bring emails back to you when they're more relevant to your timeline. They appear right back at the top of your inbox as unopened.
In comes another Google application. Google Groups is available to anyone that has a google account, the same way Google Docs is.
Groups allows you to send group emails through one email address, offering connectivity without the clutter. Google Groups can also be used to discuss topics, events, and anything else your team might need to talk about.
All you have to do is create a group within Google; for instance, everyone working on a particular sales project. Then simply forward emails or share contacts without worrying about adding each member to a new thread.
Social media is everywhere, all the time. Social media integration is a must-have in any sales arsenal. You can generate customer data by monitoring your company's social media activity with web-based tools like Sprout Social.
Sprout Social gives your company the opportunity to look at rich social insights and data to help inform decision making in the social realm. From engagement to scheduling, this application helps streamline the social media process that can feel so complicated at times.
HubSpot's Customer Relationship Management tool helps organize the lead generation and sales timeline so you don't have to dig through emails and calendars to see where you left off or what's next.
Their software can also help organize your sales team to make sure no one is getting left behind or slips through the cracks.
Continuous lead management is an important part of any healthy business. Lead management tools are a smart way to stay on top of the constantly changing market to help your company stay on top. Tools like these can also help your company more effectively manage your budget and time. Not to mention the potential to more accurately track (and improve) ROI.
From B2B lead generation, to lead management tools, things can easily become confusing, quickly. Lucky for you, the MIG team is staying on top of the need-to-know industry info. Sign up for our email newsletter to hear about it first.
What's your favorite lead management tool? Did it make the list? Tell us about it below.
Get a Free Consultation
for Content Marketing