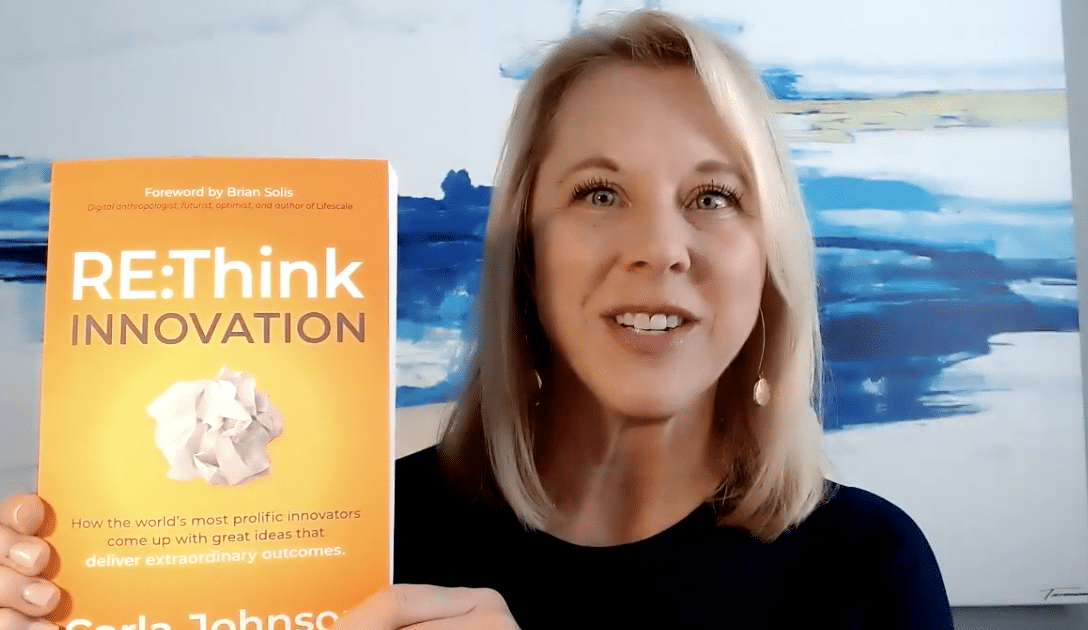 Carla Johnson on How To Rethink Innovation For CMOs and Businesses Today
A few days ago, I interviewed Carla Johnson about her new book, RE:Think Innovation. One of the topics we covered is how to rethink the CMO's role for today's businesses.
More than anything else, your success in a CMO role hinges on your ability to hire innovative people for their teams, foster processes that lead to innovation, and encourage employees to use those processes to arrive at new ideas.
A strange phenomenon happens to all too many once-innovative marketers once they enter the C-suite. They metamorphose into their parents. (I love these commercials!)
Where once they were a fountain of ideation, their favorite word becomes "No," along with its cousins "That won't work," and the ever-popular "We've never done it that way."
It doesn't have to be that way. During the interview, Carla posed a question all marketing executives should ask themselves every day when they come to work. "Are you the bottleneck?"
It was, of course, a rhetorical question. She didn't aim it at me. But just the same, I needed to hear it. You might, too.
Quick Takeaways
CMOs, ask yourself what's getting in the way of innovation in your organization.
Locate the innovation bottleneck and uncork it.
Teach your teams (and yourself) how to think like an innovator.
Empower your teams to step out of their silos and innovate.
What's Behind the Bottleneck?

It's the "cycle of sameness," as Carla put it so well, that hinders innovation. Dig down deeper, and I think you'll find that it's fear.
Fear of failure if an employee's idea doesn't work. Fear of changing what seems to be working in favor of an untested idea with huge potential.
Fear of stepping outside your siloed comfort zone to brainstorm with people in other departments. After all, you might actually have to drop the marketing jargon to communicate.
So, you become the bottleneck. The place where ideas go to die – unless they're your ideas, of course.
You, after all, know how to think up new ideas. That's how you clawed your way up from junior copywriter to copy chief – and eventually to CMO, right?
So, How Do I Uncork the Bottleneck and Embrace Innovation?

You have to realize – which is the whole point of Carla's book – that the ability to consistently come up with great ideas that make a positive impact on your bottom line is one your employees can learn.
Innovation isn't your sole province. Nor is it confined to your creative teams – or your company's dev and engineering teams.
Spark the joy of ideation in every member of your team. Spread that joy to everyone in your company, from the janitorial teams to the CEO herself.
While you'll have to read Carla's book in its entirety (it's a quick read) to learn all the details, you can start the process today. As she advises, observe the world around you, put the information into patterns, and then come up with ideas.
When you organize your idea into patterns and relate it to the work you do, the people above you in the corporate "food chain" are more likely to see the connection and invest in it themselves.
As Carla points out, there's a one-to-one correspondence between innovation and bottom-line success. It's a lesson every member of your C-suite should learn.
Teach Your Employees How to Innovate
Once you reignite the spark of innovation in yourself, teach your employees how to come up with the kinds of ideas that can transform your company.
The first part of that process is learning how to come up with great ideas. The second part is learning how to make those ideas work in a corporate environment.
Once your employees are on the fast track to ideation, encourage them to suggest their best ideas to you and your fellow executives. When you create a culture of original thinkers within an environment where leaders listen to their ideas and put them into action, your company will operate more efficiently and, ultimately, generate more revenue.
Hire for Innovation
When a new position opens, make your top priority finding the innovators among the candidates. Whether you're hiring a graphic designer or an office assistant, creativity needs to be among your top qualifications for any position.
In any role, finding better ways to do one's job is essential to the progress of your entire organization. The ability to ferret out good ideas from mediocre ones, frame them in a way in which others can embrace them, and carry them out is a characteristic you want in every position in your company.
Embrace Change as You Rethink the CMO's Role

This culture of innovation starts with a sober evaluation of where your company stands today. Where do good ideas go to die?
Does some mid-level bureaucrat strip them down to a shadow of their former selves? Does your leadership team, strapped for time, shelve them until "someday"?
Where's the hang-up? Is it you?
Once you've found the bottleneck, uncover the "why." Is it fear of change – or is it something else?
You might have too much on your plate. On the other hand, does your team look to you to solve problems rather than tackling the snafus themselves?
If it's a heavy workload on your part, consider hiring someone to handle the routine tasks that drag you down. Automate what you can and turn over the rest to your teams.
If, on the other hand, your teams want you to solve difficult problems, challenge them to find the answer themselves. Empower them to fail without fear of reprisals.
If the ideation graveyard lies elsewhere, identify it and find a solution. Is it an outdated bureaucracy in the upper echelons? Or, does your company lack the funds to carry your teams' ideas over the finish line?
Advocate for your teams' ideas among your fellow executives. Find a way to fund their projects, whether it's stripping away unfruitful processes to free up cash for something more promising.
Treat your teams as fellow collaborators and co-creators, as Jerry Wind, professor of marketing at the University of Pennsylvania's Wharton School of Business, advises. Leverage time-saving technologies to automate routine tasks to free their minds for the work of innovation.
Focus your teams' creative energies on engaging customers. Unleash your people from their silos and bureaucracies, and their innovation levels will soar – and your company with them.
If you would like to watch my interview with Carla, you can check it out here:
So check out Carla's amazing book  RE:Think Innovation and learn more about Carla and the book here.
Get a Free Consultation
for Content Marketing