What is the mission of your organization? And how are your marketing efforts contributing to that mission?
You've probably heard the famous anecdote about President John F. Kennedy visiting NASA headquarters for the first time. The president asked a janitor mopping the floors what his job was, and the janitor replied, "I'm helping put a man on the moon."
NASA's primary mission at that time in 1961 was a successful moon landing. And, it made sure that every single employee not only understood what that mission was but also realized that their individual efforts played an important part in the success or failure of that mission.
So what does this have to do with marketing?
Now more than ever, every activity you do as part of your business should contribute to your company's primary mission, including marketing.
Quick Takeaways:
Every one of your business activities should contribute to your primary mission.
Creating a content marketing mission statement can help to keep you on track.
The overlap between the needs of your audience and the needs of your business is where content marketing can work its magic.
Creating a Content Marketing Mission Statement
Just as your business needs a mission statement to give purpose to your strategy and activities, so too does your content marketing strategy.
Your content marketing mission statement should define your goals, or what you want to achieve through content marketing, and outline the value you hope to provide to your audience.
While the goal of a television ad or paid digital campaign may simply be to drive more sales, content marketing typically has multiple purposes and brings multiple benefits to both your business and your audience.
Your content marketing mission statement brings together your business goals and the needs of your audience.
If your content doesn't offer any value to your audience, then it won't attract visitors, won't drive engagement, and won't offer any improvement on your bottom line.
It's vital that your content offers benefits to your audience, and your content marketing mission statement should describe these benefits.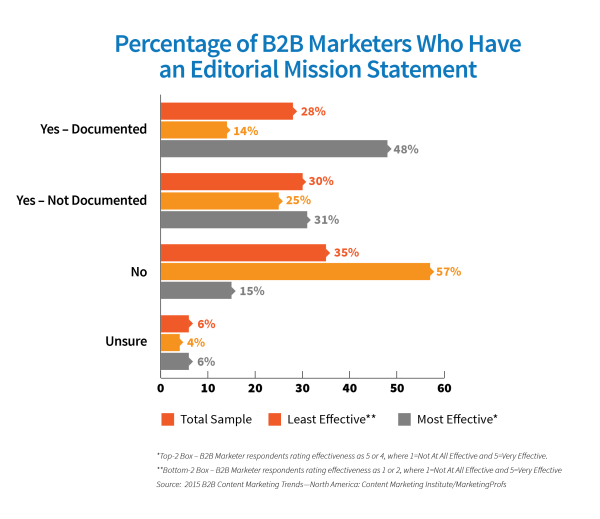 Still unsure what your content marketing mission statement should look like? Take some inspiration from these examples:
While your business goals may well revolve around profits and business benefits, your content marketing mission statement should focus on how you can help your audience. Aim to provide as much value as you possibly can, and the rest will naturally fall into place.
Aligning Your Content Marketing Goals with Your Business Goals
Now, it's time to see where your business goals and your content marketing goals overlap, and how you can align the two.
At this stage, it might be worth revisiting your company mission statement and revising it if necessary. Every business wants to make money. But what greater impact do you want to have on the world?
Your organization's mission and purpose will not only help you to plan your business and marketing activities, but it will also provide a starting point for your marketing campaigns and guide you towards the topics your content should cover.
Outdoor clothing brand Patagonia updated its company mission statement a couple of years ago to reflect their commitment to sustainable practices and using their profits to make the world a better place: "We're in business to save our home planet."
Patagonia still wants to sell products, of course, but by focusing their content marketing around this mission, they attract an audience that shares similar values to the brand, and build customer loyalty with each piece of content they produce.
Some examples of recent content on the Patagonia blog include:
A short film about the rigorous testing process that each Patagonia garment goes through
A story about a climber connecting local food growers
News about divers restoring a dying coral reef
A long-form piece about protecting Alaskan forests from logging.
Patagonia understands their audience incredibly well, and they publish high-quality content that their audience will read, share, and bring them that little bit more in line with the brand with every blog post they read and video they watch.
Your company mission doesn't have to be as altruistic as Patagonia's. But, by producing content that aligns with your business values, you ensure you're building a committed audience that will value your brand for the long term.
Reviewing Your Content Plan
Take a look at the content you have planned for the coming weeks and years. Does it fit with your content marketing mission statement and company values? Or is some of it purely created to provide keywords to fulfill your SEO strategy?
There's nothing wrong with creating content around keywords. But, remember, you're writing for a human audience, not a search engine.
Every piece of content you produce should be providing value for your audience and working towards your ultimate business goals. If it's not, you're wasting your time.
So What's the Next Step?
If you are ready to get more traffic to your site with quality content that's consistently published, check out our Content Builder Service. Set up a quick consultation, and I'll send you a free PDF version of my books. Get started today and generate more traffic and leads for your business.