How to Measure Your Content Marketing ROI
Michael Brenner on Jul 31, 2017 in Content Marketing
In both B2C and B2B marketing, about a third of the marketing budget is spent on content. Many successful brands invest even more. These numbers are predicted to keep going up. By 2019, experts believe we're looking at a $300 billion dollar industry, which means dollars spent on content marketing will have doubled in less than four years.
Increasing the amount you spend on content isn't exactly a bold initiative. Today, it's actually your safest bet. Content marketing typically generates three times as many leads as traditional marketing and costs as much as 62 percent less. The question is, are you getting a good return on your time and money spent on content? You know other marketers are. That's why the industry continues to blossom. Content works.
But, how well is it working for you? Here's how to measure your content marketing ROI.

Waiting for Your ROI
Analyzing the ROI of your online content is a little different than when you measure the ROI of a banner ad or a Facebook advertising campaign, or a one-off piece of off-line content like your event marketing. This is because, once you publish your content, it may take several weeks or even months for search engines – and your audience – to discover it. Unless you have already built up your blog readership or podcast listeners, factor in a time lag when measuring your content marketing ROI.
Identifying Your Consumption Metrics
You can use Google Analytics, your free web-based resource, or any other paid analytic tool such as KISSMetrics, GoSquared, Woopra, or Clicky to measure important KPIs to gauge the value of your website's content.
First look at consumption. Is your content reaching your audience as much as you want it to? Are these numbers increasing over time?
Total visits
Unique visits
Are people staying on your web pages long enough to gain value and to be motivated down your sales funnel?
Bounce rate – anything below 70 percent is respectable, below 40 percent is ideal
Time-on-site – 30 to 45 seconds is the minimum benchmark, otherwise, your content probably isn't hitting the mark with your visitors
Look at how your individual blog posts are doing. Which ones are getting the most visitors? Which aren't performing well? Are there any trends that are making some of your content more interesting to your site visitors – better images, longer posts, more statistics, more story?
Is Your Content Motivating Action?
Is your content engaging? Tools like HootSuite, Buzzsumo and Buffer reveal what other sites may be sharing your content and where you may be getting your backlinks. Look at these insights against the backdrop of your consumption metrics to gain even more understanding into the value of your content. For example, a blog post that gets shared across social media channels and plenty of comments on site, but isn't getting a lot of action in the lead-capture department probably needs some CTA work. These pages are prime territory for lead-capture forms and strong CTAs, directing site visitors to your landing pages.
Which pieces of your content are getting the most lead generation action? With Google Analytics, you can follow where your visitor goes. If they watch a video, then follow a link to learn more about your services, and then click on your contact page to fill out a form, you know this content is generating leads.
Calculate your general lead gen conversion rates like this:
Number of leads collected/total traffic to site x 100
What's your lead-value price? First, determine how much each lead is worth. For example, they could have an average value to a business of $50. Then determine your total cost of creating and promoting your website content for the month. Maybe this expense was $5000. You need to generate 100 leads to cover your content marketing investment. Anything beyond your baseline is your potential return on investment. This is another way (in addition to the formula we'll get to later) of looking at your content ROI.
The actual return, of course, depends on the quality of the leads you are getting and how good you are at converting those leads into buyers. Hubspot and Zoho are intuitive CRM solutions to use for tracking leads and segmenting, which will make it easier for your lead nurturing processes.
What's a good conversion rate? It varies by what channel you are using and by what industry you are marketing for. For example, a webinar may yield a 1.6 percent conversion rate. A good inbound marketing conversion rate is around 4 percent.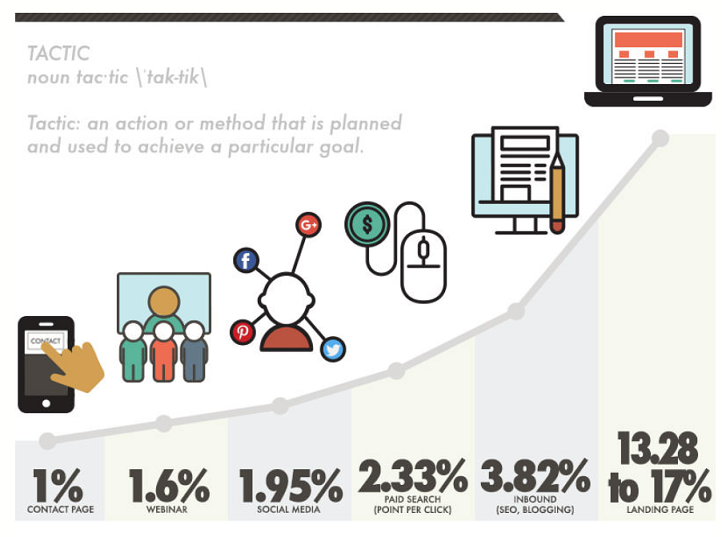 image source
Keep in mind, some industries convert better than others. Financial and software businesses should expect a much higher rate than retail or eCommerce.
Even more telling into the ROI of your content marketing is your sales conversions. How much in sales is your content marketing leading to?
You can easily track your sales conversion rate in the same way as your lead generation conversations:
Number of sales/number of visitors x 100
The ROI of Your Content
All of these metrics are useful but what about the overall return on investment of your content marketing budget.
The basic ROI formula is:
(Return-Investment)/Investment x 100
Your return could be your sales, or for some sites, there may be other forms of revenue. Compare this to what you invested every week, two weeks, month, and quarter per channel and for your content marketing as a whole. You'll be able to clearly see how your budget is impacting your bottom line.
There's Your ROI, Now What?
Figuring out your content marketing ROI isn't a tool for patting yourself on the back or to validate the industry. It's to inform your marketing efforts. The goal is to ensure the money spent on content is worthwhile, that it's attracting more interest in your brand and leading to a growing number of sales.
It's also important for determining what types of content work best for your demand generation as a whole. For example, you may find that investing money into high-quality video content isn't giving you as much of a return on investment as a marketing event or webinar series, which costs about the same amount to pull-off successfully.
This gives you immense insight into what your audience prefers and what direction you should head into with your future marketing strategies. Your ROI, conversion rates, and consumption metrics can also be used to hone in on the individual blog posts, CTAs, and other pieces of the puzzle that impact your numbers the most, and which are barely inching your audience along the sales funnel.
You may be surprised that what works the best isn't what you had anticipated. Keep measuring your content ROI and other KPIs so you know where to shed what isn't working and what to replace your low-performing content with.