Spoiler alert: Facebook is not the most engaging social media channel! Despite its sheer numbers of active users and maturity, this social media network may no longer be the top platform to focus on for your social media marketing strategies.
You can probably guess which platform ranks as the most potent channel for engagement. Since its inception as a photo-sharing app in 2010, Instagram has risen to become one of the largest social media networks with well over 500 million active monthly users.
According to a new report, Instagram isn't just growing. It may be the most powerful social media channel available to businesses on the internet.
There are a few other surprises, such as Twitter's waning significance and LinkedIn's strength in certain industries.
Are you focusing your efforts on the right social media channels for your brand? Even more crucial, as we marketers strive to work smarter with the shift towards agile methods, are we wasting our time on others?
How Social Media Sites Add Up – New Digital Marketing Analysis Report
This year's official analysis of the digital marketing industry by TrackMaven – a comprehensive look at more than 700 leading businesses across 13 industries, found that Instagram isn't simply the most engaging. This network crushes the other social media platforms when it comes to social media engagement in every industry except real estate.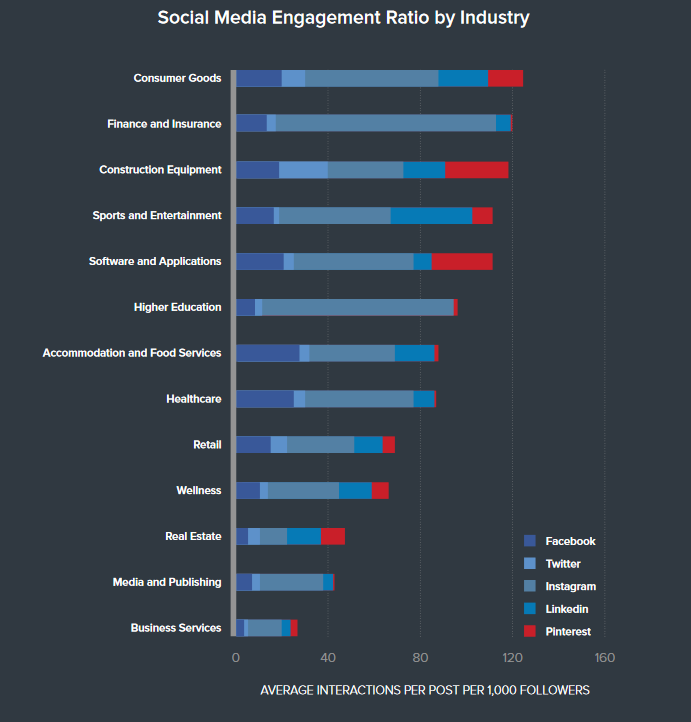 And, the least engaging? Of Facebook, Twitter, Instagram, LinkedIn and Pinterest, our old friend Twitter inspires the least engagement across the board. As with the Instagram phenomena, where the site was wildly engaging when compared to other networks, the report found that Twitter looks pallid next to all of its brighter, more engaging social network colleagues.
Again, with one exception. Construction equipment – which received, on average, 21.26 interactions per post per 1,000 followers. When it comes to the world of dump trucks, cranes and plow trucks, marketers get about the same amount of engagement across channels.
What's even more surprising is that Facebook isn't getting that much engagement, at least not enough to warrant its popularity among marketers. Still today,
55% of marketers say Facebook is their most important platform for marketing – with the second in line being LinkedIn, favored by 18% of marketers
67% of marketers plan on increasing their activity on Facebook in 2017
Are we way off when it comes to our social media strategies? Should we be working on filling our photography skills gap for our brand's Instagram account?
Industry Does Matter
Before you sign up for an evening photography class, what industry you are marketing for does make a difference. For example, in the healthcare industry, as well as for food services and accommodation, Facebook is still incredibly useful for engagement.
This makes sense – Facebook is great for restaurants and hotels who need a channel to regularly post updates, specials, and news about their location that locals would be interested in. Facebook also comes with the ability to let customers 'check-in,' often in exchange for deals.
This is like getting people to wear your brand's t-shirt. They become a walking ad for your business and feel pretty good about it because they get something out of the deal as well.
Appealing to all demographics, including older adults, Facebook is ideal for health awareness campaigns and posting announcements about health classes, services, and general health tips. Also, this is an industry that tends to be very community driven, just like your local pizzeria and coffee shop, which meshes with Facebook's local business appeal.
Anne Arundel's Medical Center has been a fantastic example of an engaging Facebook presence since their Facebook contest to raise awareness for men's health in 2015, encouraging users to share their best 'stachie' (mustache) photos. The company also does a great job tackling local issues that people are interested in, like addiction recovery and infant health. This type of marketing really fits with Facebook and wouldn't work as well with a platform like Instagram.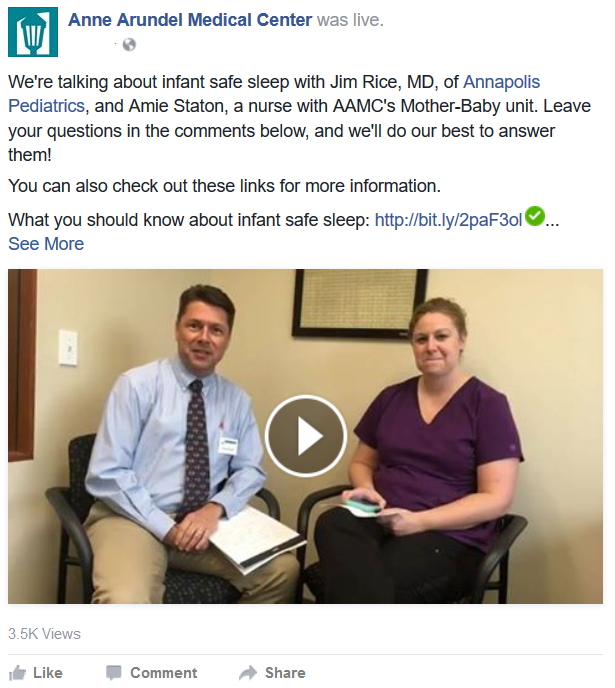 Real estate, on the other hand, gets the most engagement with LinkedIn – the network known to appeal the most to professionals. This industry also does well with the visual sites, Pinterest and Instagram, which offer agents the chance to showcase their properties.
For higher education, which is marketing towards a younger audience, Instagram is a powerful engagement channel. Instagram is known to be extremely popular with millennials. In 2016, just under 60% of internet users between the ages of 18 and 29 were on Instagram – only 8% of users aged 65 and over had accounts.
Perhaps this has something to do with the popularity of Instagram with consumer goods companies. The power of Instagram for the finance and insurance industry may be a shock to marketers. This idea may sum up industry sentiment:
"Instagram probably isn't going to move the needle for the majority of financial institutions. It could be a gigantic waste of time for many banks and credit unions."
Well, it's moving the needle. The visual, personal feel of Instagram appears to have an impact on customers. Financial services company, US Bank is a great Instagram example. It uses the platform to tell the story of their brand values, through regular posts about community involvement using #communitypossible.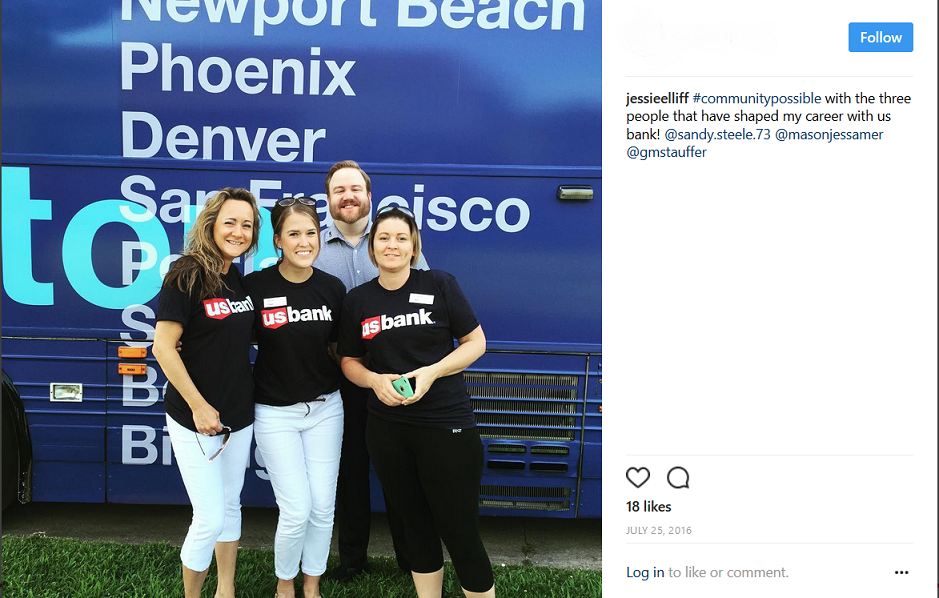 Engagement Does Matter
Social media engagement isn't everything. You may have great activity on your brand's social media channels but this isn't necessarily going to directly translate into sales. What it will do is bring more attention to your brand and help to build loyalty and trust. 53% of Americans who follow brands are likely to be loyal to them. It also helps to make your brand feel more human, which eases those conversion rates. People are more interested in doing business with other humans.
And, it will drive traffic to your website.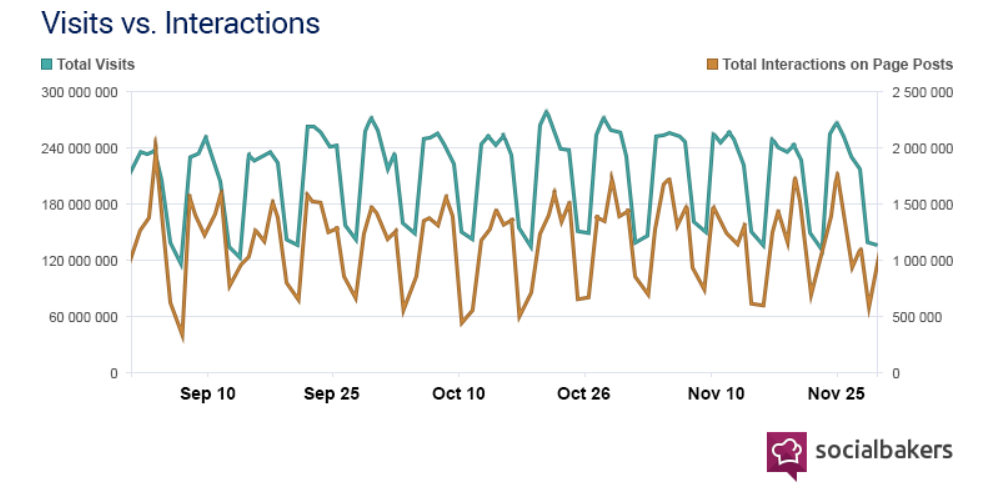 Research done by Social Bakers found a direct correlation between activity in response to social media posts and website page views.
Getting the Most Out of Your Engagement
There's a lot more to marketing than social media engagement but marketers should really take a look at how they are using social media to engage in order to get the most out of their efforts. Is it worth spending as much time and resources on Facebook and Twitter?
Are you measuring how your engagement changes on each site over time? A good question to ask – and to test out – would you be better off automating more of your interactions with the channels that aren't getting much engagement?
Or, have you already put your eggs in the Instagram basket – if so, are you using this site well to tell your brand's story? Are you getting the intense response from your audience that your competitors are getting?
And, the most important insight to take from this report is that social media marketing perhaps is changing faster than we assumed. Sure, digital marketing is a rapidly evolving field, but social…this is an arena where there is so much freedom and flexibility.
With so many new entrants changing the game every few months or so, perhaps there will never be hard and fast rules. There's no best social network, most popular, or most effective. It's just what works, for you, right now. Thank goodness for Fridays and agile marketing.
What do you think? Do you agree with the data?