Let's face it. The role of the Chief Marketing Officer today isn't just difficult. It's getting harder to pin down.
But, what if trying to pin it down and put it in a box is exactly what has limited marketing leaders from doing their job well in the first place?
According to the latest joint report released by the CMO Council and Deloitte, CMOs and the Spark to Drive Growth, marketing leaders aren't focusing enough on the end goal – growth. They are instead, stuck in the box, heads down and focused on those first few steps on the journey towards growth.
What CMOs may have to do is step outside of the comfort zone – brand storytelling, customer engagement, lead nurturing – and start impacting the factors that drive growth, which are outside of the direct marketing department bandwidth.
It's taking a step above just influencing growth and getting into the driver's seat. Essentially, CMOs need to think more like their organization's executives, and then use that mindset to weave finance, HR, product development, and other departments into the marketing strategy.
But, first, marketing leaders need to rework their own expectations about their role.
The CMO – C-Suite Disconnect
Here's the problem. Business leaders believe their CMO's priorities should be:
Revenue growth (95 percent)
Gross margin (51 percent)
Market share (49 percent)
Which means, marketing leaders need to go way deeper into the data and analytical side of marketing in order to ensure marketing decisions and cross-department engagement are achieving end-game results. Not just engagement, lead generation, and brand trust signals, but increases in sales across different channels and a more aggressive approach to gaining market share.
Now, compare this to the top three priorities according to CMOs themselves:
Revenue growth (70 percent)
Brand valuation (32 percent)
Market share (32 percent)
CMOs are still more focused on the brand, rather than the business and the customer.
"CMOs today are very challenged to pick their head up and take an enterprise view. It's critical that they see themselves, not as just the manager of the brand and the marketing plan, but as a growth driver for the organization. It's in that role that they have a voice in the strategy and can help influence how the organization moves forward."
-Diana O'Brien, Global Chief Marketing Officer, Deloitte LLP
So, what can CMOs do to have more of an impact on revenue growth?
Dissolving Organizational Boundaries Is Now a CMO's Job
One massive leap CMOs need to take is over the walls that exist between departments. Well, maybe leaping isn't such a smart idea considering the obstacles aligning with marketing's sister, the sales department. We're going to need to build a ladder and go step-by step.
Chances are, there's still some friction trying to get your marketing and sales departments to sync goals. But, the next-gen CMO should be connecting with supply chain management, products and operational partners, who are just as involved in the customer experience as sales, if not more so.
The idea is to evolve from being a brand growth leader to a sales and experience orchestrator. This means getting involved in facets of the business that marketing traditionally takes more of a consulting, back-seat role, rather than being directly involved and even leading.
image source
Product innovation – marketers can tap into all that customer data to dig up insights to improve the brand's products
Service and customer support – the same channels marketers are using to engage with the brand's target audience, sales utilizes to answer customer questions, resolve issues, and provide support. CMOs can better streamline these interactions with deeper alignment.
Getting more out of the tech stack – CMOs will need to go deeper, using analytics, not just to track and gain insights around marketing goals, but also to identify and map new avenues for revenue growth. This means, they need to take a more active role in choosing the right tech tools and leveraging predictive analytics, prescriptive analytics, and more sophisticated models in order to create strategic business plans.
Talent development – as with being more proactive with technology, CMOs need to spearhead employee acquisition and development to ensure marketing's expanded responsibilities can be met with the right level of skill and experience, especially in areas like data science and analytics.
CMOs Need to Think More Holistically
The next phase, even beyond orchestrating sales and customer experience is to become global growth leaders. This involves a much broader mindset than many CMOs are used to.
When asked what they expected to drive growth with, 68 percent of marketing leaders cited customer acquisition. 44 percent said better segmentation and targeting, and 44 percent plan to use upselling and cross-selling. All three are goals rooted in the brand, not the business.
Only 9 percent plan to introduce new distribution channels in order to drive growth. Here's the thing, as 'revenue science practitioners,' this is exactly the direction CMOs will need to head into.
What new channels can businesses use to drive revenue?
What changes can be made in-store to increase sales?
How can the supply chain be optimized to create a more efficient, effective experience?
What markets are prime for expanding into?
What other organizations would be a good fit for mergers or acquisitions?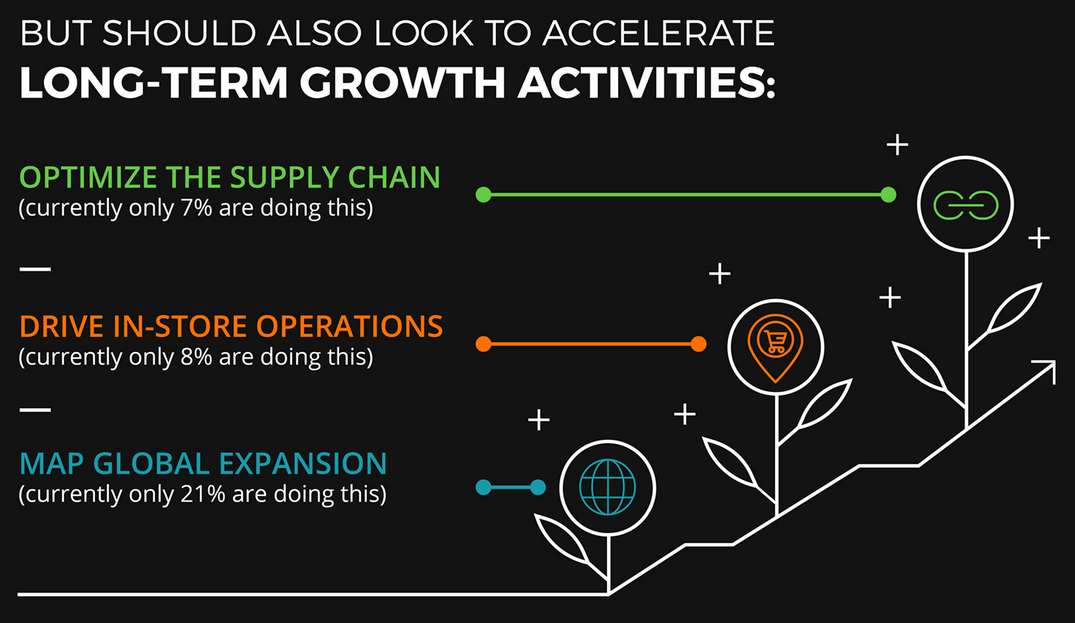 These are areas marketing leaders will need to explore. It's marketing that goes beyond marketing. Taking on organizational culture, innovation, talent and technology. And, using all the analysis from customer and market data to, not just influence, but to launch initiatives, drive change, and impact business decisions.
This may feel like taking on way too many hats. But, you can boil it all down to two letters: CX.
But it's customer experience that looks beyond what the brand offers the customer at each touch point, and into how the business is a better match for the customer than competitors.
In order to create a seamless experience for customers, and one that is personalized and fluid enough to evolve with customer expectations, everyone's got to be on the same page. No one but the CMO is going to make that happen.