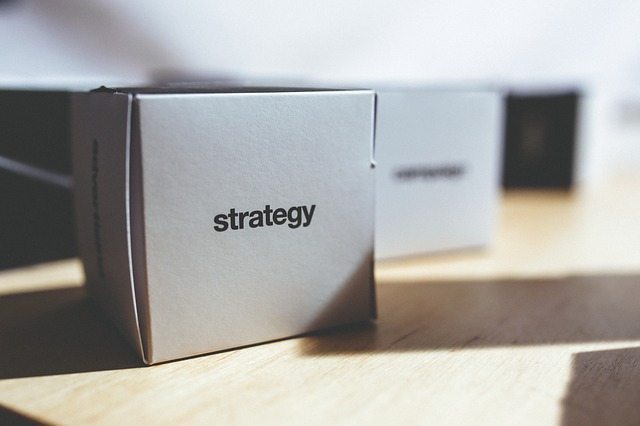 How to Develop an Effective Content Marketing Strategy
Whether your business is in digital marketing starter kit mode or you have saturated the web with your brand's presence already, you're missing out if you aren't using a content marketing strategy.
The effectiveness of having a written-out, well developed, thoughtful strategy isn't just a theory or the experience-based opinion of top marketers. It is a law of the universe.
Where a lot of marketers fall short in developing a content marketing strategy is in understanding the importance of the strategy relative to tactics and plans.
As I've said before, Content marketing is:
the process of consistently publishing content
that your potential customers want or need
on your own website
to drive business outcomes like leads, or sales.
That all-important unifying force that should be both driving and pulling together every element of your content, from the design of your landing pages to the experience customers have at your in-person events.
This unifying force has a purpose. When lacking, what your organization ends up with – no matter how many moving parts and brilliant ideas are involved – is a content marketing plan, not a strategy.
What's wrong with only having a plan? Why is a content marketing strategy important?
With a plan, you're missing the holistic potential that gives marketers the power to not only achieve goals, but to grow and evolve as a brand. One thing top marketers understand is that this is an ever-changing game.
Customer expectations, marketing trends, new technologies, market shifts, culture shifts. Nothing remains the same.
You're never going to be able to keep up, let alone stay ahead, with a two-dimensional plan. With a plan, you're inherently limited by a set of instructions you are bound to follow.
Only with the unbreakable thread that is inherent with a strategy can your content marketing continually transform and move forward. It is, in essence, unbound.
Why You Need a Content Marketing Strategy
The way customers buy today is very different from how they made purchase decisions 15 years ago, of course. The most important difference is that today customers do most of their buying research on their own, with many sources of information, often in real time.
According to Harvard Business Review, by the time a customer reaches out so a sales person their purchase decision is almost 60% complete, often having already made their mind about what they will buy.
In short, customers are more informed, they find information on their own and they mainly use the internet for research. By the way, in case you haven't noticed, customers hate marketing, they don't trust the emails we send or the marketing speak we write on brochures and other materials.
We have evolved from living in an information economy where knowledge is power to  time where information is a commodity. Arguably, Starbucks and the iPhone started the experience economy where UX and UI is power.
But that even is giving way to a relationship economy where trust is power. Trust in your values, your ethics, your skills and experience, your ability to deliver, your track record.
What real benefits do you get from a content marketing strategy?
1. A better content marketing ROI – as you refine which tactics are the most appealing to high-quality leads and which are the most motivating, you'll be able to invest in the content that works and either reduce or eliminate what isn't working.
2. You'll actually know what your content ROI is – only with a documented strategy are you going to have the metrics to give you an idea of how effective your content marketing is.
3. Repurposed content – with a dynamic strategy, you can plan ahead how you repurpose your in-person events into eBooks and podcasts, your video interviews into blogs posts, and your white papers into infographics.
4. Better customer segmentation – with a content management system, you'll be able to personalize your content for different segments, the key to boosting your conversion and retention rates.
5. More accurate buyer personas – you'll also be able to create smarter campaigns with better buyer personas as you use your gathered customer data to continually evolve your ideal buyer personas.
6. Less churn – when you have a better idea of what your customers want because you're using a strategy, you'll be able to reduce your churn rates and boost your long-term revenue numbers.
7. Ability to leverage more marketing tactics – with a short and long-term plan, you'll be able to see ten steps ahead, planning for that mega branding conference in five years and pulling off your brilliant influencer marketing campaign six months from now.
8. Optimized social media channels – when your social media posts are integrated with the rest of your content marketing strategy, your customers grow used to the value that comes out of following and engaging with your social platforms and be more likely to stay engaged. Rather than random posts, they'll know there will be a consistent flow of value coming out of your Twitter feed and Instagram pages – industry news or tips, special deals, links to informative blog posts, early bird event registration they don't want to miss.
9. Boosted brand reputation – with your comprehensive brand presence both online and off, you'll do wonders for your brand reputation as you'll have a larger social following, contact list, and more activity on your website such as blog comments, online reviews, and forum posts (depending on what channels are relevant for your business).
10. Improve lead generation – when you flow your social media posts and email marketing into your blog posts and to your landing pages and CTAs, you'll attract more visitors to your website and invite more qualified leads down your sales funnel.
11. A/B testing – you'll become an A/B expert, using this simple method to uncover the most effective techniques and hacks for your business, not what everyone else on the web is using
12. Higher customer acquisition rates – as you get to know your market better, you'll be able to turn more leads into customers.
13. Establish your brand as an industry leader – with every quality white paper you publish and webinar you run, you are building up those industry thought leader points.
14. You'll become a better marketer. The more love you put into your strategy, the more you'll learn about just how much content marketing is capable of.
Steps to Creating Your Own Successful Content Marketing Strategy
What is involved in developing a content marketing strategy that will have an impact?
Step 1: Identifying Your Mission, Purpose and Goals
Before getting into your buyer personas and marketing channels, you need to get philosophical.
This is where you look to your brand's story, company vision, and how or where your organization has taken a stand on today's issues.
Your company doesn't have to be attempting to reverse climate change like Schneider Electric. Or, inspiring a generation to embrace a lifestyle of wellness like Birchbox. But, your business purpose should be clearly felt within your content marketing strategy, whether it's to help small business owners succeed, empower growth through innovation, or any other goal you are trying to help your customers reach.
I like to use the "recipe" of "Who, What, Why." You want to become a sought-after destination of insights for [who] interested in [what] topics, to help them achieve what goal [the 'why']. For Marketing Insider Group, I want to become a destination of thought leadership content for marketers [who] looking to reach, engage, and convert new customers [why] with content marketing [what.]
Next, it's time to clearly establish the measurable goals of your strategy so you can set up your metric goal posts and track your strategy's success over time.
Customer acquisition
Web traffic growth
Conversion rates
Lead generation
Lower churn rate
Social media engagement
And the list goes on. Chances are, you have multiple marketing goals. How many should you prioritize?
Shannelle Mullin, Director of Marketing for Onboardly recommends honing in on "one or two core goals that impact the bottom line and three to five supporting goals. Anything more than that will distract you from what's important (as will changing goals too often."
She also says, "What's important is that your core goals are tied to major business objectives." This is where strong inter-organizational communications can be a major asset when working towards developing a focused – and more effective – content marketing strategy.
An objective like "more business" is not specific enough. It's too high level, and later down the road you'll find it extremely difficult to measure the impact your content marketing efforts has on your company's bottom line. Your objectives need to be specific and measurable.
What are some common objectives other marketers are measuring then? According to the Content Marketing: Benchmarks, Budgets, and Trends report from Content Marketing Institute (CMI) and MarketingProfs, lead generation, brand awareness, customer engagement, sales and customer retention/loyalty were some of the top objectives marketers say their organizations will focus on.
Step 2: Understand Your Audience
It doesn't matter how great your content is, if there's no audience for it, it will never get seen. So before you create any content, you need to find out who your target audience is. What do your target customers want to know? What challenges or pain points are keeping them up at night?
You'll also want to find out where they go and search for information. Which platforms and channels do they prefer and spend time on when consuming content? What content formats do they prefer on these platforms and channels? Is it blogs, videos or infographics, etc.?
You've probably familiar with the concept of marketing to the right person, at the right time with the right content, through the right channel. This begins with buyer personas. Many marketers find it helpful to create personas, which breaks the target audience down into groups based on, for example, their demographics and psychographics.
Then, you'll want to map out each persona's buyer journey. Create at least one piece of quality content for every stage of each persona's buyer journey you've identified. This is key because each persona may be looking for different kinds of content at different stages of their buyer's journey.
You need to have a crystal clear, three-dimensional perspective on who you are marketing to. Who are your ideal buyers?
What are their pain points?
What goals do they have and how can you help them achieve those goals?
What are their biggest challenges?
What would make their life easier?
What did they eat for breakfast?
And then, the more demographical information.
What channels are they most likely to engage with?
What are their preferences, as related to your products or services?
What about age, education level, and income level?
A lot of marketers are familiar with the B2C buyer persona approach, but for B2B marketing, personas will have different features related to their role in the buyer process and their organizational goals and priorities.
Here's an example of a B2B buyer persona that takes into account everything from personality description to business needs.
Getting a full buyer picture is one of the most challenging, and most critical, early steps in creating a really good strategy. The problem is, some marketers settle for a shallow view of their buyers. In reality, getting buyer personas right takes a fair amount of research and digging.
I like to use a combination of tools like BuzzSumo, AnswerThePublic and SEMRush to develop the clearest picture of your audience and then try to supplement that with good 'ole fashion conversations with sales and customers directly.
Tony Zambito created the first buyer insight and persona development methodology for B2B in 2001 and is an expert in this area. He cautions:
"The first mistake often made is to approach buyer personas as creation versus research. It is first and foremost a qualitative research endeavour, in which, the buyer personas are meant to be the communications to inform the qualitative research and insights gathered."
This means customer feedback surveys, focus groups, forum searches and social activity. It also includes internal customer data, both in marketing, as well as a lot of invaluable information from sales, such as transaction history and user profiles.
And, the best way to get qualitative data is, of course, to talk to your customers.
It's also important to update your buyer personas as they change. A smart practice is to revise your personas a couple times a year. Also, look for warning signs that your current buyer personas aren't working well and need to be optimized:
Conversion times are increasing
Organic search traffic decreasing
Trouble moving certain personas along the sales funnel at particular points
Putting a lot of effort into your buyer personas will hold the rest of your content marketing strategy together. The better they are, the better they'll serve you as you have to make decisions about content type, tone, and what channels to use.
And, they'll impact those marketing metric goals you set up.
Solid buyer personas can reduce lead conversion time by 72 percent.
They can help your email campaigns garner 2 times the open rate and 5 times your baseline click-through rate.
They also boost user experience, making your website anywhere from 2 to 5 times easier to use for your target audience.
You'll also need to find out which influencers does your target audience follow? You'll want to build relationships with these influencers as they can help amplify your content and help you reach your target audience.
Finally, determine the actions that can help you achieve those goals. What are the triggers that drive your customers to respond to your content and take the desired action?
Once you've identified the key conversions for your content marketing, you can focus on developing the messaging that actually resonates with your audience and converts.
Step 3: Establish Your Content Priorities
Here's where some marketing teams begin. But you have to do your homework in steps one and two before you get to the meat of your content marketing strategy. Which is, the content.
What types of content will be the most relevant for your target audience?
You probably already have content published. So in order to take a more strategic approach to your content management, you need to first evaluate what you already have.
Where is it working for your marketing goals and brand vision? What can be changed, updated, and eliminated?
Where can you repurpose the content you already have and use this in your content marketing strategy? For example, if you have a solid blog library on your website, you can use some of your posts to create an eBook for your customers to download. If you have podcast posts, can any of them be repurposed into blog posts? What about turning your client case studies into testimonial videos?
Next, determine what your content priorities will be.
There are dozens (and dozens) of types of content you can use. A successful strategy isn't about using as many as you can but rather determining which are the most relevant for your brand and your customers right now.
Blog posts
Social posts
White papers
EBooks
Infographics
Live events
Case studies
Podcasts
Web pages
Demos
Webinars
Newsletters
Mobile apps
Interactive video
VR experiences
Augmented reality experiences
Guides
Games
Data visuals
Courses
Animations
SMS and push notifications
It's worthwhile to put more effort and resources into two or three types of content rather than to balance five social media channels, a daily blog post, email newsletters, and a video schedule that rivals YouTube royalty like NigaHiga, PewDiePie.
You don't need to live up to a busy content schedule, just a consistent one. The idea is to create extremely high-quality content that adds value to your audience on a regular basis. And, that aligns with your business and marketing goals.
Once you know what content channels you are going to use, you can create a content schedule.
When will you use your content? How frequently? How will each piece of content relate to the rest of your strategy? Will the flow of your content help to move your target audience quickly down the sales funnel?
This part of your content marketing strategy will rely heavily on your marketing automation and other technologies. With a marketing automation platform like Hubspot, Marketo, Pardot, or Mailchimp, you'll be able to manage, automate, personalize your content – and track its success.
Step 4: Plan Your Strategy
Until you get to this stage, you don't really have a strategy. But you do have everything in place to create a great content marketing strategy.
This is where you brainstorm your ideas. What content will you create?
Do your keyword research to help prioritize your content
Come up with topics for your blog posts, videos, podcasts, eBooks, infographics, and any other foundational content you plan on publishing regularly
Create a social media strategy at least a month in advance, focusing on how your posts will drive interest to your other content
Plan out your big-hitters like the live events, webinars and app development – how will you promote the content and how can you use other pieces of your content to support these major content movers
Decide if you need to create any new landing pages or make adjustments to your website to accommodate parts of your content strategy
Examine your competitors, influencers and content examples outside of your industry to inspire ideas
The objective is for everything to come together as a cohesive whole, with all content reflecting the brand purpose established and the target audience you are marketing to.
Step 5: Create Your Content

It's go time! Now that you have a deep understanding of who your target audience is, the content they want and need, where they go to search and find information, and the actions you want your target customers to take, it's time to create your content.
Start by brainstorming 50 different content ideas that would be helpful to your target audience. Then, cut out the hardest to create and the least helpful content, so you only have the best topics left. You want to create the highest quality content possible that will differentiate your brand from your competitors.
Producing content isn't hard. With all the free blogging platforms, social media channels and visual marketing tools out there, anyone can create videos, infographics, blogs or ebooks in a few hours. But what's hard for many marketers today is getting their content seen by their target audience.
With 76% of marketers planning to produce more content this year, according to the latest B2B Content Marketing Benchmarks, Budgets and Trends Report from Content Marketing Institute and MarketingProfs, it's becoming harder than ever to reach your target audience with so many other brands competing for the same eyeballs.
And creating more content isn't always the answer. In fact, more isn't necessarily better. While more brands are producing more content, the same report found that only 30% of marketers rated their organizations as effective at content marketing, down from 38% last year.
So how do you go about creating effective content that will actually reach, engage and convert your target audience? It doesn't need to be as complicated as you think it needs to be. Here are six questions from Nick Westergaard, Chief Brand Strategist at Brand Driven Digital, to guide and help you create effective content:
Question #1: Why?
Simon Sinek says what differentiates the "Apples" from other companies in the world is that they start with "why." The same rule applies to your content marketing strategy. Why is your business doing this?
Are you trying to drive more brand awareness? Generate more quality leads? Improve customer retention and loyalty? Whichever your business objectives might be, answering the "why" question will help you identify the goals you're trying to accomplish with your content marketing efforts, which is key to the rest of your planning process.
Question #2: Who?
Who is the audience you're serving with your content? Be as specific as you can about who you want to reach with your content.
You can't effectively reach your target audience if you don't understand who they are and what content they want or need. That's where demographics and psychographics come in. You'll want to go beyond traditional demographics such as age, geography and income level, and learn about your target audience's motivators, triggers, aspirations, goals, pain points and challenges they're trying to solve. Find out what's important to them and keeping them up at night.
Question #3: What?
Now that you've identified your target audience's content needs and the business objectives you want to achieve with your content marketing efforts, how can you create content that will serve both the needs of your customers and your brand?
You'll want to brainstorm all the different types of content that will work best here, which could include blogs, videos, whitepapers, eBooks, webinars, presentations and infographics, just to name a few.
Question #4: When?
Once you've figured out your content types, when and how often will you create content? It's important to develop an editorial calendar and commit to your publishing schedule. Consistency is key to building and engaging your audience.
Here's an example of what an editorial calendar looks like. Keep in mind that there's no one "right" editorial calendar format. Every company or team works differently, so it's important to customize and test out what works best for you, whichever template you decide to start with.
Question #5: Where?
I've always advised marketers and brands to first build out their own content marketing destination, then leverage social to help distribute your content and attract new customers to their brand-owned platform.
So how do you know which social channels you should target? Based on the insights from Question #2 (Who), where is your target audience already spending time? Where do they go for research and find information about your specific product/service or industry? Those are the channels you want to target.
Question #6: How?
There are two parts to the question "How" – how will you get this done and how do you measure success?
Who will be involved in executing your content marketing strategy and driving your content creation efforts? This may include both your internal teams, such as sales and customer success, and also external resources, such as freelancers and creative agencies.
Finally, to make your content creation process more efficient, think about how you can repurpose and reuse every piece of content you create. For example, the content of a blog post could be rewritten for an email, a section of a whitepaper or eBook and for different social media posts, or be repurposed into an infographic.
Step 6: Promote Your Content
Content distribution is just as important as content creation. If you're not actively promoting and getting your content in front of your audience, chances are they will miss it, even if it's the content they want or need.
Today's consumers are bombarded with so much new content every day, so you'll want to make your content as easy as you can for them find and consume.
A good distribution strategy should include both organic and paid promotion. Social media, tweets, Facebook posts and SEO are some good ways to promote your content organically. Sponsored posts, advertising and promoted tweets are just some examples of paid promotion you can do.
Where appropriate, you should also reach out to influencers you've established good relationships with to help amplify your content.
Step 7: Track and Evaluate Content Performance
Remember the objectives and conversions you've identified at the beginning? It's time to look at these metrics and evaluate how well your content marketing strategy is performing: Did you achieve your content marketing objectives? How effective were your conversion actions? Did you have the right messages for the right audience? Did your content drive your target audience to take the desired action?
With these answers, you can go back to your content marketing strategy and make adjustments where needed. This process should be an ongoing activity for your team, so you can continuously improve your content marketing strategy and maximize the ROI and impact of your efforts on your company's sales and bottom line.
Also, pay attention to each stage of the buyer's journey. If there is a problem somewhere along the way, or even at the end, for example, if your organization is having trouble with customer retention, then you know exactly what to focus on as you improve your strategy.
If you need more detailed help measuring the ROI of your Content Marketing, download a 50% off PDF version of my book The Content Formula.
The Importance of a Well-Documented Content Strategy
Research by the Content Marketing Institute has found that B2B marketers who have a documented strategy, as well as an individual to oversee the strategy, are the most effective group of content marketers out there. Of those that have both, 86 percent view themselves as either effective or very effective. That's where you want to be.
It's way more than running a few social media accounts and publishing a blog for your brand. Even with excellent, value-driven content, if you don't have the SEO tactics to drive organic traffic, the landing pages to capture leads, and the email marketing, white papers, and eBooks to lead nurture, and a dynamic offering of webinars, infographics, event marketing and more to convince your customers your brand is an industry thought leader and has genuine, long-term value to offer, then your content lacks dimension.
Also, without a robust system for gathering and analyzing your customer metrics, and using this data to constantly refine your strategy, you're failing to offer what customers expect today from marketers. Which means you are failing to benefit from the rewards of surpassing those expectations.
Your content may slip through the cracks, going largely unnoticed, while your competitors are appealing to your market with a seamless flow of content at every touch point. You have to be able to string everything together to create something that matters.
Richard Pattinson, CEO of Brafton, explains a major flaw for businesses that may have worthwhile content, but haven't taken the time to prep or prepare it, "The intention behind content can be good, but the scaffolding is missing, weak or flawed."
A documented strategy, on the other hand, has a place and purpose for each piece of content. Everything flows into the next. Each case study, vlog or email subject line sets up other aspects of your strategy and holds the entire plan together. This flow also allows your whole strategy to be flexible enough to evolve along the way as you continually work towards creating that brilliantly simple, clear, yet remarkably complex brand environment that is the most effective way to attract your market and build long-term customer relationships at the same time.
A good content marketing strategy has:
Well-defined KPIs and clear goals.
Three-dimensional buyer personas that help you craft precisely the content that your market craves.
A content management system for tracking your customers' experiences, automating some of your content publication, and for gathering data.
A balance between creativity and pragmatism that yields an ongoing river of fresh content, with each part connected seamlessly, from the font styles on your website to format used in your webinars.
An ongoing learning process, with the goal of utilizing multiple content tactics and identifying the ones that work the best for your target audience.
Your Content Strategy Document should answer the following questions:
What content mediums are you going to use? From blog posts and white papers to webinars and data visuals, what content will be most effective based on industry, buyer preferences, and budget?
What do you expect to achieve? You can only achieve a goal that's been clearly defined.
How are you going to measure the results along the way? And, what processes do you have in place to adjust your campaign to make sure you're on track to reach your goals?
Last, but not least, what's your time frame? What needs to be done by each time goal post to ensure you're where you need to be?
The better your strategy, the more juice you give each piece of content created.
Questions to Help You Define Your Content Marketing Strategy
We created these 21 questions to help facilitate the discussion and guide the journey towards a documented content marketing strategy.
Who is your target audience?
What topics and sources of information are most important to them?
Which social channels do they use?
What events matter to them and their lives?
What is your brand's overall purpose?
What is your brand voice? (How do you express your brand purpose?)
What is your brand's visual identity and what emotions does it convey?
What owned assets support your brand purpose, mission and voice?
Who in your organization is responsible for content marketing strategy?
What is the workflow from content creation to publication?
Have you done a content audit to show content by stage, type, topic?
What is working with your content marketing efforts? Where are the gaps?
What are the main topics, categories or messaging pillars that support your brand?
What is your share of the conversation for each topic? Which keywords support those topics?
What type of content best supports your content marketing mission?
What is the customer journey from search to purchase?
Which geographies / languages are most important. How do you manage Global and Local plans?
How does social media support your content marketing mission (channels, frequency)?
What channels do you use for organic distribution?
Which channels do you use for paid distribution?
What demand generation programs do you use?
Who Is Using a Content Marketing Strategy?
And, more importantly, who is doing it well?
According to CMI's B2B Content Marketing report, 91 percent of B2B organizations are using content marketing, with 'content marketing' being described as:
"a strategic marketing approach focused on creating and distributing valuable, relevant and consistent content to attract and retain a clearly defined audience – and ultimately, to drive profitable customer action."
Which is a fantastic definition of a content marketing strategy.
How many of these B2B marketers are doing it well and what does content marketing success look like?
According to their own self-assessment of strategy maturity, there is a balanced spread across the board, with about one-third:
Who haven't figured out how to implement a strategy – the Young and First Steps
Who have just started to have their ah-ha moment, developing a business case (and defined purpose) and are starting to make a measureable impact with their content, at scale – the Adolescent
And the other third are benefiting from working content marketing strategies, with their biggest obstacle being integration across the organization, not the actual strategy – the Mature and Sophisticated
For B2C organizations, 86 percent are, at the very least, taking a strategic approach to content marketing, with a similar balance between those who haven't really evolved from a plan or using a few techniques, those who have a working, measureable strategy, and those who are successfully using their strategy at scale.
Top content marketers are able to achieve 7.8 times higher unique site traffic, and conversion rates that are nearly 6 times higher.
When done well, content marketing costs 62 percent less than traditional marketing and can generate 3 times the number of leads.
That's a convincing argument for the power of a solid strategy. So, what does a sophisticated content strategy look like in action?
First, let's recount an anecdote from Gerardo A. Dada, an experienced technology marketer with over 15 years of driving business strategy and product marketing for leading technology companies including Rackspace, Bazaarvoice, Vignette/OpenText, Microsoft and Motorola.
"In 2009 most companies where trying to figure out where to start with social media. At the time I was working for the leading content management platform which also sold social media tools. We took this customer need for guidance as an opportunity.
We had good ideas, smart people and a point of view. But we needed credible, interesting data to back it up. So I approached the Corporate Executive Board (CEB) and offered them a partnership: we would work together researching marketing members and then I will do a webinar explaining the results.
I wrote a questionnaire, CEB sent it to their members, we got a couple hundred responses. We had now interesting, statistically-valid insights coming from marketing leaders at large companies.
The webinar was the most successful CEB had ever had in terms of attendance and feedback. I posted the slides on slideshare, where they have been seen over 8,000 times. Derivative presentations have been viewed thousands of times as well. Some of the slides where the basis for my Web 2.0 presentation that same year which was packed.
At the end of the presentation I offered a link to a white paper and a link to register for a free copy of the book Citizen Marketers by Jackie Huba. The marketing team was nervous about posting content online without registration, I had some convincing to do. Some of the stats we produced were later used by Erik Qualman in his super-popular Socialnomics video.
At the end, we were able to reach tens of thousands of customers in a way that positioned us as experts in our field, we helped customers understand social media and get started, and they appreciated. The company had more leads than it can deal with.
You know what? It's fun and rewarding!"
Gerardo is the author of the blog www.theAdaptiveMarketer.com and is on twitter at @gerardodada
Here are a couple of examples of both B2C and B2B strategic success. These brands are light years beyond a simple create and publish content plan and are working with a dynamic, multi-dimensional, living, breathing strategy.
Birchbox
A relatively new beauty products subscription company, Birchbox has experienced tremendous growth over its short existence and is credited with inspiring other major subscription success stories like Dollar Shave Club.
Launching in September of 2010, today the company is a global brand. Its headquarters are in the Big Apple and it has operations in the UK, France, Spain and Belgium and two brick-and-mortar stores. One in New York City and one in Paris.
If you look at their content, you'll get a clue into what has driven their success. Birchbox is selling more than products – they're offering a progressive community to foster personal wellbeing.
Yes, they do the streamlined brand story well. They're inviting and friendly, yet sophisticated. They create content perfectly tailored to their market: professional, busy, on-the-go women who care about wellness – and men, they launched Birchbox for men in 2012. And their visual content is consistent, with a modern, feminine aesthetic found everywhere from their website to their mobile app and YouTube tutorials.
But, the big win is, throughout their content, they're welcoming customers into their inspired brand community with:
Self-empowerment quotes
Activist posts on Instagram
Fireside chats about female entrepreneurship
Fun, honest staff profiles
It's a holistic strategy that works really well.
Schneider Electric
A multinational energy management and automation specialists company, Schneider Electric has the challenge of tailoring their content marketing to both business and residential customers, and having to educate both segments about the benefits of their services.
Their solution? Connect with everyone on one shared, human goal. Energy sustainability.
They have a comprehensive content strategy, with a rich blog library, numerous in-person events throughout the year, and plenty of helpful technical downloadables. They even offer Energy University, with everything from white papers and videos to career-relevant certification.
Here's the company's mission, spoken by CEO Jean-Pascal Tricoire
"Access to energy is a fundamental human right for everyone on this planet. And at the same time, climate change is probably the biggest challenge of our generation…We are the only generation that can solve it because after our generation, it's going to be too late."

https://www.youtube.com/watch?v=wyjfWqMWeK4
Throughout all of their content, this purpose isn't just demonstrated, it's palpable. But, where Schneider Electric distinguishes themselves from other energy industry brands who engage by sharing their vision for a better future, this brand also uses humor to make their point. A B2B brand with the creative, viral-worthy video content approach of the best B2C brands. It's a smart strategy that works well for them. You can check out more examples of B2B content marketing here.
Brand Content Strategists Must Try Out Bold Ideas
You're a high-level thinker.
A problem solver.
And a communicator worth an audience's attention.
So, you understand why bold ideas matter in content strategy. Without the vision to think bigger and better, companies usually get lost in content shock.
"People used to vote with their wallets, and now they vote with their time. If you can't win the battle for time, you're dead. I don't care how much you spend. I don't care where you spend it. If you're not better than the stuff they have at their fingertips, you're dead," wrote Ron Tite, CEO of the Tite Group.
Go off the deep end in 2017. Below are my five bold ideas for content strategists.
1. UGC Within the Sales Funnel
Okay, stop randomly posting testimonials on your website. Not only are you confusing your audience, but you're also underutilizing valuable content necessary to turn visitors into customers.
A Reevoo study found that "70% of consumers place peer recommendations and reviews above professionally written content." But no one ever tells us how to properly execute that content.
To win big (and outdo the competition), brands must strategically connect their UGC to the sales funnel, and I'm not suggesting you insert any old image of a happy customer into your next blog post.
Break down the funnel into UGC opportunities. When visitors arrive to your site, greet them with noteworthy quotables from experts who have experienced your product. To gain more interest, use videos to highlight how current consumers profit from your services.
Free trials coupled with detailed reviews encourage the buyer to make the purchase, and as customers, your team can shower them with images of other buyers using the same products.
GladGlow is a powerful example of how to properly implement this strategy. Their Instagram Gallery holds a collection of UGC each showcasing the customer and the product with a call-to-action to purchase.

2. Brand Fiction Becomes a Content Form
Some experts argue that brand storytelling needs to move from fiction to nonfiction. Well, I respectfully disagree. While consumers despise falsehoods, they do enjoy realistic fiction that embodies facets of truth and imagination.
TV shows like Scandal and Orange Is the New Black emphasize parts of real life. But their uniqueness lies in vibrant plot twists that really wouldn't happen.
"Incorporating fictional stories and alternative methods of messaging create a holistic branding plan that reaches people from all walks of life. There is no rule book in place that states only networks and entertainers can create fictional stories for consumption," says Inc. contributor Adam Fridman.
With brand fiction, your team can lead consumers to new perspectives and possibly toward unknown universes. But how does this strategy help you?
You're laying a foundation to connect with your audience. They won't solely rely on your company for products. Instead, consumers interact with you as part of their daily content consumption.
For examples of brand fiction, check out General Electric's The Message podcast and Kate Spade's #missadventure video series.
3. Invisible Personalization to the Rescue
How can I say this nicely? Your personalization techniques suck. Like, a lot.
More businesses are becoming lazy about the consumer's need for customization. Teams think personalization equals plopping a person's name into an email. On the other hand, some brands believe stalking the customer's every move will generate a sale.
Content strategists should work with their marketing, growth, and product colleagues to produce invisible personalization—customization unbeknownst to the buyer.
"To avoid the 'creepy' element and make personalized messages and content more engaging and effective, marketers must keep one critical principle in mind: The most effective personalization is usually invisible. By invisible, I mean that the personalization is undetectable by the customer or prospect," states David Dodd, a B2B business and marketing strategist.
With machine learning technology, it's possible to provide customers tailored services based on their behavior and habits without being blatantly obvious. Netflix uses a wide range of data, such as the number times a video is replayed, to determine its user's preferences.

4. Customer Validation as a Talking Point
It's time to finally add validation to your marketing strategy. And I'm not referring to the process of validating your product to consumers to determine market success.
Customer validation is connected to human behavior. We seek approval from the people around us, and we want them to value our opinions.
In her legendary career as a talk show host, Oprah Winfrey discovered validation as a common thread amongst all her guests:
"…[W]e want to be validated. We want to be understood. I've done over 35,000 interviews in my career. And as soon as that camera shuts off, and inevitably in their own way, everyone asks this question: 'Was that okay?'"
Use customer validation to your advantage. Show buyers their existence and opinions truly matter. For instance, during support calls, verbally acknowledge your customers and ask them cordial questions.
Give in-store consumers an unexpected incentive, like a 25% coupon, just for shopping today, and practice complimenting buyers for making specific purchasing decisions.
Marketing isn't rocket science; it's psychology—appeal to consumers' emotions.
5. Episodic Content for the Win
In this online streaming era, people want content in an episodic fashion. Bite-sized content chopped up into several segments leaves room for viewers to consume information on their own terms.
Moreover, the best episodic content is commercial-free, giving the consumer the opportunity to dodge irrelevant advertisements about products they hate.
The good news is that brands possess the resources to create their own content. From Red Bull to Intel, companies are building their own platforms to disseminate content. So, there are no excuses.
Create content that will keep people on the edge of their seats. Use dynamic characters, interesting stories, and multiple settings, and work with your team to decide the right timing to release each episode.
Coca-Cola produced its "Crossroads" series exploring teen issues, like public shaming, pregnancy, and bullying. The beverage company's intent was to inspire teens to stand up for their true friends when it matters most.
Don't feel the need to limit your content to video. Images and text are impactful when conveyed in a compelling manner.
All these examples tell you isn't the time to shrink up and do the same content strategy from last year. The competition is already two steps ahead of you.
So, what are you going to do?
Challenge your team to experiment and try bold ideas. Now is the time to take a leap of faith.
However, don't throw caution to the winds because…
Mistakes That Might Derail Your Content Strategy
Around 90 percent of businesses use content marketing. But most don't feel like they are effective. Only 9 percent of B2B businesses say they are "very effective" with their content marketing, and a third feel they are "somewhat effective."
This leaves more than half of all B2B marketing teams with a sense of inadequacy when it comes to their content.
Not sure where to start improving? Here are the top signs your content marketing strategy needs a reboot. Overcoming these problems will help get you the success you (and your C-suite) are after.
1. You're Not Doing Your Research
A lack of research can destroy a campaign. Take DiGiorno Pizza's epic fail for example. The pizza brand didn't research their chosen hashtag. As a result, they inadvertently interrupted a social media campaign to raise awareness about domestic violence.
While in the planning stages, thoroughly research your ideas, hashtags, and taglines. Something as simple as a two-minute online search to ensure your idea isn't also someone else's can save your brand from a serious marketing faux pas.
2. Your Buyer Personas Are One-Dimensional
This is one of the most common mistakes that content marketers make – they aren't creating content for their ideal buyers. You've got to take the time to develop detailed, multi-dimensional buyers personas, and then update them regularly. You should revise your personas whenever there is a business shift, such as introducing a new product or service or scaling your organization.
Additionally, you should get in the habit of revising your personas once a season. Don't forget to look at more than your CRM data to get your personas right. Talking to other departments, especially anyone in sales or who directly interacts with your customers, as well as interviews with your clients or customers, will provide a wealth of invaluable insight.
3. You're Neglecting the Competition
Have your ideal buyers figured out? Great! What about your competitors? You want to keep an eye on what strategies your competitors are using. What successful social media campaigns are they using? Are your competitors getting solid traction with a series of instructional webinars? Is it the clever video campaigns that are getting the most engagement in your market?
Pay attention to what is working – and not working – within your industry to help better inform your strategies and content choices. In no way should you copy your competitors. In fact, the best content marketing campaigns are the ones that are unique. But, you definitely should stay abreast of effective trends and use your competitors to be aware of potential pitfalls with your market.
4. You're Not Using the Right Types of Content
While blog posts are regarded as the gold standard for generating quality leads, there's much more to content marketing. Whether you need to determine which content to use to enhance the quality of your blog posts or to learn what additional channels are right for your organization, determining the type of content to use is a big decision. Why? Because, no matter how much Bulletproof Coffee you're drinking, you only have so much time and energy to direct towards your content marketing.
Some brands are well-suited to visual-heavy content. For example, a travel brand targeting millennials may not see a lot of ROI from written content but would win over a loyal following with a stunning Instagram account. Here's a compelling piece of content from the owners of The Joshua Tree House, a California vacation rental. No surprise, their blog posts are also visually heavy.
For B2B organizations, white papers, data visualizations, and research may be excellent for getting your brand value across. B2C brands are well-served by video content to inform customers how to use products or simply to engage and build relationships with content that entertains.
5. Your Content Isn't Customer-Focused
Another reason you may not see the results you expected is that your content may not be customer-focused enough. Keep in mind, when you develop your content plans, the question isn't what information can we share about our brand, but rather, what information are our buyers the most interested in?
Blog posts sharing your business's community involvement are great, but they're not likely to have much lead generation power. Content that provides your buyers with the key information they were searching for to answer their questions or solve a problem will establish your brand as a valuable life ally, prompting the, "Hmmm, maybe I'll sign up for that email newsletter, that was useful" thought process.
6. You Lack a Brand Story
And finally, you lack story in your content. This goes back to why it is crucially important to have a documented, well-thought out strategy. You can't tell a story just by publishing good content. You need a cohesive thread to weave it all together with your story, giving your audience a sense of your brand's unique identity and reason-to-be with every vlog, blog and Facebook post. Everything from the color scheme of your website to the style of your content writing, with a story, you are offering more than generic, two-dimensional products or services. Your brand comes to life.
If you can convey that your brand's existence is meaningful, you may just convince more of your prospects and leads that your brand should mean something to them too. You can't do this by just making content and marketing it. You can do this if you really take the time to develop the right strategy and the most compelling content for your organization.
Facing the truth isn't easy. But you have to do it when it comes to your content marketing strategy.
If not, you risk slowing down your website traffic, losing your brand value, and earning less sales for your business. Here's an infographic that describes a few painful truths you might need to face:
It's time to own your reality and do something about it.
Strategy Is a Process
Most brands are using content marketing today to engage with customers and drive sales. Most brands aren't, however, getting the results they want. It all boils down to strategy. 70 percent of marketers don't have a consistent, integrated strategy.
Even if your strategy is limited to a blog, a modest website, and social media – make each piece work together, and that "small" strategy will do more than a massive pile of unconnected components ever could. There's only so much planning, strategizing, and brainstorming you can do. The final element of crafting a winning strategy and excelling at content marketing is doing.
As you try different approaches, experiment with different tools, and keep track of how your customers are interacting with your brand, you'll be able to continually improve your content marketing strategy – and convince the rest of your organization of how powerful good content can be for business growth.
Are you interested in developing a content marketing strategy for your business? Contact me here and let's talk about how we can help.
Get a Free Consultation
for Content Marketing