How To Find A Content Marketing Agency To Seriously Grow Your Business
Michael Brenner on Mar 5, 2018 in Content Marketing
Are you trying to find Content Marketing Agency to help you grow your business? Of course you are (or you should be!) 😉
Why? Because Content marketing has the power to grow your traffic, to generate leads, and to deliver real Marketing ROI.
It's 3 times more effective than outbound strategies. It can boost your conversion rates six-fold, and, most importantly, it can establish your organization as an industry thought leader that offers genuine value to your audience – while providing a welcome relief from the 5,000 plus ads consumers are trying to ignore every day.
It will never happen overnight. Or, next month. But, consistent, strategic content, created and delivered by skilled content marketers, can transform your business's potential and open the door to exponential growth – at, on average, 62 percent less than the cost of outbound.Here's the thing.
Just any content won't help much. Which is why, choosing the right content marketing agency for your organization is key to reaping the long-term rewards of great content.
Why Finding the Right Agency Isn't Easy
The challenge for most brands is in identifying a stellar agency that truly has the capability to well serve your business. The reason this is so difficult is rooted in the success of content marketing itself.
There are quite a few agencies out there that have rebranded themselves as content marketers to meet the industry demand and to grow their own business.
However, many times they excel in other areas of marketing, not necessarily content. Your SEO and social media strategists, digital advertising firms and website design services – a quick search will reveal dozens of these cross-specialty agencies that have started offering content marketing in addition to their bread and butter services.
But, this has led to a lot of confusion and blurred lines for the small to mid-sized, and even larger brands, who are trying to distinguish the true blue content marketers from the other marketing professionals who are offering content services.
Part of the reason I started this business was to differentiate myself from the vast array of consultants who have never worked a day inside a real marketing organization. Who have never actually done content marketing for a brand. And who don't have a real framework for getting it done.
And just recently I had a conversation with a prospect who lamented being pitched content marketing for lots of money, with no real framework , or deliverables, and no ability to commit to delivering real results.
There's a big difference between the fakers and the makers out there. And that difference will translate into real content marketing ROI.
To help you separate the good, from the bad, from the ugly, here's an in-depth look at what you should look for when trying to find a solid content marketing agency partner:
Qualities you should expect
Traits of a good content marketing partner
Signs that usually distinguish a professional content marketing firm
The objective of hiring a content marketing agency is to help your organization grow and to maintain a competitive edge. Don't make the mistake of hiring just any agency and missing out on what truly high-quality content can offer your company.
3 Qualities of an Effective Content Marketing Agency
What qualities should you expect from the agency you hire? Is it years of experience? A dynamic staff? A killer client list?
It's a no-brainer that you want a strategy that you can easily share with your peers and your boss. Maybe you also want skilled content creators on your team.
And, you want to work with an agency that is proficient at delivering that content at the right time, to the right audience, via the right channel, and then measuring the content's value, tracking its progress and making adjustments along the way.
But, when you really break it down, what do you ultimately want from the content marketing agency you choose to work with?
It goes much deeper than the right skill set. What you need is…
A Strategic Mindset
For the real deal, you want something much more important than high-quality videos and optimized blog posts. You need a smart, data-driven strategy that will work to achieve measureable results.
"Not many agencies are able to provide strategic counsel to clients with the understanding of marketing and sales attribution. What is missing is the ability to understand and ask the right questions about the client's business objectives."
–Lynn Tan, Content Marketing Manager at TNT Express Worldwide B.V.
If your content marketing lacks strategy, you risk diminishing the impact of each piece of content and every dollar invested. When it comes to being able to deliver a winning strategy, you want to see a foundation of research and data, funneled through creativity, skill and foresight.
Indicators of a strategic mindset include:
In-depth and actionable buyer personas. This is a useful litmus test for gauging an agency – ask to see samples of their buyer personas for other clients. How actionable their buyer personas are is a good indicator of how far they'll go to understand your customers and make sure a positive customer experience is felt throughout your content.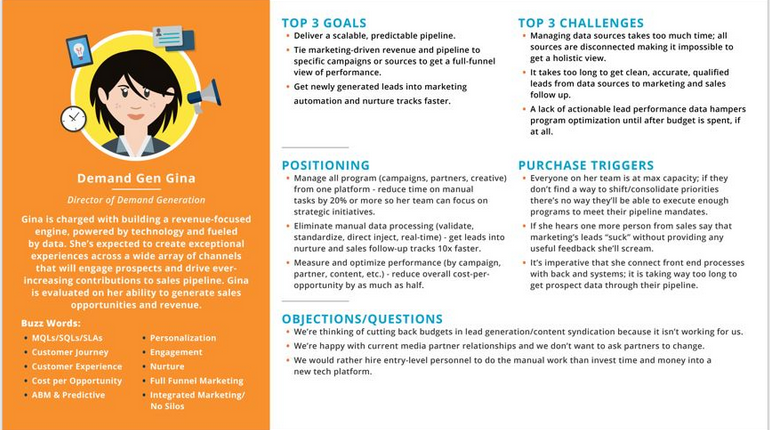 Personas with a lot of detail, that are updated regularly and that draw upon both qualitative and quantitative customer and market research are hallmarks of a good strategy.
Excels at brand storytelling. Your brand's story is the thread that strings together all of your content. Really proficient content marketers will be able to identify and express your brand's history, personality, and vision better than you can.
Creative approach to repurposing content. Repurposed content isn't just about recycling good content into different platforms to squeeze more engagement out of your content budget. It's a way for emphasizing your messaging and delivering a more holistic experience for customers. If your content isn't being repurposed properly, you're missing out on the benefits of having a really good multi-channel strategy.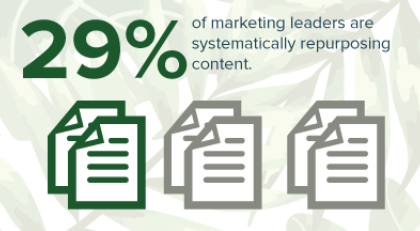 A lot of resources go into your in-person events and heavy-research white papers – how will these big hitter content pieces be reformatted into infographics, eBooks, podcasts and blog posts?
Ideally, your agency will take a creative approach rather than using a standard recap format for repurposed content. For example, using surveys and gathering quotes from participants and speakers at your marketing events to use for statistic-inspired infographics and unique social media posts that will keep your audience interested months after the event. This goes a lot further than merely posting blog posts to recap key points of the event.
Ongoing strategy assessment. Once your content marketing strategy is implemented, what system is in place for measuring its reach? You want more than a documented strategy and reporting on metrics. How will your content marketing agency evaluate how well both the strategy as a whole and individual moving parts are doing? What is the process for refining the strategy as needed?
This is where the use of an agile methodology is helpful for successful content marketing. But, even if your agency doesn't use agile methods, you still want to see a level of flexibility and a process for tracking and responding to missed benchmarks.
Tech Adept
Next to being strategic, probably the most essential quality to look for today is being well-versed in marketing technology.
You want more than vanity metrics and flashy campaigns, but rather a deep understanding of what can be done today, how martech is evolving and what is possible in the future.
As marketing professionals are known for their appreciation for being creative in their job and have to move outside of their comfort zone in order to think like a data scientist or tech innovator, you won't find a lot of agencies whose strongest quality is being tech adept.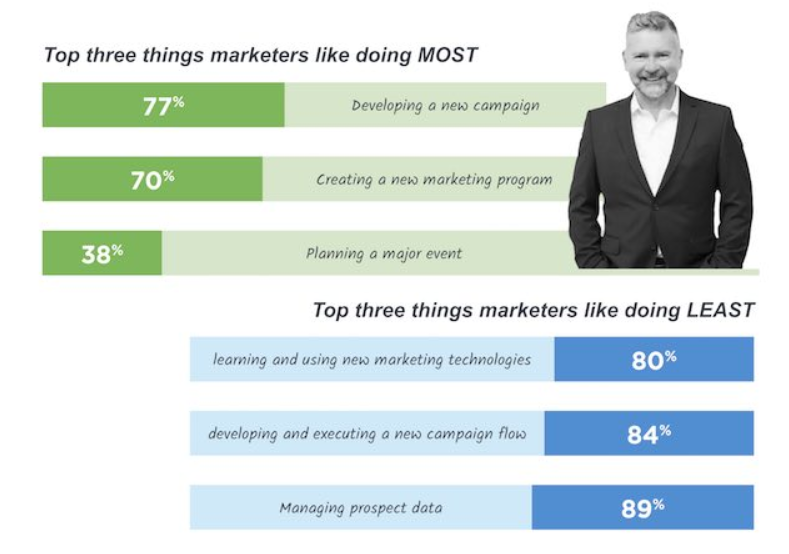 How effectively are they leveraging marketing automation, personalization software, content marketing analytics and other tools to deliver results? A digitally adept content marketing agency will give your organization a competitive edge, especially moving forward as the use of AI and machine learning in marketing technology becomes more sophisticated.
What does their marketing technology stack look like?
It's one thing to use a dynamic martech platform – but what results are they able to get out of their technology?
How many (if any) staff at the agency have a computer science, statistics, or other relatable background?
And, how knowledgeable are they about how tech innovation is evolving digital marketing – from AI-inspired platforms to the use of voice search strategies and the latest breakthroughs in 'alternate content realities' like VR and augmented reality?
Ideally, you'll choose an agency that will be a part of your brand's marketing for the long-term. Right now, martech is evolving all facets of marketing, including content, faster than most of us are aware of. It's critical to have an agency that is aligned with this reality on your side and that is proactively implementing leading technology tools to improve their work, and their content.
Visionary and Detailed
The best content marketing strategies stand out because every nuance – everything from email subject lines to event giveaways – all perfectly fit within the strategy, expressing the unique personality of the brand and answering the unique needs of the customers.
Great content is able to resonate with the ethos of the organization and of each individual campaign and piece of content, yet it should create a seamless experience for the audience. This means each piece of the puzzle needs to be well thought out as to the purpose it has and how it supports, complements or enhances other facets of the content strategy.
Nike's a great example. This brand never goes off script – both the design of the products and the style of their marketing has always been in sync.
HubSpot is one of the best B2B content examples. Through their content marketing strategy they've coined the concept of inbound and have distinguished themselves as a consistent leading contender in the marketing software industry – a huge feat considering how flooded this market is.
What they've focused on is customer education. From the HubSpot Academy to Inbound – one of the biggest marketing events every year – HubSpot sets the bar for value-driven content.
The best way to find a visionary, yet meticulous agency is to look at how they have pulled off this balance for other clients.
What Makes a Good Content Marketing Partner?
When choosing an agency to work with, it's not just about skill level and experience, but also alignment. The agency you hire will become a long-term partner. There has to be some value and vision alignment, or, at least, a deep-seated mutual respect.
Number one for finding a good partner is simply experience. We've helped design content marketing strategies for more than 60 companies!
Does the agency you are considering, have a high level of experience in content marketing? Can they show you content hubs they've built? Content they've created? Have they worked in both B2C and B2B?
Chuk Frey, director of content marketing at Milwaukee-based digital marketing agency, Cultivate, offers two ways to determine subject matter expertise. One way is to follow the agency's social media profiles, namely LinkedIn, Google + and Twitter, to get a feel for their depth of knowledge and how well they are respected by other key industry players. Look to how they respond in discussions and how others respond to them.
Another way is to talk to former and current clients, if possible.
It's also important to take an honest look at relationship potential. Just as with any partnership in business (or life in general), there has to be some level of compatibility. What about their ethos, work ethic, organizational culture? Does it resonate with your organization?
How do they communicate with their clients? Virtual meetings, phone calls, emailed reports? How intimate or professional are they in their client relationships? Will these practices and traits mesh with your organization in the long-term?
There should be a lot of back and forth, discussions, and ongoing communications. Communication and character compatibility may be difficult to assess before you begin working with an agency, but it's worth it to play close attention to your interactions during the vetting process to try and get an idea for how well you'll work together.
Signs that Distinguish a Pro Content Marketing Agency
An agency may have an alluring marketing campaign themselves (always a good sign of high level marketing skills!), as well as experience in your industry. They may also seem like a great character fit for your brand. But – are they genuinely qualified?
How can you tell they are a top-level content marketing agency – content thought leaders rather than ad agency or SEO expert crossovers?
The following are all telltale signs of content marketing expertise. Any reputable content marketing agency that's been creating and delivering successful strategies for years will have at least two of these qualification beacons:
Regularly presents at digital marketing conferences
A large online library of industry-related content with a unique voice and perspective
Plenty of webinars, eBooks, white papers and other educational resources available
Active in conversations on online forums and social media
Awards and other types of recognition for their work in the past with other clients
These factors will give you a better idea of the level of experience an agency has. It can be difficult to discern how qualified content marketers are simply from talking to them and looking at their past work. But, from researching the footprint they've made on the industry, you can get a clearer picture of how experienced they really are.
This isn't to say that a newer content marketing agency that hasn't had the chance yet to build up a large repertoire of qualifying signals isn't worthwhile. But, even a younger, yet brilliant agency will already be establishing their organization as thought leaders with plenty of content across mediums. After all, they are content marketers.
Your Content Marketing Agency Checklist
So, your content marketing agency has to be strategic – preferably staffed by international chess champions – have analytical minds that rival the employees of Deepmind, and the visionary aptitude of, let's say, Stanley Kubrick. They need a trophy room at the office for all their awards. And, you have to get along with them.
That's a tall order.
Skilled and experienced, innovative, creative, analytical, brilliant. How are you going to find your perfect content marketing partner? In practice, no content marketing agency is going to get a gold star for all of the qualities and qualifications you are looking for. But, if you are thorough in your search, you'll find a content marketing agency that will:
1. Be able to help your organization achieve your marketing goals – more leads, build brand awareness, increase conversions and customer retention, and boost sales.
2. Be a good fit in terms of communication, organizational structure, and vision alignment so you can cultivate a long-term partnership.
To find the right agency:
Do your research – tracking the voice, track record, reputation, and recognition of potential agencies through their social media profiles, industry conversations, and their own content.
Narrow down your list to two to five of the agencies you want to work with.
Then, make your spreadsheets, listing out the strengths and weaknesses of each of your top picks.
Talk to all stakeholders to get a more dynamic perspective and to make a better-informed decision.
And finally, choose the content marketing agency you want to partner with and take over the world. Well, at least, your industry.
I wrote this article to help you find a content marketing agency. If you are seriously looking, I promise you I can help. Whether it's strategy, execution, content development, distribution, or measurement, I can help you define a roadmap to success and then deliver on that vision.