Intentions will only get you so far in life. That's why we're planners. We know that to achieve something, you must build a path.
That same logic applies to content marketing. If you do it inconsistently or without purpose, you won't generate the ROI (return on investment) you expect.
But how do you start a content marketing plan? Is there a magic formula?
Not exactly, but there are certain steps you should follow that will give you the best chance at succeeding with content marketing.
Quick Takeaways
A content marketing plan is necessary to execute your vision, direct your workflows, determine distribution, and define how you'll measure efforts.
Not having a plan could derail your efforts and make ROI elusive.
While there's no guaranteed way to develop a plan, you'll want to make sure you include these steps.
Consequences of Not Having a Plan
Before we dive into the steps, it's critical to note that without one, you'll face an uphill battle. That's due to internal and external factors.
Externally, content saturation is the reality. WordPress reports that users publish 70 million new blogs a month. To break through the noise, you must be consistent and focused.
The other external point is the changing face of buyer behavior. Your audience expects content that educates them and talks about their challenges, so you need to plan out what content to create for your target audience and why with buyer personas. Personas are fundamental to a plan; without them, you won't know your buyers well enough to write for them.
Internally, not having a plan means there's no organization or processes, so activity is inefficient and haphazard. Productivity and throughput will be an issue, and you won't have a set of KPIs (key performance indicators) to measure content marketing ROI. In fact, you may not even find ROI important. A HubSpot Marketing Report found that only 35% of marketers believe understanding ROI is important!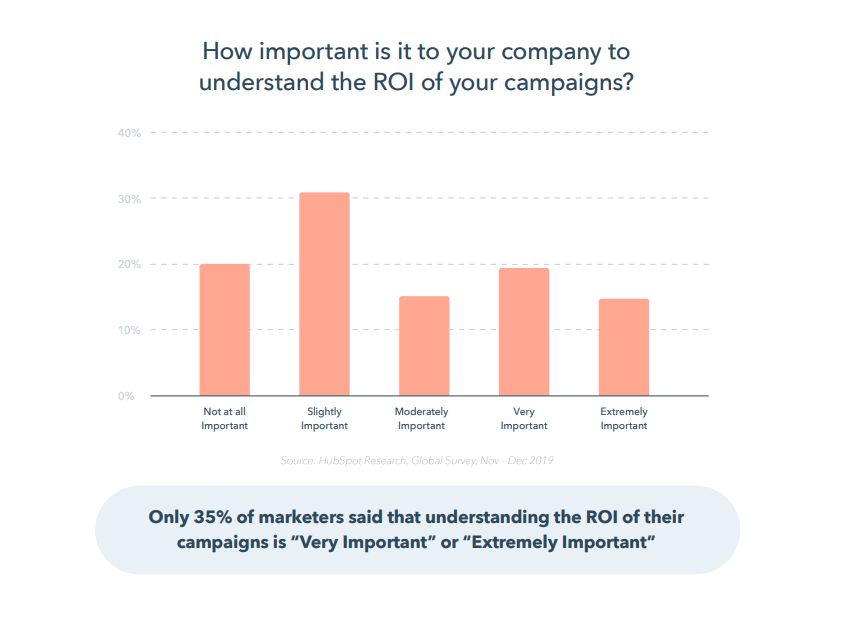 Of course, ROI is important. It's the definitive metric of how content marketing contributes to revenue. It could also impact how many budget dollars you receive.
Starting a content marketing plan is essential to avoid these consequences. Let's talk about how to do it smartly.
7 Steps for Starting a Content Marketing Plan
Here's where to start and how to execute your content marketing plan.
Step One: Creating or Revamping Your Content Strategy
A content strategy is the blueprint for everything that you do. It's not the same as the plan. The strategy is the foundation—the plan is how you'll do it. Having a content strategy has to be the first step.
An effective content strategy will include:
Goals
Mission
Purpose
Buyer personas
Content pillars (the main categories of content)
Throughput
Types of content you'll produce (i.e., blogs, video, social media, etc.)
Voice and tone attributes
Rules about language, syntax, formatting, and other rules
Metrics to track and review
The content strategy is the why—your content plan is the how.
Step Two: Perform a Content Audit
Next, you'll evaluate existing content in reference to your strategy. You'll need to categorize where it corresponds to a content pillar, buyer persona, and format. Performing this assessment will let you know you are meeting all these classifications.
You'll also want to assess it in terms of quality. Does it meet the goals of your strategy? Is it relevant to the audience? Is it following SEO best practices and using valuable keywords?
Your content audit will inform you of gaps in topics and formats. It will also advise you of what content you should update to improve quality. You may also find content to remove.
Check out the video below from Ahrefs about how to conduct a content audit.
Step Three: Align Content with Buyers
This exercise is a continuation of the audit but also includes new content. You described your ideal buyers in your strategy, and now it's time to align content with them. You'll base it on their specific needs, formats they most consume, topics they value, distribution channels they frequent, and their journey.
If you have multiple buyers, there will be some overlap. The key is to broaden the content when you intend for it to support all buyers and segment certain types to create deeper connections with specific groups. The latter involves content personalization. That concept is integral to content marketing because not personalizing creates negative experiences. In the chart below, you'll find that 90 percent of internet users agree that messaging that's irrelevant is annoying. Further, 44 percent would switch to brands that personalize well. It's worth it to make personalization part of your plan.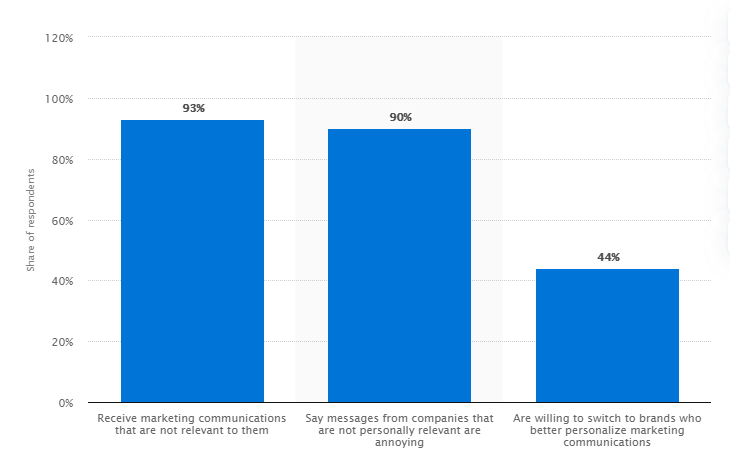 Step Four: Define Workflows
Content workflows can streamline processes and make your team a content marketing machine. There are many steps between ideation and measurement. You'll want to design a workflow to include:
Idea > Thesis Development with Keyword, Buyer Persona, and Content Pillar > Development (Writing, Designing) > Review > Edits > Approval > Publication > Distribution > Measurement
So that's a lot of steps. Each one is important, and the better the flow you create between them, the more efficient the process will be for everyone. Here are some tips:
Use a content marketing platform that allows you to set up, customize, and automate.
Provide visibility with a dynamic content calendar that's part of your software.
Define SLAs (service level agreements) for responsible parties.
Encourage collaboration between stakeholders to avoid bottlenecks (i.e., content teams should communicate with compliance and legal reviewers if this is causing delays).
Step Five: Create Your Content Calendar
Now that you have workflows in place, it's time to develop your content calendar. It will be a single, accessible hub for all content efforts.
What should it include?
Topic/title
Format
Buyer persona
Content pillar
Buyer stage
Summary
Keyword
Parties involved
Based on our audit and content alignment exercise, you'll now start entering all your projects. You'll want to ensure they also correspond with your throughput goals.
Step Six: Determine Distribution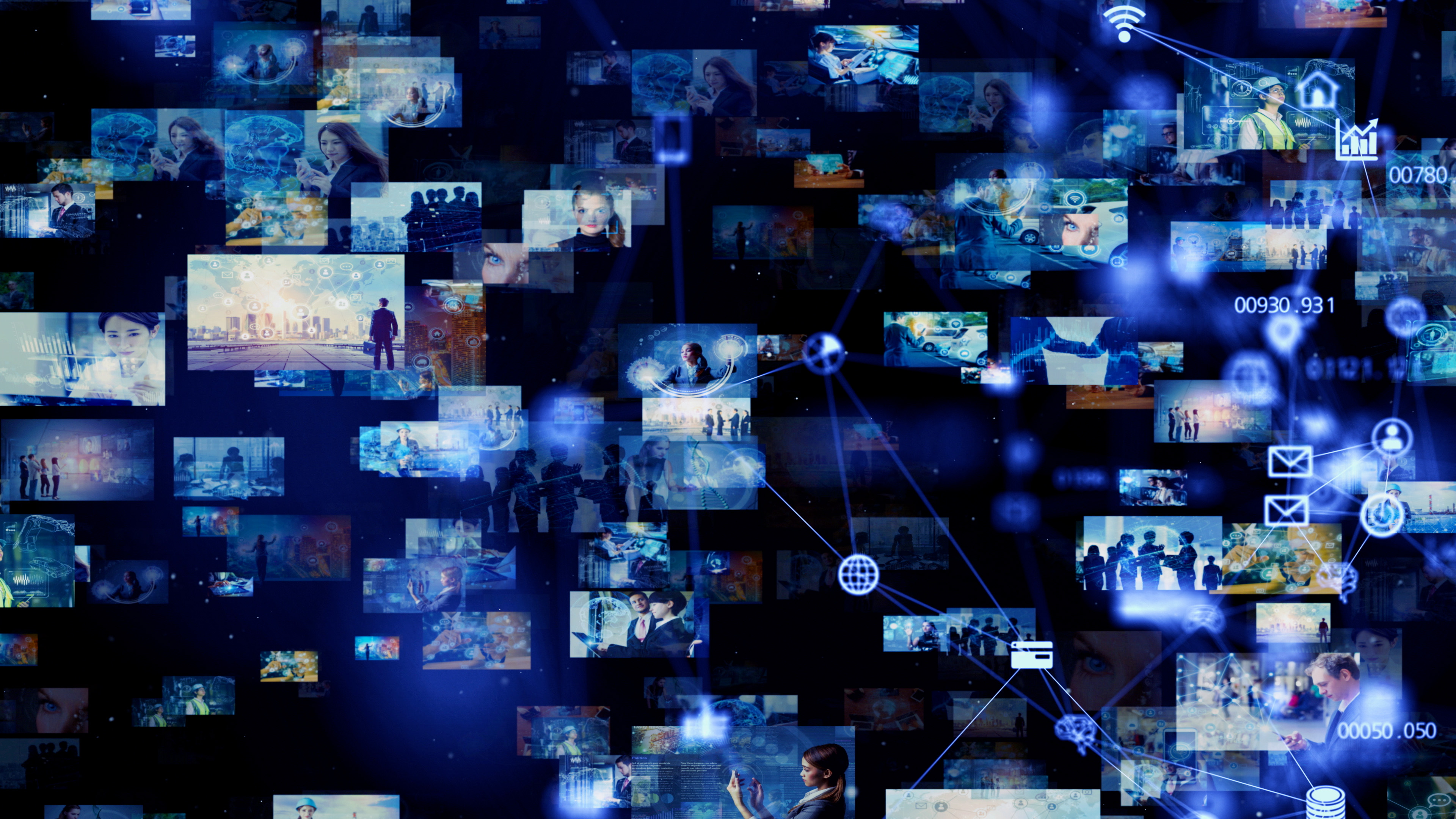 Once you publish a content piece, what should you do next? Well, you have to make sure people can find it. You've already done part of this by optimizing it to be seen through organic search queries.
But there are more ways to distribute and promote. For each piece of content, you'll need to put it in buckets:
Social media posts
Emails (newsletters, special content offers)
Third-party sites (Medium, LinkedIn publishing)
Paid channels (search, social media, sponsored content)
Backlink outreach
Events (in-person or virtual)
Other content amplification tools (Broca, Converge, Buffer)
How, when, and where you distribute should be part of your plan.
Step Seven: Develop Your Performance Metrics
The last step in the plan is to define the metrics that matter, how you'll measure, and at what intervals. You'll have data in many areas, so having a platform that aggregates this makes it easier.
In determining what and how to measure content marketing, you'll want to go back to your goals. If the goal is more website visitors, then you'll measure everything about traffic. If it's lead generation, then you'll look at those analytics, such as form conversions. If it's revenue, then you'll need to define how you'll attribute content to the customer making a purchase.
Measure often and early. Then, take what you learn and go back to step one to tweak and improve.
Starting a Content Marketing Plan: It's Stress-Free with Support
Creating your plan may seem overwhelming. There are multiple steps and considerations. Don't let this keep you from doing it. All you need is some support, and that's where we enter the story. We can help you with each element, including creating content.
If you are ready to get more traffic to your site with quality content published consistently, check out our Content Builder Service.
Set up a quick consultation, and I'll send you a free PDF version of my books. Get started today and generate more traffic and leads for your business.