Why Intent Data is the Future of B2B Marketing
The success of marketing is heavily reliant on data, but nowadays relying on customer data alone is not enough. This is where intent data comes in. The combination of customer signals and intent data can create a better bird's eye view to help leverage customer insights to companies advantage.
But even with the rise of intent data, many marketers are still left in the dark about the value of intent data because of its complexity. It is important to learn and understand the buyer journey and their purchase decisions to implement better lead generation strategies, intent data makes this process more efficient.
Quick Takeaways:
You can use much more than demographic data for personalization. Intent data is more relevant and contextual.
Intent data helps you identify and target buyers just in time.
B2B marketers can use intent data in their ABM efforts.
What is Intent Data?
In essence, intent data is information collected about a company or a person's activities. Capturing internal intent data can help marketers by getting information in its website from its applications. This information helps B2B marketers gain more insight on customers, making it easier for companies to personalize the buyers journey.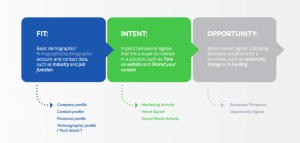 The data you gather from contact forms, and customer data on your CRM platform, can help you work successfully to convert leads into sales ready customers.
Gathering basic information from your customers, allows you to start tracking their intent of your products and services. These insights can help you gain more qualified leads and potentially increase ROI. When looking to get the intent data you need focus on these key points of research:
Search – The keywords and search terms your customers research says a lot about who your customers are. Tracking your customers' searches helps you narrow what information should be broadcasted to them. Marketers should consider informational, navigational, and internal site search queries.
Browser – Knowing what specific content the user has viewed provides marketers understanding of their audience by tracking their cookies and browsing history. Providing insight on the user language and their research behaviors, helps B2B marketers personalize messaging to their intended audience.
Action – How users interact with your brand through different channels gives marketers an opportunity to see what user experiences prompt them to go to, or buy from your company. With the right experiences, you can generate leads that are more highly qualified even before they come to your website to buy.
Firmographic – As your marketing efforts try to segment people, your marketing team should also be focusing on segmenting the organizations that interact with you. By matching a person's intent information with an organizational account, you will be able to develop a better understanding on what organizations are looking for, and what they're interested in.
Predictive – Aggregating the first four sources of data, your marketing team will perceive intents of the company by analyzing patterns and similarities that affect their future trends, actions, and behaviors. Use these data point, not only for selling in the present, but also to sell in the future.
As useful as intent data is, it is also important to note that the data collected should be verified before it can be used by marketing. Parameters, such as time and incomplete data, should be taken into consideration. These lapses could prove to be costly to companies as 70% of CRM data becomes obsolete within a year.
However, when preformed at standard and with verified information, marketers can benefit from the wealth of information intent data yields; significantly helping the overall buyers journey. Sufficient intent data can improve these three things:
Efficiency in helping your marketers discover and propose solutions your users need.
Improving the quality of leads in the pipeline, by keeping track of various activities to see the actual buying intent and behavior of the prospect.
Increasing customer win-rates through engagement with active users, turning them into customers.
But with all great advances, comes challenges in the use of intent data technologies and strategies. Understanding the relationships between potential buyers and their preferences can help marketers and salespeople maneuver smoothly.
Understanding Your Buyers
Understanding customer interactions across all touch points is the number one challenge for marketers. Companies who adopt data-driven marketing are more likely to have an advantage over the competition and increase profitability. Moreover, these firms are six times more likely to be profitable year-over-year.
Competition is high, and customers know they have options. B2B companies need to be intuitive and distinguish what their customers need without being told. Intent data informs service providers of buyers' intention based on their online behavior. Being aware of your prospects actions and properly analyzing the information allows you to predict interests and preferences that will set you apart from the competition.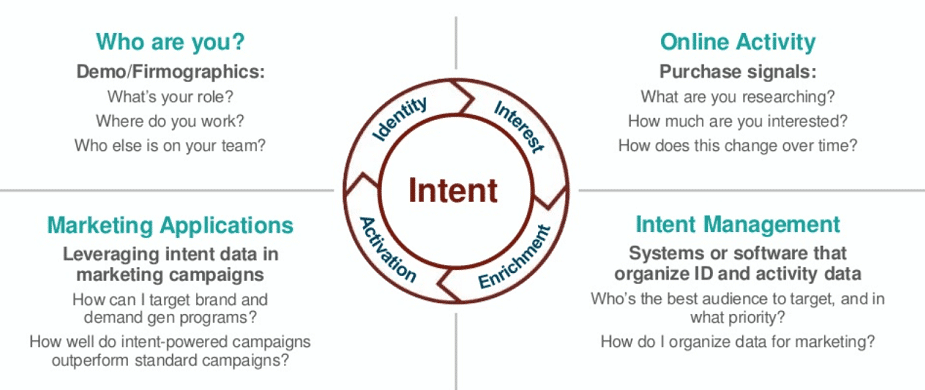 Having a marketing and sales solution that gives your company's insights from accurate buyer-intent data to identify critical behaviors and patterns for better conversion strategies is important. By using tools that provide critical information on your prospects, touch-points, and key actions, generates higher conversion rates. Allowing you to know your clients better and accelerate your sales and marketing funnel for better, sustainable profits.
Managing and Modeling Data
Utilizing intent data has a wide range of advantages, aside from being able to target buyers more accurately, intent data allows you to have quality information to build successful marketing campaigns around.
Intent data is not only beneficial for sales and marketing teams, it can bring more order and better back-end data management by aligning your data around the overall goals and objectives of the company.
Giving your marketers the power of intent data will provide your company a huge competitive edge. Maximize quality data collections to build your analytics towards a better and more detailed understanding of client demographics, geographical analysis and market trends.
But first, let's take a step back: What specific data are we talking about here?
With a vast array of data available, how will your marketing team know which ones to zero in on?
Personalizing your marketing strategy has expanded beyond demographic research of your target. Demographics don't share enough data – marketers who purely rely on this data will risk missing out on more than 70% of potential mobile shoppers.
In order to maximize your sales pipeline, you should shift the spotlight to intent data. B2B marketers use intent data to come up with strategic and personalized campaigns. According to research, only 25% of B2B companies are currently invested in intent data. You can start now and get ahead.
Simply put, intent data is a data set that shows the intentions of buyers' based solely on their online behavior. When buyers actively search for your products and services, this signals intent. It can be tricky, not all those who show interest are ready to purchase.
When used properly, intent data can help identify potential buyers before your competitors can. Intent data can guide you on the best ways to prioritize qualified leads. Marketing isn't just about customer acquisition, intent data can give your business a competitive edge in customer retention, allowing you to study prospects evolving preferences.
With great power comes greater challenges, though. While using intent data has proven to be effective and rewarding, it takes a lot of critical thinking and strategizing to be successful.
You know you can use intent data to tailor your buyers' journey, but implementing these strategies is sometimes easier said than done.
So how can intent data accelerate your sales pipeline?
Intent Data Is Key to Enabling Effective ABM
B2B companies are now realizing how critical Account-Based Marketing (ABM) is. It's a strategic approach based on setting goals for specific accounts. So where does intent data come in? When you focus on specific accounts and set respective targets, you can easily meet your prospects goals with the help of intent data.
Intent Data Increases Your ROI
This is probably the benefit that your marketing and sales teams look forward to the most. It's proven and backed by research—companies that know how to effectively implement data-driven marketing are six times more likely to have a competitive advantage in terms of profit. Plus, they are five times more likely to be better in terms of customer retention. Thus, when your efforts target the right combination of KPIs, you'll produce a higher ROI .
The benefits of investing in intent data far outweigh the challenges that come with it.
Aligning Sales and Marketing
In order to have a seamless approach to lead generation, sales and marketing are the two significant units that need to know how to work together. Marketing teams need to be able to properly identify potential clients and send high potential prospects to the sales team for up-selling and eventual closure.
It's vital that these two units have their goals and objectives aligned. Then, intent data can streamline any concerns through the provision of real-time accurate insights.
Managing Your Timing
There is such a thing as customer fatigue and there is no time for blind testing and targeting. With high-quality intent data available at your fingertips, companies can position themselves to achieve maximum gains from their efforts. By working off accurate data, your team is better informed to make decisions regarding the right approach and timing with regard to sales efforts and engagements.
There are plenty of challenges that need to be addressed with regard to your intent data and marketing funnel, ranging from the quality of data to overall back end data management. Intent data is a marketing solution that offers a great advantage when properly utilized. Maximize sales and marketing efforts and minimize barriers related to quality of data, inharmonious customer interaction efforts, and under-appreciation of customer data through proper use of buyers' intent data. Having a strong customer-oriented sales and marketing campaign starts with information on your target market.
Intent Data is the Present and Future of B2B Marketing
With marketers always looking for ways to get ahead, knowing the intent of the buyers is a must for any marketer gaining a higher success rate. Knowing prospects behaviors and triggers helps marketers understand the baseline for companies and what causes them to buy and when. With this knowledge, marketers can target a specific profile, and create personalized advertising for them on demand to increase likelihood of a purchase decision.
With all the information flowing, prospects become more informed of the decisions they make. More information means the more prospects discover about your product or service. When addressed conveniently at the right time and manner, prospects have more intent to buy therefor increasing ROI for the company.
With numerous data aggregated, it will be easy to create a baseline and learn potential clients' behaviors and help marketers look for, "ready to buy" signals. Intent data can be used for future prospecting as they reveal patterns, helping you preempt your prospects' purchase decisions in their buyer journey. You can use tools like Demandbase and Leadspace to combine first party data and intent data, run it by AI-driven algorithms, create better customer profiles, and personalize content for targeted segments accordingly.
Data is currently the lifeblood of all marketing efforts and strategies, assets such as demographics alone will no longer suffice like in the old days. Leveraging intent data with a myriad of other buyer signals can help marketers be more effective at what they do best: convincing their B2B customers to buy. And while learning intent data may be complex, it pays off when applied.
By building a content marketing strategy that is anchored on the intent signals reflected in the data gathered regarding your prospective customers, you will be able to generate positive online activity and relationships through appropriate interactions, product displays, and offerings. Bringing together intent data and including it into your marketing funnel will give you stronger predictive power and in turn, revenue impact.
Get a Free Consultation
for Content Marketing