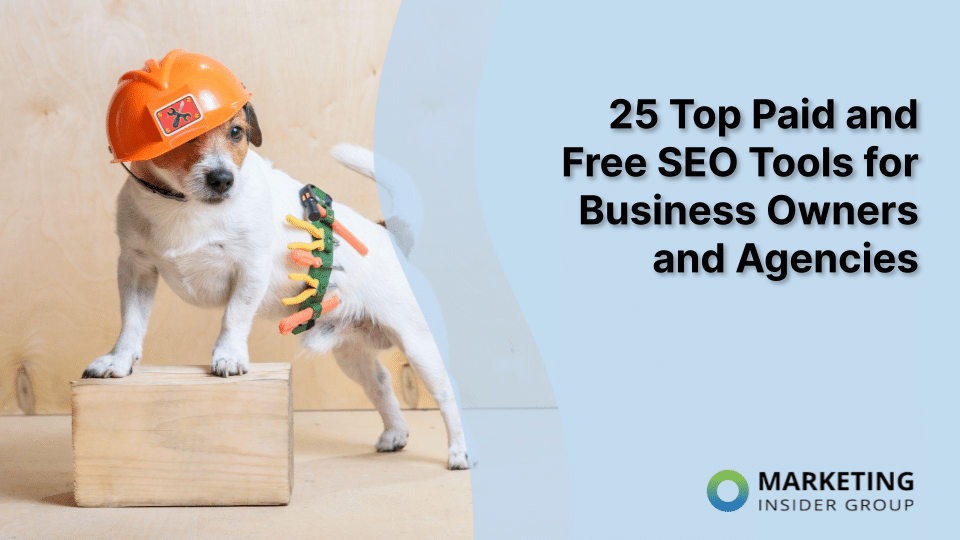 25 Top Paid and Free SEO Tools for Business Owners and Agencies
Surely, you appreciate that search engine optimization is critical to online success. Websites with high rankings always get more traffic and leads, as organic search has a higher return than other marketing efforts.
However, with more SEO tools available than ever, everyone wants to know which one is best. Really, you're not going to find a cookie-cutter answer to this question because each business is unique.
The good news is that there are a number of fantastic paid, free, and all-in-one SEO tools that can generate winning results. So, today, we'll show you the top 25 SEO platforms that can help you plan and, manage your SEO efforts.
Key Takeaways:
We've found SEMrush to be the top SEO tool for aiding content marketing.
Other great SEO tools, such as BrightLocal, cater to businesses that need to focus on local search results.
Google's SEO tools are still the most popular, but you might find Ahrefs, Screaming Frog, or another brand's offerings to be more effective for you.
1. SEMrush's SEO Tools
SEMrush is what we use here at Marketing Insider Group. When clients outsource their content marketing to us, SEMrush is a go-to resource for guiding our strategy.
With SEMrush, you can do keyword research, look for content gaps, and identify new content ideas. We trust it so much that use it for our own site to track search visibility and rankings.
2. Google Analytics
You can do worse than using Google's own SEO tools. After all, that's the search engine we're all trying to hit #1 on, right?
Queries through Google Analytics let you see how you're doing with keywords and phrases, and you can also compare how your organic traffic does versus nonorganic. Then, find out which channels brought the most conversions to refine your SEO efforts.
Google Analytics remains the most used free tool out there with good reason and usually works best when you pair it with other software. Of course, Google now offers a paid version that offers more data, fresher data, additional integrations, and better support.
3. Ahrefs Webmaster Tools
The focus of Ahrefs (as its name indicates) is helping you improve your linking. Its SEO tools give suggestions for how to improve your internal linking, which is why marketers prefer it for link building.
Ahrefs Webmaster SEO Tools can also identify over 100 technical SEO issues, tell you why each is a problem, and provide recommendations for correcting them. You'll also see who's linking to you and how you're ranking for keywords.
4. Conductor
Conductor is a user-friendly content marketing and SEO platform that helps business owners and marketers grab their clients with winning content. Its SEO tools provide:
Competitive research
Content performance tracking
On-page SEO audits
Rank tracking
Keyword research and reporting
One of the top advantages of Conductor is its excellent support. Their dedicated team of experts works nonstop to help customers increase their effectiveness.
5. Google Search Console
In contrast to Google Analytics, its Search Console provides SEO tools for finding basic technical issues. Its greatest benefit is you don't have to be a coder to debug and optimize your own site.
Discover metrics on clicks, impressions, and click-through rates to understand your site's performance. Deploy Search Console alongside other tools to boost your performance in SERPs.
6. Ahrefs' Backlink Checker
Find the top 100 backlinks to your site or analyze your competitors' performance. Use the information to figure out their linking tactics and mirror them to catch up and surpass them.
You'll not only find out which sites are linking to them, but you'll also discover the most common anchor texts. Ahrefs' Domain Rating scores help you find out which links are the most valuable to your SEO.
7. Google Keyword Planner
As another of the most popular SEO tools, Keyword Planner works along with Google Ads to help you find keyword search volume. While not as thorough as other keyword tools, Keyword Planner provides a snapshot of monthly search volume and your competition.
A top feature is its ability to find semantic variations on a keyword. So, if you check the results for "car," you can also see related data for the terms "auto," "vehicle," and "truck."
8. Google SERP Snippet Optimizer Tool
Your meta title and description are short but can be a powerful factor in motivating people to click on your URLs. The SERP Snippet Optimizer allows you to make sure your descriptions look appealing.
9. BrightLocal
BrightLocal is a fantastic all-inclusive platform for local SEO that provides complete reports on website ranking, backlinks, citations, reviews, and competitors. Additionally, its SEO tools integrate with Facebook, Google Analytics, and Twitter.
Since BrightLocal is a comprehensive all-in-one solution, you can really save money and time with it. It shows not only your rankings against your local competitors but also provides useful suggestions on how to improve rankings and outperform your rivals.
BrightLocal presents all of its findings in a professional and clear PDF report covering multiple fields of local SEO. If you're a marketing firm, you can also increase your branding by adding your logo to reports before you show them your clients.
10. Google Trends
For a wider view of what people are searching for, use Google Trends. You can narrow results by country and region to find popular long-tail keywords.
You won't get detailed results here as with other SEO tools. Still, you can hit on popular topics early by discovering current trending topics.
11. Ahrefs' SEO Toolbar
Speed up your understanding of what makes sites perform well with this browser extension for Chrome and Firefox. You'll see the SEO data of any page you visit with the free features, and a paid account opens up additional metrics.
12. Robots.txt Generator
Some of your pages will have little value for search engine results, such as payment forms. Also, when you're building out your website, you need to be sure that search engines don't crawl your test pages and mess up your SEO.
Use the Robots.txt Generator to tell search engines which pages to avoid. This step makes your site look more credible and high-quality.
13. Google Alerts
For another of Google's own free SEO tools, sign up for Google Alerts of mentions of your business or branded keywords. Google Alerts lets you see where others have talked about you online but not linked to you.
Seize the opportunity to get additional backlinks by reaching out to the site owner or writer who mentioned you. Then, kindly request a link back to your site for more brand awareness.
14. Screaming Frog SEO's Log File Analyser and Spider
Screaming Frog (great name!) saves you time in finding problems with your SEO. At least two of its SEO tools are worth examining.
The Log File Analyser gives you a free peek into how Googlebot is crawling your site. Spider reduces the time for finding issues for up to 500 URLs for free.
15. Hreflang Tags Generator
If your page has multiple languages or targets different regions, use Hreflang Tag Generator to help Google provide the right results to each audience. The tool is stupidly simple to use and keeps you from screwing up your well-intentioned multi-language marketing.
16. Yoast
You have to do more than be a great writer to catch your target audience's attention with organic search. The Yoast plugin shows you how to optimize your blogs for search engines by showing you which places to put the keyword.
17. Rank Math
Rank Math helps you speed up the work of adding title tags, meta descriptions, and your other meta tags. This plugin integrates with WordPress to enter these elements for you.
18. HubSpot Website Grader
If you're looking for SEO tools that can help you figure out how you rank against others, you might start with HubSpot Website Grader. This software not only checks your site's performance but also shows you how to:
Increase your site's security
Fix critical issues
Improve UX
HubSpot's on-demand support ensures you have help to learn how to apply its recommendations.
19. Google PageSpeed Insights
Make sure your page is loading quickly and performing well, whether on a mobile device or desktop. You'll get an easy-to-understand score and ideas for how to fix any problems.
20. AlsoAsked
One of the best ways to dominate at SEO is for Google to list you under its People Also Ask section that pops up in search results. AlsoAsked helps you find the common queries that relate to your topics. These questions are ideal for FAQs, which are still great for SEO.
21. Moz Pro
For another software that's similar to SEMrush and puts your SEO tools into one neat little package, take Moz for a test drive. Moz lets you research opportunities for SEO growth, correct issues, and create attractive reports.
22. SpyFu
Another competitor keyword research tool is SpyFu. Find a competitor's pay-per-click and SEO keywords and review ranking trends with this product.
With SpyFu, you can improve your Google Ads campaigns. Plus, you get outreach tools to find lead contact info.
In a lot of ways, SpyFu is like a "SEMrush Lite." You don't have quite as much power, but you also pay a lower price.
23. SheerSEO
SheerSEO is all-in-one software that automates your SEO efforts including rank tracking, backlink monitoring, on-page SEO auditing, and social media management. The tool integrates with Google Analytics to better understand your data and increase search volume.
With SheerSEO, you also receive extensive reports for your project with detailed link analysis, website ranking, social mentions, and historical graphics. You can start with a free account, and upgrade to a professional license if its SEO tools suit you.
24. SimilarWeb
Use SimilarWeb to get a solid estimation of how much traffic passes through a website. You can research the sources and locations of who is visiting your competitors.
25. SE Ranking
With SE Ranking, you can quickly get the overall picture of your SEO activities that you need to implement or improve. Apart from universal tools, the platform offers a bunch of additional features that bring extra special SEO tools to team members within the same platform and interface.
One more incentive for SE Ranking is its pricing flexibility. You can easily negotiate a personalized plan that suits your budget and requirements.
Get Help With Using the Top SEO Tools
Whether you manage an online business or agency, any of these 25 tools can help you get more knowledge and insight into your SEO and marketing efforts. Try them out and find which SEO tools work best for you!
However, if you still need help deciphering how to utilize your SEO tools, MIG has got your back. Talk to us today about our Content Builder Services or sign up for one of our content marketing workshops to create your SEO roadmap to success!
Get a Free Consultation
for Content Marketing