Whether you're a one-person business or you're in charge of marketing for a large corporation, any marketing activity you invest in must demonstrate measurable business benefits to make it worthy of your time and money. While content marketing offers many benefits, an improvement in SEO and search rankings is often one of the first and most dramatic results.
Getting upper management's support for content marketing is one of the most common challenges for today's marketers with almost a quarter stating that lack of executive buy-in is a major barrier.
It can sometimes be years before you see significant results from your content marketing strategy, and ROI can also be difficult to measure. Because of this, it can be difficult to justify investment in content over more traditional marketing methods that deliver results on much shorter timescales.
Quick Takeaways:
Search engine rankings are one of the easiest and most accurate ways of measuring the effectiveness of content marketing.
Content marketing and SEO overlap and should be used in combination rather than treated as separate strategies.
Improved rankings and SEO can be used as a way of demonstrating content marketing success and justifying investment to C-suite executives.
Measuring Content Marketing Success
To ensure your content marketing efforts are producing results, it's vital to set measurable goals from the outset. Without setting these goals, it's impossible to assess if your content marketing efforts are paying off. And unlike some other marketing methods, there's no straightforward way to calculate ROI. The reason for this is that content marketing is a long-term strategy. While a television advert or direct mail campaign might bring in leads for a few weeks or months, a single piece of content could keep generating business for years.
In fact, only around 50% of marketers believe it's possible to measure the ROI of content marketing, according to a study by the Content Marketing Association. While an exact ROI figure may be elusive, there are several approaches to measure the effectiveness of your content marketing campaigns. Possible metrics that you can use include:
Sales
Conversions
Traffic
Search engine rankings (SEO)
Links
Engagement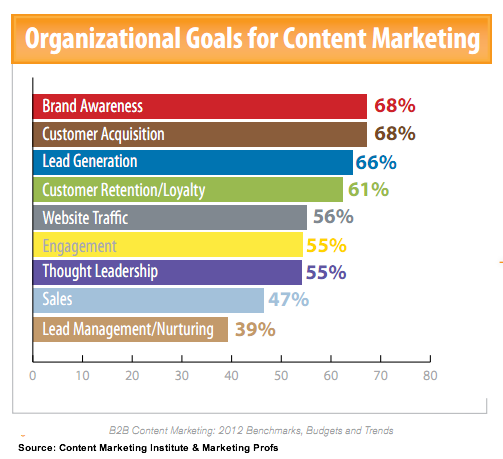 An increase in any of these metrics would be valuable, and it may seem to make more sense from a traditional marketing perspective to pursue sales or conversions over other metrics.
However, aiming for improved SEO and search engine rankings will ultimately lead to more links, more traffic, and eventually more sales and conversions. It's also a much easier task to track SEO improvements and changes in ranking over time and how these relate to particular content marketing campaigns, rather than trying to estimate the sales that can be attributed to each campaign.
Why Content Marketing and SEO Go Together
SEO and content marketing are both effective digital marketing methods in their own right. But when put together as an integrated strategy the effects are even more impressive.
In fact, content marketing could not exist in the form we know it without SEO and vice versa. These two forms of digital marketing overlap and it's impossible to separate them completely. Trying to optimize a website without any content would be next to impossible, and content blindly created without any research into topics and keywords is unlikely to be successful.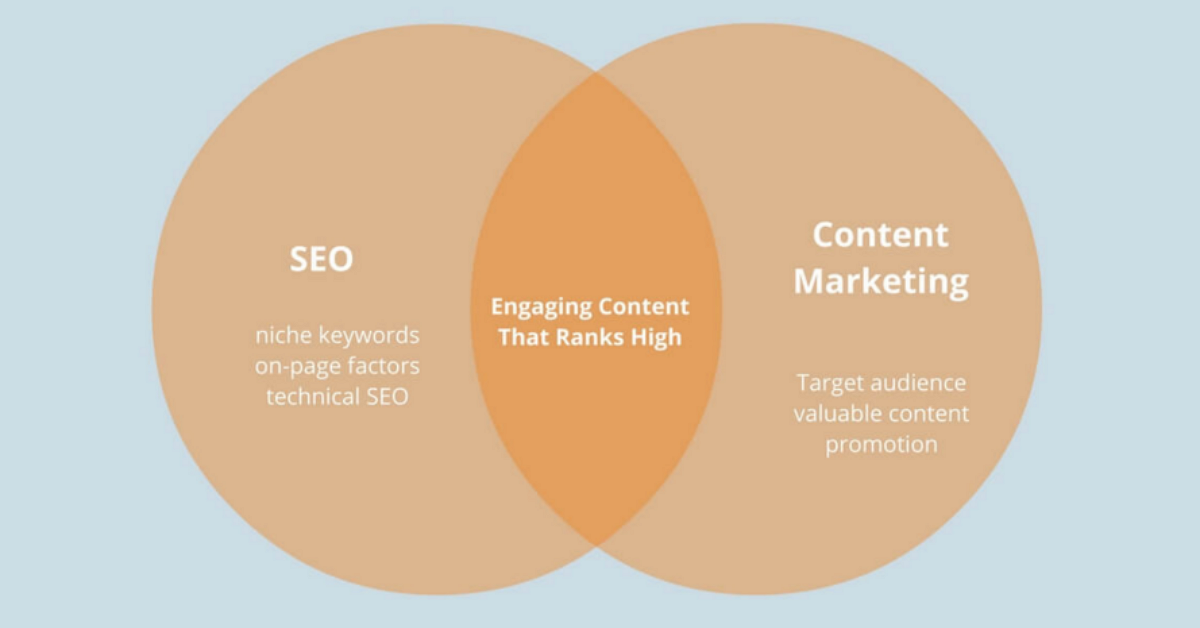 The fundamentals of SEO are basically keywords and links, and content provides these keywords and links. While it may have been possible 20 years ago to get good search rankings by simply listing your targeted keywords at the bottom of your site, the process is a little more sophisticated in 2019.
You need good content that both captivates the reader and includes keyword phrases that they may be searching for. And to achieve any kind of real success you'll need a lot of this content.
Content written without keyword research could be classed as "content production" but certainly not "content marketing". Part of the skill of good content marketing is in selecting which keywords to target and knowing where to include them in content for best effect.
While you can get links from many sources, some of the most powerful are those that are included in content that you've either published elsewhere or content produced by someone else. Good content also attracts links as others naturally want to share high-quality useful content. It's much more difficult to get people to link to your site if it's basically an online brochure for your business with no repository of helpful articles.
You could employ the services of a marketing agency to carry out your link building for you. But these links are highly likely to be lower quality links from blog comments, directories, and spammy content farms. This means that the next time Google updates its algorithm, the effect of all these links could be wiped out. On the other hand, if you consistently publish good content, it will attract natural high-quality links that will stand the test of time.
High-quality content also attracts more links and mentions on social media and it's likely that social signals will become even more of an important brand signal (indirectly) in the future.
Regular updates can also improve your SEO as it shows Google and other search engines that your website is still active and more likely to be relevant to the searcher. One of the easiest ways to give this "freshness" signal to Google is by publishing regular content in the form of a blog.
How to Use Search Rankings to Track and Measure the Success of Your Content Marketing Campaigns
By tracking your ranking in Google for your targeted search terms, you can see if your SEO is improving as you produce more content. You can also be alerted to a slip in rankings, which may indicate that you need to concentrate your marketing efforts more on a particular topic or set of keywords.
Your Google ranking is not a figure that's set in stone and, in fact, it's unlikely to be the same for different users and in different geographical locations. It's important to keep track of your rankings on a regular basis to see if they're increasing, decreasing, or static. This also means you can see if any spikes in ranking can be attributed to a particular piece of content or campaign.
As your rankings improve over time you can map this against your increased traffic to demonstrate the correlation between improved SEO and increased sales and conversions.
While it's possible to track your rankings manually, this can quickly become cumbersome, especially when you are tracking a lot of keywords. For this reason, it's more convenient to use one of the commercial rank tracker tools such as those managed by Ahrefs or Moz.
If you are ready to get more traffic to your site with quality content that's published consistently, check out our Content Builder Service. Set up a quick consultation, and I'll send you a free PDF version of my books. Get started today–and generate more traffic and leads for your business.