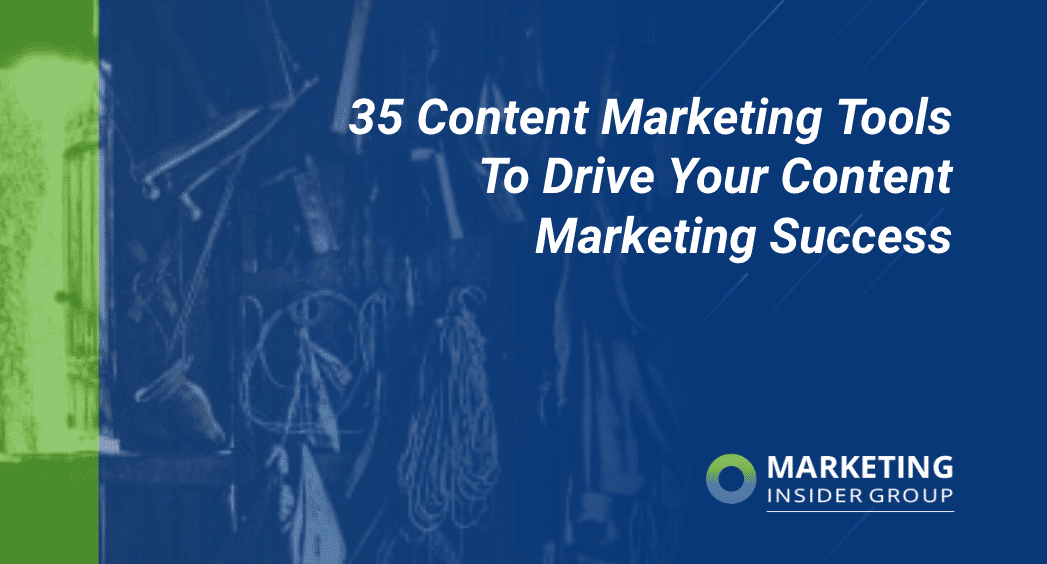 35 Content Marketing Tools To Drive Your Content Marketing Success
Are you looking for content marketing tools to drive your content marketing plans?
One of the content marketing questions I get asked most often is how a small business can get started with content marketing on a limited budget.
While there are a ton of ways we could discuss how to be successful with content marketing, at some point you have to get down to the dirty job of producing content.
Luckily there are plenty of affordable content marketing tools to help drive your content marketing plans, no matter what size your business is. And no matter what size budget you may have.
Here I have listed some of my favorite content marketing tools to help you assess your current ranking on the important keywords your potential buyers are using, which keywords you should be using, and which topics are resonating for your audience around those keywords.
These are the tools we use to help our clients develop an effective content marketing strategy that delivers real business growth.
I also have listed my favorite image resources to make sure your written content is supplemented with the right visual appeal that today's audiences are looking for.
And finally, I have listed out the content marketing tools I use for sharing content.
So without further ado, here's my list of 35 content marketing tools.
35 Best Content Marketing Tools
Content Ideas
BuzzSumo is a great, if not a must-have, tool for content marketers to identify what content and keywords are working well, which platforms and channels are driving social sharing and engagement, and who the key competitors and influencers are in your space. The results you get are also a great source of inspiration for content ideas.
Feedly lets you find and read content in less time by organizing them into collections which appear in your feed. It's a great tool to stay up-to-date on the latest news in your industry and to see how much social sharing each piece of content is getting. With a Pro account, you can easily schedule and share posts with Hootsuite or Buffer.
Quora is a fantastic online community for content marketers to use and find out what kinds of questions their target consumers are asking for blog inspiration.
Twitter is another great tool to see which topics are trending and hashtags that are relevant to your industry and target audience.
DrumUp is a content marketing tool that pulls up recommended content based on the set of keywords you set up on the platform. You can also add RSS feeds to get content from the websites you regularly visit. DrumUp is also a social media management tool that lets you schedule and share content via the platform.
Flipboard curates and showcases content from various trusted sources and websites based on the topics of interest you follow. You have the option to save the content you like and the tool presents it in an online magazine format for you to view.
Image & Graphic Creation
StockSnap is one of the best places to find free, quality high-resolution photos which you can use, modify and distribute without attribution, even for commercial purposes. The site allows you to sort by date, views, number of downloads and favorites as well as which images are trending. Hundreds of new images are added every week.
Pexels is a repository of over 10,000 free, quality hand-picked stock photos, with at least 1,500 new photos added every month. Like StockSnap, all photos can be used and modified without asking for permission and attribution.
Unsplash has over a hundred collections of beautiful stock images donated by various photographers around the world, which you can use with no copyright restrictions.
Iconmonstr is another repository which has over 3,400 free icons you can use without copyright restrictions.
Canva makes graphic design simple and quick for everyone. You can use the online program and its huge collection of free templates and graphics to create everything from blog and social graphics to presentations, flyers, posters and infographics.
PicMonkey is a great online photo editing tool if you are looking to make basic editing or special effects, like cropping, resizing, color adjustments and filters.
GoAnimate allows you to easily create animated videos yourself, without the big price tag that comes with creative agencies or if you don't have the internal resources for it. The online platform allows you to drag and drop characters, props, backgrounds, styles, sound effects and even voice record audio files to go along with your animated videos.
Life of Pix is one of my favorite sources of free, high-resolution photos donated to the public domain by the Leeroy ad agency with no copyright restrictions.
Gratisography is another favorite of mine that offers free high-res photos from Ryan McGuire. New pictures are added every week. Some of the photos are a little quirky which is fine by me. Images are free of Copyright restrictions.
Content Sharing & Management
Hootsuite is still my top choice for social media scheduling and sharing. You can manage all your social media accounts, monitor hashtags, track and respond to mentions all in one place.
Sprout Social is a social media management platform that allows individuals and businesses to manage social sharing, engagement and communications across Twitter, Facebook, LinkedIn, Instagram and Google+. Like Hootsuite, the platform also offers social media analytics tools to help you measure and report on your performance.
Spredfast is another social marketing and engagement platform for scheduling and sharing content, social listening and analytics.
Buffer is a social media scheduling tool that helps you find your most optimal times to share content throughout the day so you can get the most out of every post. With the paid plans, you can add RRS feeds to find and mark content you want to share and add them to your queue.
Outbrain is a content promotion tool that promotes your content across a wide network to help you to reach your ideal audience, and an analytics dashboard allows you to track and optimize campaigns.
Analytics, Keyword Discovery & SEO
Google Analytics is one of the must-have tools content marketers should include in their toolbox. You can track everything from your website traffic to visitor demographics to help you improve your pages.
Google Search Console is another must-have tool for checking how often your website appears in Google search results and test if Google can successfully "understand" your content, to help you improve your site's SEO and search performance.
MozBar is a browser extension that generates instant SEO metrics and insights into keywords and other page elements based on the websites you are visiting.
Screaming Frog SEO Spider. If you are looking to do a content audit of a larger website, you can download this is small desktop application to "spider" your websites' links, images and more from an SEO perspective. This video offers a quick overview
Google Keyword Planner allows you to search for keywords and get their historical search volume statistics or traffic forecasts for specific lists of keywords. It's a great resource to have in your content marketing toolbox to help you create content around commonly searched keywords and terms.
Google Trends: I'm on this site almost every day just looking at the trends of various keywords, especially for our customers. You can also look at what's trending if you want to do a "What [current event] means for [your target keyword]" type post such as this one.
Keyword Tool gives you 750+ long-tail keyword suggestions based on the term you search for. You can also look at the questions related to your keyword users are searching, which can be used for content marketing topics. With a Pro account, you'll also get additional insights into the search volume, CPC and AdWords competition for the keywords you search.
Keyhole also allows you to track any keyword, hashtag or url as well. It shows the top posts, influencers and users for a sampling of data.
Hubspot Website Grader allows you to gain insights into how well your website is performing, including SEO, mobile and security, and the areas you could improve to optimize your performance.
SEMrush is a great tool we use to track keywords across organic search and paid campaigns, you can also use the tool to measure the performance of your website and get insights into your competitors' digital marketing strategies. Keep in mind that free users only get 10 queries though.
Keyword Finder helps you find long tail, low competition keywords to guide your content marketing plans.
keywordtool.io is a great resource because it allows you to enter your keyword and see top related searches. But it also allows you to view questions and also to see top keywords and questions on YouTube, Bing and across mobile app stores.
Uberflip (formerly Snapapp) is an interactive content marketing tool that can help you scale your ABM initiatives across various accounts.
Content Management Tools
WordPress is what we use on this website. WordPress powers nearly two-thirds of all websites around the world and is free. You still need to design your site but with various templates, hundreds of thousands of plug-ins and so many developers, you can pretty much do whatever you want with WordPress. Some other options include Drupal, Magnolia, Hubspot, Adobe, Sitecore.
DivvyHQ is our tool of choice for managing calendars and workflows across our various clients. It offers much more functionality than the generic project management tools. Divvy helps move your content marketing strategy from an idea into accountability across your content planning and writing with real deadlines and deliverables.
RELATED: Here you can see my list of  some of my favorite Digital Marketing Tools for small businesses, content promotion tools, content marketing research tools and keyword research tools .
If you are ready to get more traffic to your site with quality content, published consistently, check out our Content Builder Service. Set up a quick consultation, and I'll send you a free PDF version of my books.
Get started today – and generate more traffic and leads for your business!
And if you're looking for 10 more content tools, here you go:
1. easel.ly
I'm not really an infographic man myself, so I have to admit that I've never actually used this tool. That aside, I do know that infographics are a key weapon in many marketers' arsenals. I also know that they're not usually particularly quick or easy to create.
Until easel.ly.
Easel.ly is a really easy (no pun intended) to use tool that allows you to create infographics from a huge selection of templates.
How much does it cost?
It's free to get access to 60 images and 10 fonts, or just $3 a month for a pro account and access to "1000s" of images and more than 50 fonts.
How does it work?
Choose a template: 
Click on the images and text within the template to move or remove them, and use the menu at the top of the screen to change backgrounds or add in charts, images, or text.
2. Thinglink
Thinglink is a nifty little tool that allows you to add an extra dimension to imagery and video by making it interactive – no coding knowledge needed. It's quick and easy to use making it a great time and money-saver.
How much does it cost?
A free account gives you access to most key features. Pro accounts will cost between $8 and $250 monthly, depending on how many additional features you want to use, how quickly you want to access support, and whether you want to pay monthly or yearly (pay annually and you get an extra discount).
How does it work?
Once you've created an account, upload an image by clicking on or dragging an image over the blue box.
Click anywhere on your uploaded image to begin editing it.
Add icons, which you can connect to text or a link, using the menu on the left-hand side. 
Once finished, users will be able to interact with your image by hovering over the icons to view more information, watch a video, or explore another link.
3. ifttt.com
IFTTT (short for "If this then that") should be a must-have in any marketer's toolbox. In short, it allows you to automate a huge range of tasks. The longer explanation is that it connects two services together, and uses formulas (known as "recipes") to trigger a particular action, when a corresponding action occurs.
For example, you could use it to:
Receive a notification each time a competitor makes a change to their website
Receive a notification when a new site links to one of your competitors
Set up alerts for relevant PR opportunities
Monitor SERP positions
Automatically retweet a chosen account
The possibilities are pretty much endless. Seer Interactive has lots of awesome ideas here, and Buffer has a big list of recipes to help you streamline your social media efforts here. It makes sense however, that your first port of call would be IFTTT's own site.
How much does it cost?
IFTTT is completely free, although the services you connect with it might not be.
How does it work?
Sign up: 
Head over to the "Channels" section:

Start selecting and connecting the channels you want to use with the tool: 
Once you have two or more channels connected to IFTTT you can begin setting up recipes. The best way to do that is to click on "My Recipes" then "Create a Recipe". Click on the blue "this".
Choose your "Trigger Channel" (the channel you want to trigger an action). You can either search for a channel or browse through the list.
Select a trigger (the "this" that you want to trigger the "that"): 
Click the blue "that" to repeat the process and set up the action ("that") you want to occur when the "this" is triggered.
4. StayFocused
If you're anything like me, you'll know that one of the biggest time-suckers of them all is your own attention span. I get it. We have so much information and media available at our fingertips that it can be pretty tough to resist the urge to check our email, take a "quick" look at Twitter, or see what's happening over on Facebook.
One solution I've found is to block distracting websites, or literally put my computer into lock-down, meaning I can't do anything elseexcept type until I've hit my own target. There are lots of tools that can help you achieve this. I use StayFocusd, a Chrome app.
I like it because it's so flexible. I can choose to block the websites I find most distracting, or I can block every single website. This is useful because a lot of what I do requires research, and blockingeverything makes that a little difficult.
However, if you're a pro at procrastinating and need to go all-or-nothing in order to get shit done, I have a workaround for you…
Do your research before you begin writing. Collect all the information you think you're likely to need. And print it out.
Then put your computer into lockdown, and start working. You'll be amazed at how much you get done, and how quickly. Trust me, I speak from experience!
How much does it cost?
It's completely free, though if you find it useful (and you will) they kindly ask for you to make a $10 donation.
How does it work?
Install the plugin and click on the blue clock icon.
Click "settings".
From here you have a couple of options. "Normal" mode entails adding the sites you find most distracting to your "blocked" list. You can do that by clicking on "Blocked Sites", entering the sites you want blocked into the box, and clicking "Add Blocked Site(s)". 
The other options, which you can see on the left-hand side of the page, allow you to change the days and hours during which the sites will be blocked (so you can block them only during your normal working hours). You can also increase or decrease the amount of time (per day) that you're allowed to browse the blocked sites by clicking on "Max Time Allowed".
Alternatively, you can choose "The Nuclear Option". This enables you to block every site on the web. Alternatively, you can add some websites to an "Allowed" list and block every site exceptthose.
Use this feature cautiously – once you've hit "Nuke 'Em", the setting can't be undone until the timer runs out.
5. Trello
Trello is a simple task management system that makes it really easy to collaborate on projects. It's ideal for managing a content marketing strategy, but I've found it to be just as useful for collaborating with my team (and clients) on projects of pretty much any description.
Trello's a great time-saver because it negates the need for back-and-forth emails, phone calls, and meetings. As many people as needed can have access to a Trello "board" (a board is organized into lists and cards).
They are then able to dip in and and out of the tool as and when it suits them. They'll be able to check on the progress of a project, or confirm what progress they've made themselves. They can also leave notes on cards, enabling everyone involved in a project to discuss it in a manner that's easy to follow and track. Much more so than would be possible via, say, a conference call.
Best of all it's really easy to use. The more advanced the task management tool, the more training that's likely to be needed in order to use it properly. Trello, on the other hand, is pretty much self-explanatory.
How much does it cost?
The standard account is free and should suffice for most marketers. This allows you to:
Create unlimited boards and add unlimited members
Customize boards with a selection of backgrounds and stickers
Download and use the Trello mobile app
Attach files up to 10MB in size
The upgrade to "Trello Gold" will cost you $5 a month (or $45 a year). You can also get free access by referring new members. Trello Gold allows you to:
Get access to "premium" backgrounds and stickers
Upload your own backgrounds and stickers
Attach files up to 250MB in size
How does it work?
Trello can be used to manage most types of projects, but since this is about using the tool to save time on your content marketing, I'm going to give you a quick overview on using it specifically to manage a content strategy.
Create a board – we'll call this one "Content Marketing". 
Create your first list. I'm going to call this "Content Ideas". 
Create additional lists that will be used to track the progress of each piece of content. I'm going to call mine "In Progress", "Editing", "Ready to Post", and "Live". You don't have to copy me – what you do here will be dictated by the process you follow when creating a piece of content. 
Once you've set up your board you're going to want to add the people who will be working on these tasks with you. To do this click on "show menu" (top right) then "add members". Don't worry, if they're not already signed up to Trello, they'll receive an invite explaining what they need to do.
When you're ready to get started, you can begin adding cards. I recommend creating one card for each content idea.
From here you can add a description for the topic, add comments, labels (allowing you to categorize the content), create checklists, add a due date, and tag people who need to pay particular attention to that card. 
Lastly, as a piece of content progresses, you simply drag the card into the next list. 
6. Contently
Chances are you don't have the time or skills to do everything yourself. In this case you might look at hiring a member of staff. Unfortunately, that's an expensive and relatively inflexible move. The alternative is to hire a freelancer.
There are heaps of websites out there offering the services of freelancers for anything from content writing and infographic design, to content promotion and web development. A lot of these sites' key selling point is their affordability. A whole eBook for $5? Tempting, admittedly. Even the writer's reviews are stacked well in their favor; out of 547 buyer reviews, they receive a positive rating of 4.9 out of 5.
But an original, quality eBook for $5? Nope, I'm not buying it. It took me and Rob Wormley about 100 hours between us to complete 100 Days of Growth, and we worked hard. No one can write a quality book in a short enough time that they would be able to sustain themselves on $5. No one. You can bet that corners are being cut, one way or another.
Thankfully, there are services that can connect you with talented freelancers that are experts in their field. Will it cost you? Yep. But you get what you pay for. If you value your reputation and actually care about getting results, you're going to have to either put the hours in yourself, or pay fairly for that work to be completed somewhere else.
Contently can help you do that.
How much will it cost?
Contently is completely bespoke so expect the price of every project to differ. However, according to a user on Quora, you can expect to pay around $275 per post (of what length, I have no idea). It would be awesome if anyone with more experience in the cost of content created through Contently could share some insights in the comments below!
How does it work?
Again, as Contently is a bespoke tool, you need to "schedule a chat" with one of their team members before you can get started.
To do that, simply click on the "Talk To Us" button in the top right of the screen. 
Then, fill out the contact form. 
7. Social Image Resizer Tool
Using images in social media posts increases engagement – drastically: 
Unfortunately, designing and resizing images so that they render correctly across different sites can take up a lot of time, and can be pretty costly if you're relying on a tool like Photoshop.
Enter – Internet Marketing Ninja's Image Resizer Tool.
It's a super-simple to use tool that allows marketers to quickly crop and resize images to fit most common social media formats. This means you can instantly create an image that's the right size and shape to be used as a Facebook cover photo, in a Tweet, or as an Instagram profile photo (to name a few).
How much will it cost?
Absolutely nothing – it's completely free.
How does it work?
It's pretty self-explanatory.
Choose and upload the image you want to resize: 
Select what type of image you want to create: 
Edit your photo and click "Done Editing": 
Download your new image.
8. Hubspot's Blog Topic Generator
This is a fun little tool which, while useful, shouldn't be taken too seriously. It's great for those moments when you're completely out of ideas. Just be sure to treat the topics it generates with a big pinch of salt.
How much does it cost?
It's completely and utterly free.
How does it work?
Just enter three terms related to the topics you're interested in writing about and click "Give Me Blog Topics!" 
9. Wonder
I have to admit, I've not actually tried this one myself… yet. But I will. It's an excellent concept, and if it lives up to the claims, could be a huge timesaver.
In short, Wonder is a tool that does your research for you. However, this isn't a search engine. It's completely bespoke. Ask a question and a dedicated researcher will "scour the lesser known parts of the web" to hunt the answer down on your behalf. 
Wonder then reviews the research – presumably for accuracy and to check its actually usefulness – then passes it along to you.
I think the value here is determined by how much useful information you gain from the research, and how easy (or not) it would have been to track down that info yourself.
Wonder offers up a handful of examples to show the types of answers you can expect, and to their credit, they look pretty detailed.
How much does it cost?
A single query will cost you $19.99. If this becomes a regular tool in your arsenal, you can save money by bulk-buying requests. 15 queries will cost you $279.99 (a 7% savings), while 50 will cost you $899.99 (a 10% savings).
How does it work?
Scroll down the page a little and you'll see a button allowing you to try the service for free. If you've not used it before, I suggest you click that.

Next, ask your question.

Lastly, fill in your details so their researchers know where to send your answer. 
10. Quuu.co
Quuu's a relatively new kid on the block but it has quickly become one of my favorite tools. Quuu hand-curates content suggestions for social media and automatically sends them over to Buffer where they get scheduled to be posted throughout the day.
How much does it cost?
It's free for up to two scheduled posts a day (and I'm told, will remain free forever). If you refer your friends, you'll get three extra posts a day (for life). You can also upgrade to a paid account which will get you up to 10 posts a day, for $10 a month.
How does it work?
Quuu won't work unless you have Buffer (for the moment, at least). If you're not already using Buffer, get yourself an account, then connect it with Quuu.
On the Quuu homepage, fill out your name and email address, and select the number of posts you want scheduled each day.
Lastly, head over to "Categories" to select the type of posts that matter to you. Your first post will be scheduled to go out the following day.
Get a Free Consultation
for Content Marketing