How to Capture Buyer Intent in B2B Marketing
Individual users and businesses are becoming increasingly dependent on the internet as a research portal.
In 2019, 90% of all U.S. adults (100% of adults under 30) were already using the internet. Compare that to twenty years ago – when only about 50% of adults used the internet.
Source: Pew Research
The digital era has led to changes in the way brands market their products and services.
You're familiar with the B2B buyer's journey: moving prospects through the awareness, consideration, and decision stages of the buying process.
Similarly, your business can benefit from understanding the age-old yet somehow underutilized buyer intent concept.
Source: G2
Buyer intent comes down to understanding what makes an excellent lead for your business. With a holistic perception of buyer intent in your business, your marketing and sales teams can improve the lead-qualification process and enhance sales conversions.
To attract ideal leads to your business, you must place your customer's needs, wants, and interests at the center of your sales and marketing campaigns.
Quick Takeaways:
Customer experience is a leading priority for modern businesses.
Buyer intent data will help you learn "why" a lead is looking for a solution to their problem.
To holistically capture buyer intent data, you should study prospects at each stage of the buyer's journey, trace customer touch points, and use third-party vendors.
Using buyer intent data will improve your content marketing, lead generation, copywriting, and keyword optimization efforts. It will also help your sales team increase customer conversion rates and minimize the cost of acquiring new customers.
The Shift to Customer-Centric Marketing
Decades ago, businesses could generate leads by telling people how fantastic their brand was and how brilliant and valuable their products and services were. In other words, it was more about the company than the clients and customers.
Now, it's about how well you can deliver what your target market wants in terms of communication, products, and customer service. For modern businesses, customer experience (CX) has become the top priority.
Source: SuperOffice
Your business should aim for this kind of customer-centered approach by providing…
the right products and services
for the right businesses
at the right time
using the right channels
to address pressing wants and needs.
Leads, consumer behavior, and the buyer's journey are the core elements of a customer-centric marketing campaign.
By learning everything you can about your current audience, you'll better understand who you should target in campaigns and how likely your prospects and leads will make it through the sales funnel. In other words, you'll understand buyer intent – the probability that a consumer will purchase your product or service.
What is B2B Buyer Intent Data?
Simply put, collecting buyer intent data involves learning information about a company (or individual users in B2C cases) and their online activities. Information can include various forms of online behavior data like visiting a website, clicking on an ad, attending a webinar, or downloading a PDF.
This data will help you determine the intention of a lead during the buying process. By tracking a lead's digital footprints, you can learn about their pain points, interests, and habits.
B2B marketers use data analytics tools to measure their marketing efforts and gain insights into buyer intent. Here are a few metrics that will help you understand which companies are more likely to buy from you:
Keyword searches
Engagement rates
Email open rates
Behavioral data
Demographic information
With this data, you can get a clearer picture of where potential buyers are in the marketing funnel. You can map out buyer intent and determine where buyers are in their purchasing journey to improve your targeting strategies. You'll also better understand how to keep their attention and convert them into paying customers or clients.
There are two types of intent data you can collect:
Internal/first-party intent data: Taken from business-owned properties (e.g., your website, CRM)
External/third-party intent data: Taken from external sources (e.g., competitor websites, target keywords, review sites)
How to Capture Buyer Intent in B2B Marketing
Here are several effective ways to capture buyer intent for your business.
1. Analyze Your Sales Funnel
To uncover buyer intent, trace the process that buyers go through before committing to a purchase. Today's B2B buyers usually enter the sales funnel after they've identified their problem.
Source: Moz
The B2B buyer's journey can vary depending on your organization and industry. But this is the usual process a lead will follow to make a purchase.
Interest: The journey begins with either a change in the status quo or the need to address a problem. Once an organization approves the proposed change, the buyer will commit to finding a solution.
Consideration: Next, the buyer conducts extensive research to compare solutions and explores different avenues for solving the problem.
Decision: After pinpointing a solution, the potential buyer commits to that solution before purchasing a specific product or service.
Purchase: The length of time it takes a business to make a purchase usually depends on the company's size and the urgency of their situation. For smaller companies, it can take a couple of weeks. Larger companies often take months or even years to finalize a significant purchase.
2. Trace Customer Touch points
Gone are the days of buyers approaching companies for services with little to no knowledge about their options. Pre-packaged sales solutions no longer work. Modern buyers do their research and educate themselves about their company's problems and solutions before making initial inquiries.
The research they conduct leaves behind "digital footprints" or touch points (intent data). Every website a buyer visits, the articles they read, and their online actions can give you tidbits about their motivation and purpose.
By determining buyer intent using customer touch points, you can focus on engaging the prospects most likely to buy from you. You can also utilize this data to gain a competitive advantage over other businesses.
3. Use Third-Party Vendors
As we already mentioned, capturing external intent data involves using tools that track users offsite. Examples of trackable metrics include competitor website data, online subscriptions, keywords, and product reviews.
During the initial research stages, analytics platforms can gather data on search behavior, content engagement, and social media behavior to provide you with buyer intent insights. Combine this data with your internal intent data to form a holistic view of your buyers and a more accurate buyer's journey map.
Source: Gartner
4. Ask "Why" Instead of "What"
Start by learning why a business needs a solution like yours, rather than what that solution is. Traditionally, marketers have analyzed buyers from the "outside-in" by answering questions in this order:
What does Company A need?
How do they achieve this?
Why do they need this?
Simon Sinek's Golden Circle tells us that when we "return to our natural, latent state of being from the inside-out," we discover the true intent of why. As a B2B marketer, you must start with why when asking questions concerning your prospective buyers.
Here's an example:
Why is Company A visiting these websites?
How did they find those websites?
What are they learning from those websites?
After addressing the why, you'll gain a more accurate depiction of what motivates your buyers. Using your intent data, you can personalize future marketing efforts to increase relevancy and value.
How to Use Buyer Intent Data for B2B Marketing
Imagine capitalizing on all the data you have about a company in your target market. It's like holding an ace in poker. You just need to know how to use it and when to play the card to win the deal.
Using buyer intent data, you can improve your content marketing, lead generation, copywriting, and keyword optimization tactics to engage with prospects at the optimal time.
Content Marketing Strategy
Why are buyers reading your weekly blog content? Why are they downloading your ebooks? Why are they visiting your product or service pages?
Once you understand their intent, you can identify which stage of the buyer's journey they're in and create educational or informational content to push them to take a desired action (usually a purchase decision).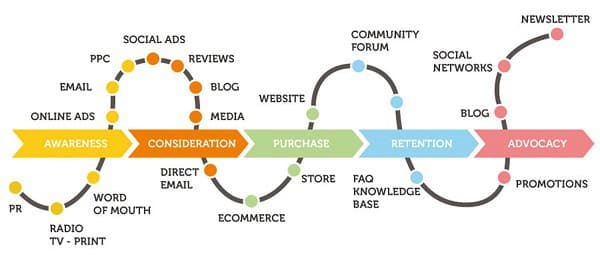 Source: Freshworks
Awareness Stage
Buyers with the intent to learn usually search for broader, more generic terms. For example, they might search for "content marketing strategies," "content marketing best practices," or "how to create a content marketing strategy." The keywords they use won't typically indicate an intent to purchase.
Consideration Stage
Buyers with the intent to compare will look for more specific products and solutions. They might search for "content marketing agencies" and look for reviews, benefits, and recommendations to help them find and choose a specific solution.
Purchase Stage
Further down the funnel, buyers with a clear intent to buy will search for a specific product, service, or company. These buyers' search queries are focused and precise. They know what they're looking for and rarely look at other sites to continue researching their options. Prospects in this stage are ready to buy.
To capitalize on the insights you've gleaned from studying the buyer's journey, create content using relevant headlines and keywords that indicate your target audience's intent. Creating specific content for prospects at each stage of the buyer's journey will provide leads with resources that meet them where they are and encourage them to continue their journey.
Keyword Optimization
You can also use buyer intent to map out your keyword strategy. Answer this question when seeking keyword opportunities: "Why are businesses using specific keywords to search for products and services online?"
Connecting keywords to B2B buyer behavior will make your SEO efforts more effective. Once you've identified relevant keywords, you can determine the best types of content to create for leads at each stage of the sales funnel. You can also focus on incorporating more keywords that reach buyers further down the funnel (those closer to making purchase decisions) to increase conversions.
Moz's Keyword Explorer and SERP Analysis tool allows you to analyze competitor rankings for target keywords. If you're a new business or in a highly competitive industry, focus on targeting long-tail keywords. They're easier to rank for than shorter keywords. Also, look for alternatives to short keywords that your competition isn't targeting – those with a low difficulty score.
You can work with your sales team to determine which keywords generate more bottom-of-the-funnel (BOFU) leads. This should help you streamline your SEO efforts and increase your sales conversion rates.
Copywriting
When you have buyer intent data, you should never base your content and copywriting on trial and error. Determine what types of content and writing styles are suitable for businesses at specific stages in your funnel. By creating content backed by buyer intent data, you can cut through the noise to make your brand stand out online.
Source: Smart Insights
Awareness Stage
In the awareness or discovery phase, people usually have the intent to learn. At this point, blog posts, guides, how-to articles, and resource lists are ideal content formats for potential buyers. Buyer intent is probably low. Focus on helping visitors understand their problems. Your goal is to get viewers to position your brand as a trustworthy industry source.
Consideration Stage
In the next phase, buyers have the intention to compare and explore solutions to their problems. They already know the problem, so your goal is to highlight benefits that set your brand apart from the competition. Videos, presentations, product reviews, testimonials, and product images are appropriate types of content to create for this stage.
Purchase Stage
In the final stage, buyers are ready to purchase. They already know what solution they want to use to solve their problem. They don't need any more convincing. It's time to provide them with a quick, easy option for purchasing from you. Landing pages, sales pages, and product pages are some of the best types of content to create for users in the purchase stage. Lead them to the right place so they can purchase immediately.
Lead Generation
Segmentation and lead qualification highly increase your chances of converting leads into customers.
Using the comprehensive data you've collected on buyers, you can enhance your lead qualification process to determine whether a prospect is in-market and ready to buy. If they are, you'll know how to target them effectively.
Take advantage of your intent data when designing and developing your lead management strategy. You can find the best leads according to how well they score during the lead qualification process. Rather than wondering whether your leads will buy, you can shift your focus to when they will buy. You'll have the information you need to determine the most effective way to pursue qualified leads.
With your intent data at the helm, you can also create more accurate advertising campaigns and marketing automation workflows. Personalize content and messages for consumers by segmenting your audience based on where they are in the buyer's journey.
Bringing It All Together
With intent data, you don't need to focus on generating a mass number of leads. Instead, you can target more specific leads who have a higher potential of purchasing from you. Your sales team can approach potential buyers with a high purchase propensity, which should increase your conversion rates and minimize the cost of acquiring customers (CAC).
Using buyer intent is a no-brainer. Businesses must take intent data seriously to develop performance-driven marketing strategies. The age-old marketing technique of broadcasting to everyone you can think of who fits your buyer persona is outdated and ineffective. With intent data, you'll have a clear picture of your target audience so you can meet them where they are and give them exactly what they're looking for.
Use B2B Buyer Intent Data in Your Content Marketing
Marketing Insider Group can help you use your buyer intent data to create and publish content that targets your ideal prospects, leads, and customers. We will also focus on delivering content based on where your prospective customers are in the buyer's journey.
The content we write will speak to your audience in a tone they connect with and understand. We can also promote your content using language that attracts and engages your target audience to help you win new customers fast.
Check out our Content Builder Services today!
Get a Free Consultation
for Content Marketing