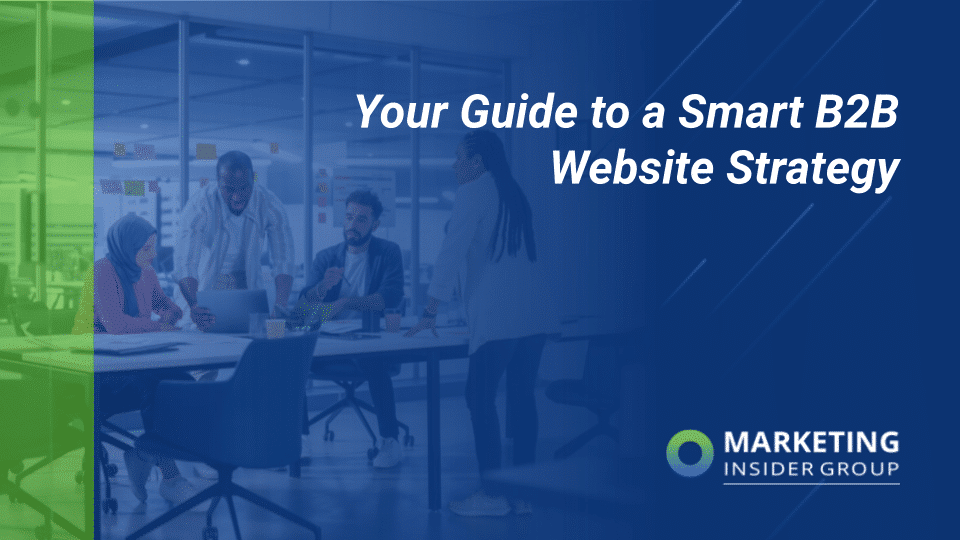 Your Guide to a Smart B2B Website Strategy
You must continually adapt your website marketing strategy to stay relevant and visible to your desired clientele. For example, recent numbers show that 75% of customers judge a company's credibility on its web design.
Undoubtedly, your online marketing presence will become even more vital as the world handles more commerce digitally. The challenge lies in addressing the numerous elements of your site, including navigation, user experience, and ongoing content creation.
Dig into this post to uncover what an effective website marketing strategy is and the critical factors to concentrate on for success.
Key Takeaways:
Your business planning must include regularly refining your website marketing strategy components and execution.
Keep current on the factors that influence whether a web strategy is effective, such as your user's intent at every digital touchpoint and interaction.
Stay on top of SEO and respond to your competitors' current tactics.
Mobile user experience is paramount because that's how most users access your site.
 PS – I put together these 10 tips for optimizing your content marketing. Watch Now!
Understand What a Website Marketing Strategy Is
A website marketing strategy is an action plan to get your site's visibility to where you want it. Your research and objectives will determine how you'll launch or overhaul your site to increase traffic.
Companies that take this approach gain more conversions and, ultimately, more customers. Your website strategy naturally starts with your site design, but it also should  incorporate:
Technological advancements
User behaviors and experience
Trends in current internet use
Don't think of your web strategy as a one-and-done to-do list. Instead, your site should be an ongoing work in progress that grows and changes alongside your business and industry.
Just like a physical store needs to change its signage, update its layout, and even remodel occasionally, you must keep your site fresh as an initial step in your marketing game plan.
 PS – Check out our weekly blog content service to grow your website traffic and leads!
Work To Grasp Users' Intent
Website marketing strategy effectiveness depends on determining what your audience wants and adapting rather than forcing people to act a certain way. From our experience, doing this requires engaging with an audience in a manner that meets their intent.
For example, if your only contact method is a "Contact Us" form, it's time to rethink that approach. Waiting on a follow-up email no longer fits the bill for most consumers.
Instead, you should consider: How does my audience want to interact with my company or brand?
Avoid lumping all users into one bucket and method for interaction. Depending on where they are in the buyer's journey, different users will have distinct needs and intent behind visiting your website.
Instead of giving your website visitors only one contact option, try to offer different communication methods. Here are a few to start with:
Add a phone number, email, social handle, or other contact information to your form page.
Implement a chat feature or chatbot (we love Drift!)
Insert a calendar feature allowing users to book consultations or appointments.
Give users the option to view a pre-recorded demo of your software or product.
These ideas will boost your website marketing strategy to increase engagement and conversions.
PS – Check out our latest case study that shows how we helped one company double their leads!
Mind Your SEO Competitors
Another way we've helped many clients drive traffic to websites is through search engine optimization. A strong SEO plan has many different aspects, but one of the most important to your website marketing strategy is auditing what your competitors are doing.
Use tools like Ahrefs or SEMrush to compare your website with your top competitors. You can also save time and money by letting your content marketing agency handle it for you.
Excellent SEO research tools answer the following questions:
What keywords are competitors ranking for?
What are my competitors' most trafficked pages?
Which reliable sources are linking back to companies similar to mine?
Do any of my competition's pages have 404 errors or other status codes?
Use this data to inform your SEO strategy, and you'll be making headway with your website marketing.
Increase Traffic With Content Marketing
To drive as much traffic and convert as many users as possible on your site, put high-quality content front and center. Time and again, we find that the key to successful content in website marketing strategy is to offer information and resources that are truly helpful to an audience.
Accurately and consistently convey your message by telling stories that create a genuine connection and inspire users to act.
Also, provide a range of content that includes blogs, videos, PDF downloads, and eBooks to meet different needs. Remember, not every user consumes content the same way.
Once you've begun developing content, invest in a content management system like HubSpot. A CMS allows you to easily self-publish, store, manage, update, and customize your site's content without having to repeatedly ask your developer to make every update manually.
Consider the Mobile and User Experience
If you haven't already, start focusing on responsive, mobile-first designs that scale appropriately for all devices. Our clients find that a mobile-first approach to a website marketing strategy improves the entire experience, including desktop versions.
The reason for the improvement is a mobile-first mindset forces you to use copy that's clearer, more concise, and, ultimately, more creative.
In other words, do you want to grab the attention of your audience? Keep it short, sweet, and simple.
While a mobile-first approach and a responsive design are great starting points, you also must consider the overall user experience. If your UX is poor, people will quickly bounce off your site.
To keep users on your website and maximize the number of conversions, make it easy for them to get to where they need to with the least amount of clicks possible. Determine whether you're offering an ideal UX by asking yourself:
Is my website's navigation clutter-free and easy to understand?
Does the site architecture make sense?
Are hyperlinks easy to identify?
Can we add more features to appeal to a wider user base?
Did we optimize all pages to bring in the highest possible conversions?
A pleasing UX is another vital piece of your website marketing strategy.
Re-Evaluate Your Budget
Once you've combed through your website and ensured it's as mobile and user-friendly as possible, take time to review your marketing budget. The economy is in constant flux, affecting every industry differently.
Whether you're experiencing a boom or a slowdown, regularly re-evaluate your budget to determine how to align your spending and priorities.
Your company might be lucky enough to be immune from specific economic struggles. Still, you can at least expect your customers' buying patterns to change. Create a website marketing strategy that meets current client needs to remain a part of their budget.
Achieve Website Marketing Strategy Success
A successful web strategy covers a range of issues. Address technological advancements, changes to user behavior, and design trends to ensure your website is well-designed, user-friendly, and engaging.
Master these facets of your website marketing strategy, and you'll be in a position for continual success. If you're ready for expert assistance, talk to Marketing Insider Group to learn more.
Get a Free Consultation
for Content Marketing