A new global study released by Marketo and the independent research firm, Illuminas, reveals the biggest challenges marketers face on their quest for successful, brand-sustaining engagement.
We may be years into the Engagement Economy – 'a new era where everyone and everything is connected' – but that doesn't mean marketers are pulling off the right type of engagement, or even have the resources and space to do so.
According to the data and insights collected from more than 2,000 consumers and marketers in The State of Engagement, marketers are consistently falling short of consumer expectations.
Whether from a lack of marketing tools, not enough support from C-suite, or just a complete misfire when it comes to understanding customers, marketers and small business owners are going to have to up their game in order to take advantage of all this hyper connected reality has to offer.
The biggest crux of mismatched consumer expectations is the fact that marketers believe they've got it figured out. The report revealed that 82 percent of marketers are under the impression they understand their customers. But more than half of consumers beg to differ.
82% of marketers think they understand customers. Most consumers disagree! [Click to Tweet]
How wide is this disconnect? And, how equipped are marketers to overcome these issues?
What Marketers Think
As cited by the report and as experienced in your 9 to 5, you have two main goals:
Create a seamless customer experience
Achieve business goals
How are marketers doing?
Marketers as a group do believe they are doing a great job at creating a consistent experience across channels. We've got this personalization thing down, according to 83 percent of marketing respondents. And, we have a deep understanding of the best ways to engage our customers, say 82 percent.
Globally, marketers see themselves as being moderately effective with their engagement strategies. 61 percent cite being effective with the right content. 56 percent say they are effective at using the right channels.
What could marketers do better?
While we are clearly proud of our buyer personas, marketers do recognize innovation and boundary pushing as a weak area. In Germany and the US, only half of marketers consider themselves to be very or extremely innovative. In the UK and France, it's slightly less than 50 percent.
What does it mean to be innovative? The marketing perspective on being at the cutting-edge is being able to harness the power of technology for omni-channel interactions, personalized content, and consistently reaching the right audience at the right moment. Basically, if you want to get contextualized marketing right, marketing software is your best friend.
What's the biggest challenge to forging a more engaging relationship?
When asked what's in the way of creating a better experience, the elephant in the waiting room is having the right tools and technology. Only 49 to 57 percent of marketers report being satisfied with the current engagement tools. If the ability to manage and get the most out of marketing software is the key to success with contextualized marketing, this level of dissatisfaction with available tools is not just a challenge, it's a vulnerability.
Without technology that is both dynamic and not too complex, marketers are unable to leverage all that data that is created every time a customer sneezes, nor can automation foster the seamless and personalized brand experience that marketers need to offer.
What Consumers Think
Consumers see The State of Engagement in a different light. Both B2C and B2B customers are actively engaging with their brands or vendors using digital channels. There are two main reasons this interaction takes place:
To learn about products or services
To purchase products or services
About half of consumer respondents engage to request service or support (51 percent), or just to provide feedback (44 percent). Only about one-third are paying attention to your blog, email newsletter, and social media pages on a regular basis.
How are marketers doing?
For both B2B and B2C consumers, only 51 percent view brands and vendors as successful at creating a seamless experience across channels. When it comes to understanding customer preferences, 65 percent of B2B customers believe their favorite vendors could do better. 47 percent of B2C consumers see room for improvement.
Why are marketers' perceptions so different to what the consumer experiences? The cause of the disconnect is also the solution. Technology is prompting customer expectations to soar. A 2015 poll of corporate executives found that 77 percent believe the internet and consumer app companies are behind the rising expectations. Consumers want access to fast services and 24/7 connectivity, with an increasing number expecting the multi-channel treatment.
It is through better use of both digital channels and marketing technology that we'll ever be able to keep up with these expectations.
What could marketers do better?
One huge step forward from the consumer's perspective would be to better integrate all channels – giving the customer the seamless experience they expect and that which many marketers believe they are delivering.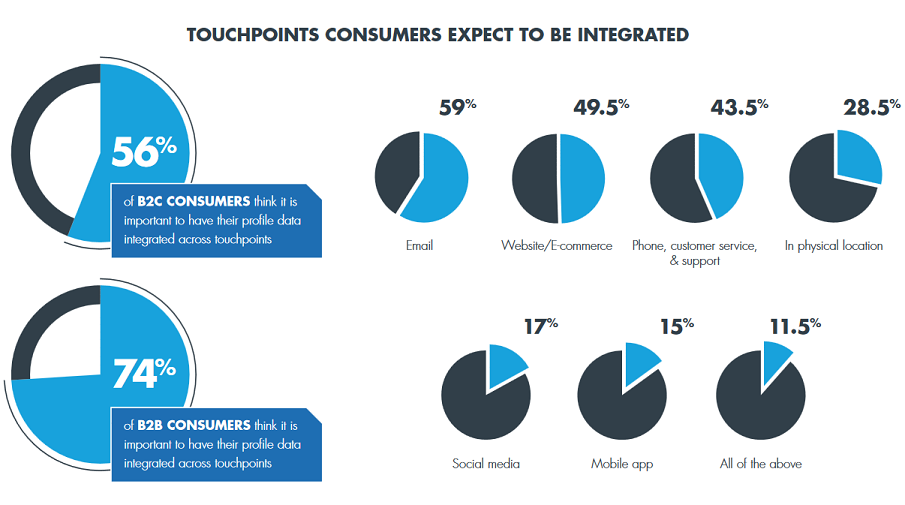 Source: Marketo
What does this look like? Customers want to be able to open their mobile app and ask a service question or present an issue. They want to get a quick response by email, including links to relevant content that will help them solve their problem, as well as any other actions to address the problem.
Then, they want to be able to walk into the store or talk with the vendor on the phone and have the individual customer agent know exactly what their issue is (or was), as well as their history with the company in terms of the length of the customer relationship, frequency of purchase and preferences, and to follow up to ensure their customer complaint from three weeks ago was resolved. A discount at the register or a promise to discount their service subscription next month doesn't hurt either.
And we're not done yet. Next, they want to be able to connect with the organization's social accounts from their mobile device so they can share their positive experience. Two out of three consumers want to advocate for the brands that demonstrate they care about their customers. Now that's seamless, fluid, convenient and productive. It is walking into the emerald city and having all your needs met with more delights to be found around every corner.
What's the biggest challenge to forging a more engaging relationship?
Want to know why customers don't engage more? According to them, the biggest reason they hold back is irrelevant content. They don't interact as much as they would because both B2C and B2B companies are sending out too much content that doesn't matter to them. 51 percent of B2C and 34 percent of B2B consumers feel this way.
Also, about one-third of consumers across the board share the sentiment that the brands they do business with simply don't have anything else to offer outside of their products or services.
Go ahead, take a few deep breaths. We'll wait.
Yep, all those professional videos you've invested thousands into, the weekly blog posts, the though-provoking infographics, the cutting-edge industry news you work so hard to post on Twitter. A good chunk of your customers does not view this content as of any value to them.
And there's your key. To them. Your content isn't worthless. It's just not personalized enough. Some people don't care about your brand's inspirational case study that you plop into their inbox every Monday morning. Others can't get enough. It's up to marketers to determine what customers want, when they want it, and how they want it. Which can only be done through better use of technology. We have to pull out the 'wrench,' our challenges with marketing tools and innovation, and use it to build a better bridge.
Connecting with Consumers
We've been getting better at providing the seamless customer experience and proving that our organizations have a lot more to offer beyond what we're selling. But marketers are going to have to keep working to engage consumers to enhance the customer relationship.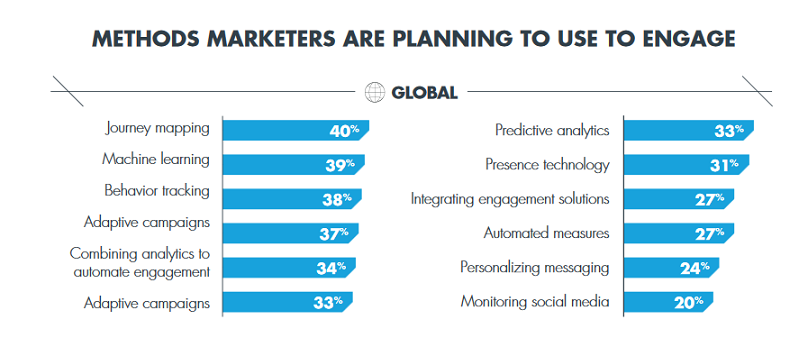 Source: Marketo
We have to get more out of the technology that is available to us and start investing in emerging technologies. We need to align, personalize, and deliver a more streamlined experience with better automation, more refined analytics, adaptive content.
When we look at the customer's perspective, there's a clear message: those marketers that do push boundaries, innovate, and fully leverage the marketing tools of today, as well as those that emerge tomorrow, are the ones that are going to win in the Engagement Economy.