There are, what seems like, millions of articles written on the web touting the power of SEO. Thought-provoking books, seminars and training courses, all designed to help you place your website on page one of Google, bringing you in tsunami waves of web traffic.
With all of these resources available, you'd think more businesses would make it to page one status. But, of course, thousands of businesses can't rank for the same keyword. There are only ten spots on the first page. Go ahead, count them, I'll wait.
And, if you're not on the first page, you're in the 8.5% minority. 91.5% of Google traffic goes to page one. Another 4.8% goes to page two. Beyond that, you're in no-man's-land.
Don't worry, SEO isn't this insanely competitive. With search engines, no-man's-land is a constantly shifting landscape depending on who is searching. Google began using Personalized Search years ago, factoring in things like past search history, demographics, location, and device usage to determine how one searcher's results will differ from another. That means there are potentially countless page ones for a search term.
This makes it easier for searchers to find the information they are looking for. It also gives marketers a better shot at attracting customers with inbound marketing. Still, the number one marketing challenge that companies face is not enough search traffic. Research done by Hubspot found that 65% of businesses feel that their biggest issue when it comes to marketing is that they need to generate more traffic and leads.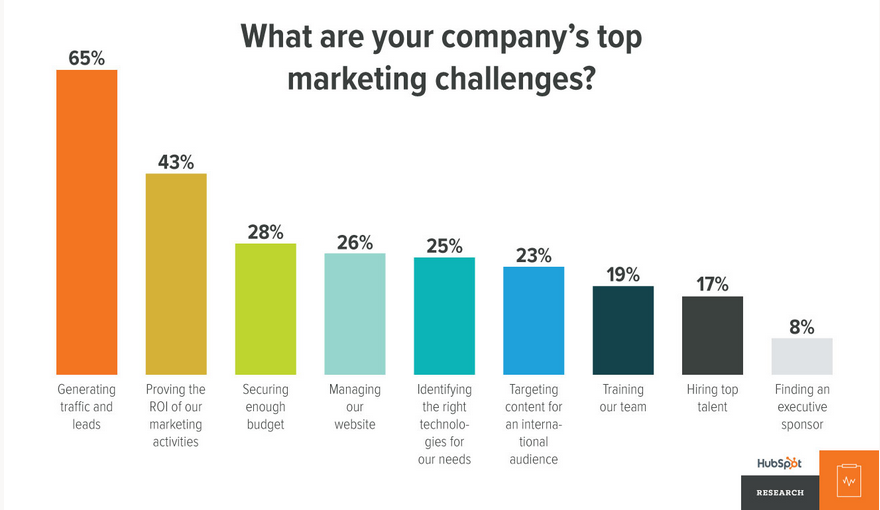 Are you getting the traffic you'd like from your SEO efforts? Could your business use a lead generation boost from a sustainable increase in organic search traffic? Here are a few tips you can implement now to help boost your page ranking, drive more traffic to your site, and get more people interested in your brand.
1. Don't Let Your SEO Techniques Overshadow Your Content
Create content that appeals to humans. This is your number one goal for SEO – not to prioritize it. The reason is this: sure, SEO best practices will encourage the search engine crawlers, such as the Google bots, to index your site well. But, it's humans, the web searchers who are going to comment on your posts, link back to your informative infographic, and share your value-driven content on social media, who will gift your website with a competitive edge. They care about your content, not your keyword usage and alt tags.
2. Designate Which Pages Google Bots Can Ignore
According to Sean Si, Founder of SEO Hacker, when it comes to indexing the pages on your site you only have a limited 'crawl budget.' The Google bots can't spend all day, every day crawling every page on your site.
You probably have some pages you definitely want on SERPs, like the compelling content you've worked so hard on to help generate leads. Your About Me and Checkout pages, on the other hand, don't need to be seen in search engine results pages. They aren't likely to bring in organic traffic anyway.
The solution – go into your robots.txt file and put a noindex/nofollow tab on those pages you don't need to appear.
3. Work on the Quality of Your Keywords
How strong are your keywords? Are you targeting the right ones? Josh Bachynski of SEO Hangouts suggests identifying the keywords you want to rank for based on what you're selling, plugging them into search engines, and then looking at what the competition is on the SERP. Then, using Google AdWords' keyword planner, look for the broad match keyword variations and exact match variations. Use one main keyphrase per page.
As a newer site or if you don't already have a strong page rank, use long tail keywords and choose the 'low hanging fruit' – the lower volume keywords that are going to be easier to rank for.
4. Boost Your SEO Tag Skills
Title tags, meta tags, headers – do an audit of your tags to make sure they are strong in terms of SEO, yet still are interesting to readers.
Include your keyword phrase close to the beginning of your title. If you don't designate a meta title in your SEO settings, keep in mind search engines will use your post title as your meta title.
Use meta descriptions – make them compelling and include your keyword within this 156 character lead-in.
Fill in your image alt text using descriptive text. It doesn't have to be your exact keyword, although a version of your keyword is a good idea as long as it accurately describes the image.
Make sure your H2 and H3 headings are optimized for SEO.
Have you used accurate blog post tags throughout your site? They make it much easier for users to find what they are looking for, which is a great way to encourage visitors to stay on your site for longer.
Edit your permalinks to only include relevant terms and to weed out 'stop words,' which slow down your indexing. Here is a list of stop words.
5. Test Your Site's User Experience
Another essential for optimizing your site for search engines is going in and routinely checking user experience. A fast-loading, clearly laid-out, well-maintained site is going to keep visitors on your site and make it more appealing for both searchers and search engines.
Check for error pages and fix broken links.
Check your site's speed – do you have any large image files or unnecessary scripts that are causing problems?
You should definitely be using a mobile optimized site.
If you're having trouble with your bounce rate, it can help to have an outside party evaluate your design. You want it to be as smooth and easy to navigate as possible.
Keep Learning How to Improve Your SEO
Once you've implemented all of these tips, you're still not done. There's always more to learn and ways to improve. And – Google's always making changes that impact which SEO techniques we should use and how we use them.
Make a commitment to keep learning and keep measuring. Pay attention to how your metrics change as you make improvements to your site and stay on top of what's going on with SEO. Just like anything in life, the more you invest, the more you get back. The better web traffic is definitely worth the SEO efforts.