Let's say you've planned an amazing event. It's going to be absolutely incredible and it's the first of its kind – there's nothing else out there like the event you're planning. You know it's going to be a fantastic experience, but nobody else does – yet. This is where event marketing comes in.
When you're planning a big event, there's so much to do that it's easy to overlook how essential marketing will be to its success.
Yes, of course, it's important to find a venue, book guest speakers, organize ticketing systems, and plan a schedule. But if hardly anyone knows or cares about your event, it will be a flop no matter how carefully you've planned it.
Your event marketing strategy should be established right from the very start. With the right strategy you can sell more tickets, build buzz and excitement, and expand your audience way beyond the event itself.
Quick Takeaways:
Your event marketing strategy and timeline are equally as important as planning the event itself.
Start your pre-event marketing strategy as soon as you start planning your event and get a landing page or mini-site up right away.
Use multiple marketing channels and utilize partners, influencers, and confirmed attendees to widen your network.
Event Marketing Channels
Every event marketing strategy starts with a focus idea – the reason why you're hosting the event in the first place.
You then have to express this idea to your audience and beyond in a totally compelling way. Not only do you have to get the word out about your event but you also have to sell it.
It's not enough to put a few posts on social media and a hastily-uploaded registration form on your website. Your event marketing strategy should consist of several channels, all of which are linked in some way, to make sure you're reaching the right people at the right time.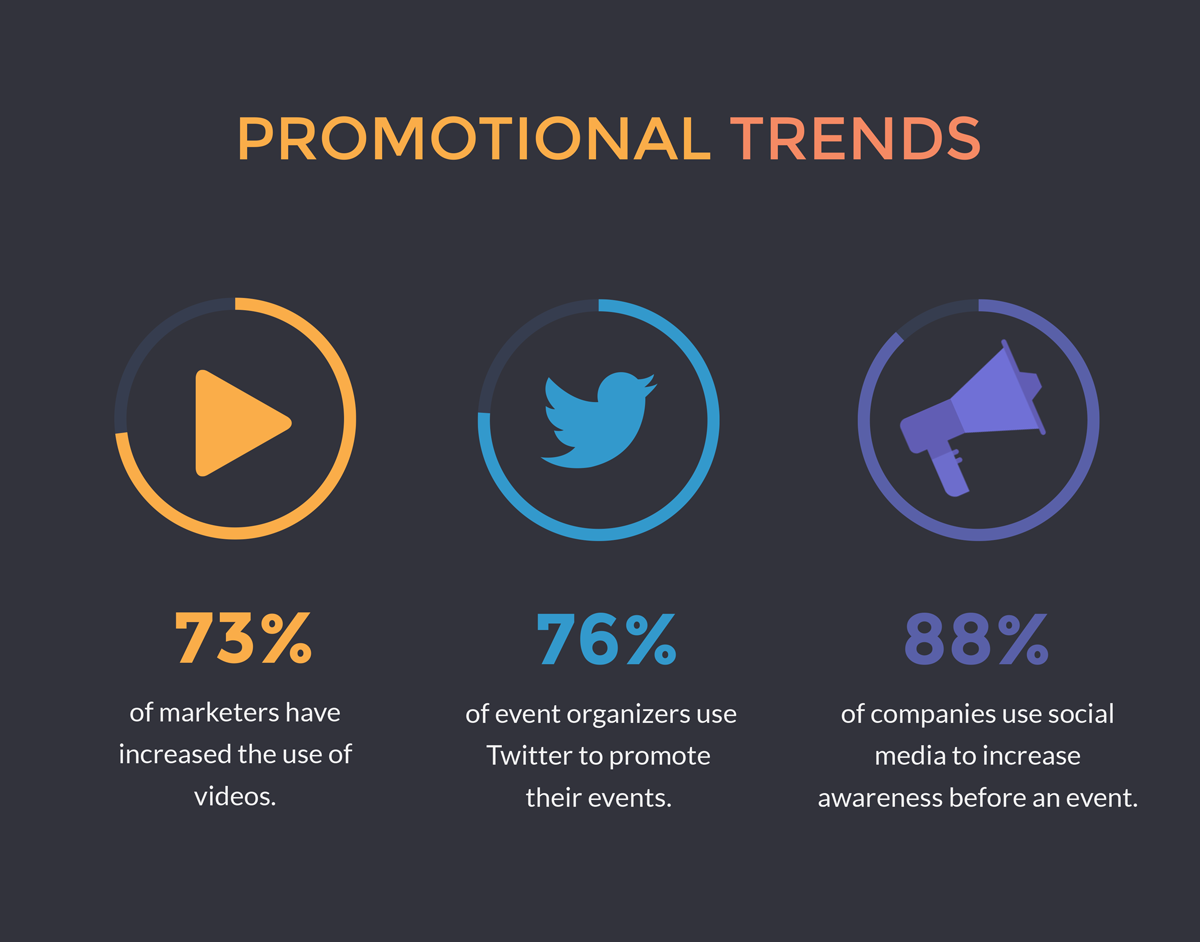 Event mini-site or landing page
You can set up a landing page or website for your event as soon as you've decided you're going ahead – don't wait until you've nailed down all the details.
Your event page can be as simple as a "coming soon" message with an email capture form. If you already have an audience, you're bound to stir up some interest, and it gives you somewhere to direct traffic from social media and other channels.
The longer the page is up, the more it will boost your SEO, so don't delay. You can update the page over time as you confirm more of the event details.
Social media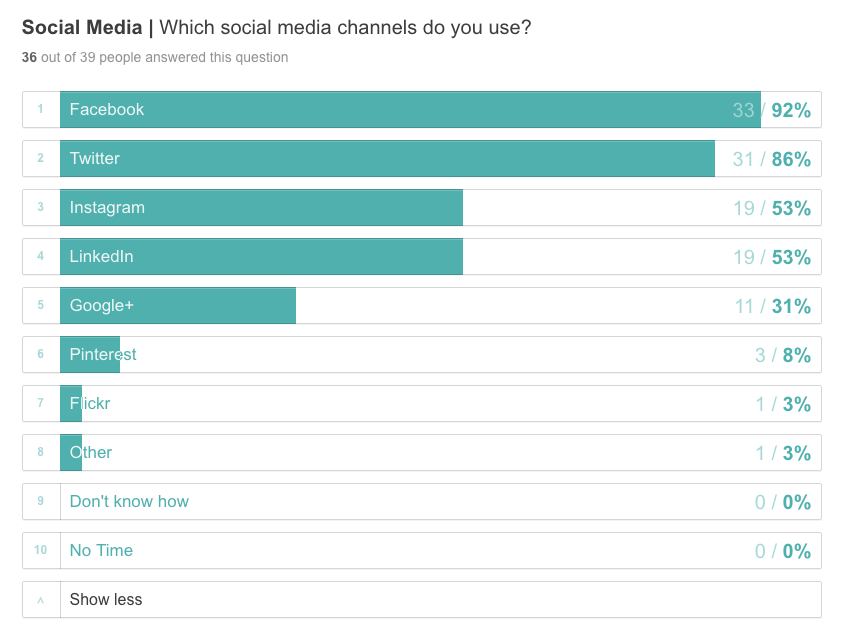 Your own social media channels and those of your audience and partners should be a key part of your event marketing strategy.
Promoting on social media is a great way to reach a wider audience and motivate engagement. Followers can ask questions and have them answered in real-time, and you could even host a live session on Facebook or Instagram to talk about the event.
As you work through your event timeline you can use social media in a number of ways including short update posts, polls for engagement, videos, and linking out to guest posts and media coverage.
In the last couple of weeks before the event, publishing daily countdown posts can be an effective way to build excitement and get some last-minute sign-ups.
Don't forget to decide on a hashtag for your event and encourage others to use it too.
Blogging
While social media is a great place for posting small snippets and teasers for your event, your blog is the best place to flesh out the details.
With your blog posts, you can cover your event in great depth including everything from biographies and interviews with guest speakers to editorial content focused on the same theme as your event.
Don't make the mistake of being overly sales-focused in your blog posts – that's what your landing page is for. Instead, explain the reasons behind why you organized the event and write about related topics to build interest.
Guest Posts
As well as writing for your own blog, publishing posts on other blogs can be a great way for a new audience to find out more about you and your event.
Again, don't just focus on selling tickets but rather, think about how you can provide value to the reader with a special report, details of trends in your industry, or a related infographic that promotes social sharing.
Email
Email marketing is a must for event promotion, particularly if you have a large list and a dedicated audience.
The people on your list are there for a reason – they're interested in your industry and what you have to say. They're much more likely to be interested in your event than random visitors from Google.
Send out emails regularly in the run-up to your event and make sure you offer special early bird discounts and other perks to your subscribers.
Event marketing partnerships
Don't try to go it alone – forming partnerships with other businesses and industry figures can multiply your marketing efforts.
This is a win-win situation as your partners will reach a new audience and get more exposure from your event, and you'll get the word out to more people who may have never stumbled across your website or social media channels.
Press releases
If you get it right, a good press release can be a way to reach thousands of people who may never have heard of your business or event.
For your press release to be successful you need to get it published in as many places as possible, and this means coming up with a newsworthy angle or hook.
You can get a bit clever about this and build it into your event planning. Maybe you can invite a celebrity to attend as a guest speaker or use some kind of new and innovative technology at your event. Whatever gets people interested and talking will make a good story.
Influencer marketing
Like partners, influencers can help to market your event outside of your usual network. If you can get a related influencer to attend your event, they can help to promote it prior to the event and post live updates during the event. This is especially valuable if you plan to run future events.
Attendee referrals
Don't forget about the power of word of mouth marketing. Once you've got a confirmed sign-up, encourage them to tell their friends and colleagues about your event and post about it on social media.
You could even set up an affiliate program, offering a percentage of ticket sales for all referrals they make. This is straightforward to set up in several digital ticketing systems.
Event Marketing Timeline
Planning out your event marketing timeline is important to make sure you do all your essential marketing activities at the right time and in the right order.
As your marketing efforts build on your previous promotional activities, it's vital to follow this timeline so you can build momentum before the event and not end up leaving anything until the last minute. For example, there's no point sending out a press release a few days before your event as it takes some time for news outlets and websites to pick up your news and publish it.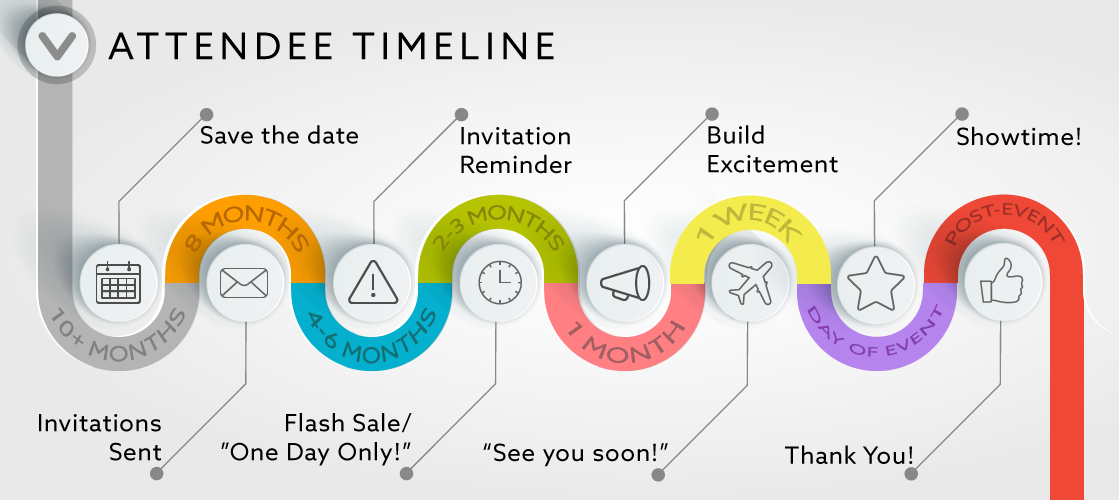 Your event marketing timeline should form a checklist covering all aspects of your marketing strategy, with deadlines to help you plan.
Here's an example of an event marketing timeline you can use as a starting point to create your own personal timeline:
Several months prior to the event
Set up your event website or landing page
Announce your event on social media
Publish a teaser blog post about your event
Contact potential partners and influencers to let them know you're planning an event
Officially launching your event
Send out an email announcing your event with dates and details
Write and distribute a press release
Continue blogging and social media posts
Nail down some partnerships for cross-promotion
Promote early bird discounts
Daily or multiple times a week in the run-up to the event
Emails, social media posts, and blogging
Guest posts
Discount reminders
Paid advertising
Last push before event
Final email blast and last chance posts on social media and blog
Ask confirmed attendees to promote to their network (give them a sneak peek of the swag they're going to get, and offer more prizes for better promotion or referrals)
Re-connect with influencers, offering them a complimentary ticket
Book Me to Speak at Your Next Event!
My favorite thing to do in the world is to speak to people at events. I try to use an inspiration to action model that gets people thinking AND ready to act when they get back to the office. I'm proud to have been the highest ranked speaker at a number of events with much higher paid (and bigger ego) speakers. I'm a 3-time author, listed as a Forbes top CMO influencer, a Top Business Keynote Speaker by the Huffington Post and a Top Motivational Speaker by Entrepreneur Magazine.
Book me to speak at your next event!