32 Ecommerce Growth Hacking Tactics to Try Right Now
If you're a fan of marketing blogs, it's likely that you've come across the term "growth hacking" – the idea that centering your marketing strategy around growth is the most direct route to success.
Although growth hacking generally refers to how tech startups and online services gain new clientele, a growth hacking mindset is just as effective when applied to e-commerce. By focusing on growth, the development of testing, campaigns and marketing material holds more value.
Start scaling your e-commerce business with these simple growth hacking tactics. By developing your marketing strategies with purpose, you'll drive traffic, gain new leads and boost visibility among your target audience.
Key Takeaways
Gain buyers' trust and establish search engine credibility by adding visual trust badges throughout your e-commerce site
Personalize user experience and demonstrate an understanding of needs to connect with your target audience
Highlight positive customer reviews and testimonials to make new users feel confident about investing in your business
Make open communication easily accessible to provide elite customer service and build buyers' confidence in your brand
Making the most of simple growth hacking strategies is one of the best ways to scale your business and increase sales.
1. Highlight Customers' Views
It doesn't matter how beautiful your ads and brand story are — even the best marketing efforts aren't as convincing as other customers' recommendations.
Word-of-mouth messaging — ratings, testimonials — is powerful because buyers rely on social proof, the psychological phenomenon of people assuming the actions and beliefs of others are correct. Customers love hearing from other buyers about their experience with a product before making a purchase. It makes them feel confident about their shopping decision since they can't handle and examine the product in-person.
To get started, here are a few ways to start showcasing your buyers' product opinions:
Add more customer reviews throughout your online store. Product pages aren't the only space for reviews — you can also add your business' ratings to your Homepage and About page to show buyers how happy people are with your brand.
Highlight testimonials. A bit more personal than ratings, testimonials are an opportunity for buyers to tell others an engaging story about their positive experience with your brand. You can highlight testimonials throughout your online store or in your ads and email newsletters.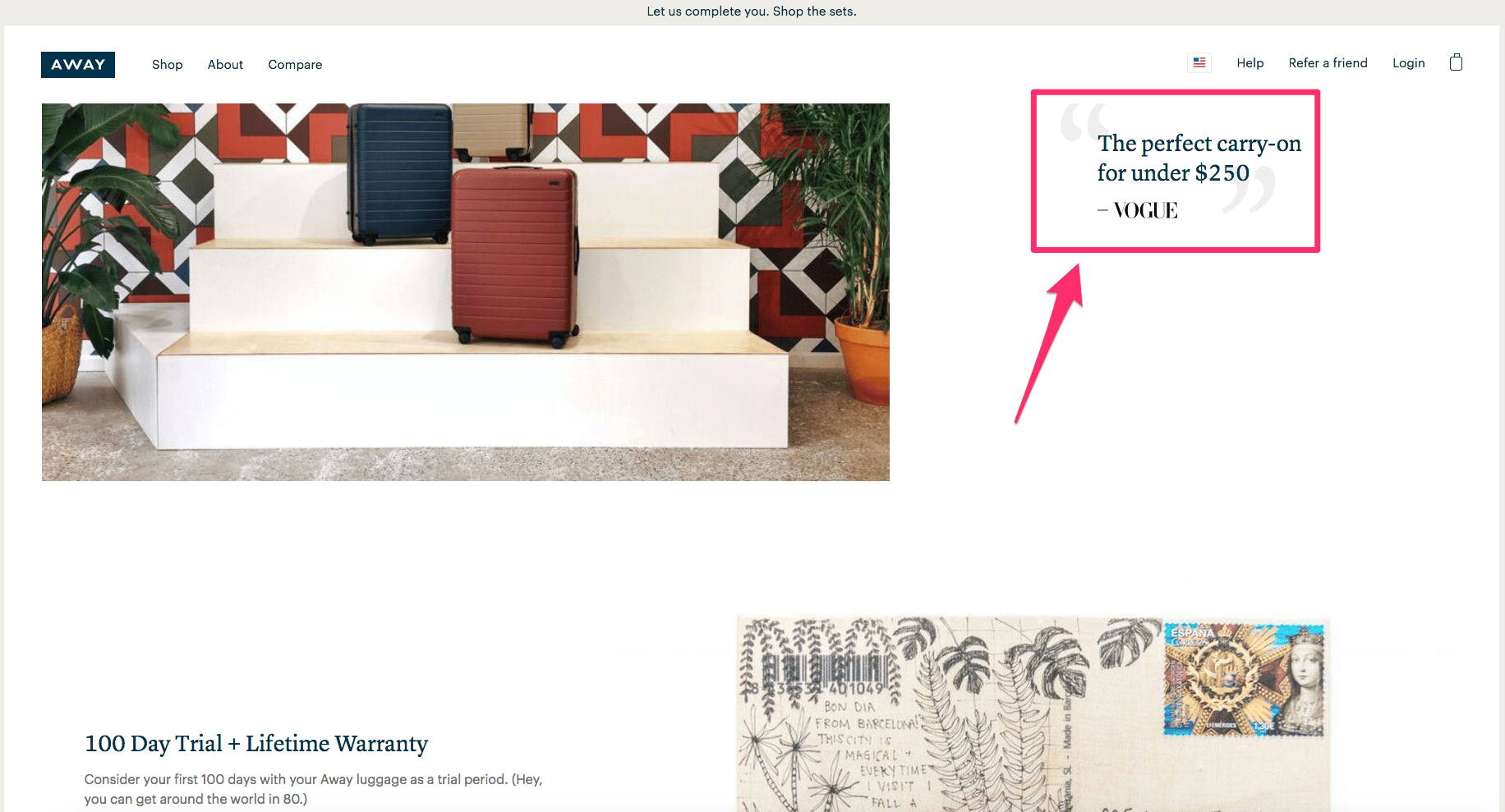 Image Source: Away
Need help showcasing this content? Use a tool, such as Yotpo, to add reviews and testimonials to your online store.
2. Refresh Your Content Marketing Strategy
In 2023, content marketing and creation will continue to play an important role in every e-commerce business owner's marketing strategy. If you didn't have a clear strategy in place in 2022 or didn't stick to it, consider spending some time reviewing and revising your strategy for the new year.
Implementing an effective content marketing strategy enhances brand awareness, educates audiences, builds credibility and increases customer loyalty.
Image Source: Visme
To get started, read through these two resources:
Start by creating a content marketing strategy for the first 90 days of 2023. Set clear, hard-to-reach goals, determine your budget, and determine your key players and stakeholders. Then, it's time to manage and execute your plan.
3. Send Thank You Cards
Whether it's receiving a free gift or a generous refund, buyers remember when you take that extra step to create an outstanding shopping experience for them.
Sending handwritten thank-you cards to new customers is an incredibly easy way to create customer delight. In a world full of automated, robotic support, this small gesture stands out to buyers as personal, thoughtful customer service. Feeling appreciated by your card, buyers are convinced to purchase again in the future and tell others about your business.
Here are a few tips for getting new customers excited about your business with thank-you cards:
Include a social media offer in your card. Along with sending a personalized note, incentivize the new buyer to mention your brand on social media by promising a special promo code or coupon when they spread the word.
Use a thank you card service like Thankbot. The service is technically automated, but every card is handwritten by an actual person. It's a great solution if your company wants to attract new buyers, but is short on time.
By including a way to spread the word about your business, your thank-you card's benefits are two-fold: you keep your newest buyers happy and attract more customers to your business.
4. A/B Test Your Product Pages
Running A/B tests is one of the most common growth hacks. Through trial and error, you quickly identify what's growing your business and what's hurting it.
As an ecommerce seller, you'll want to A/B test your product pages since that's where your sales happen. Experiment with a few small changes to the design, text, and images of your pages to see which adjustments improve your sales. Here are a few ideas to start your testing:
The size of your product photos
Including or excluding a trust badge
Indicating when your supply is limited
The color of your "Add to Cart" button
You can also check out these mobile testing ideas from A/B testing tool, Taplytics, if your online store has an app.
Once you've generated a few testing ideas, work on building out a testing process. With a repeatable experimentation system, you'll be able to consistently run tests and improve your product pages.
5. Use Exit-Intent Pop-Ups
As an online seller, you likely spend a lot of time thinking about how to drive more people to your store — but what are you doing to catch them before they leave your site?
The trick is exit-intent pop-ups — they capture web visitors who try to leave your website without buying. The goal is to change their minds by offering a discount on your products, or at least capture their email address so you can attempt to nurture them through your sales funnel.
Image Source: BeHappy
Here are a few tips to set up and craft your first exit-intent pop-ups:
Consider which offers users would find the most enticing as they're trying to leave. For e-commerce, a good place to start would be a special discount that can be instantly applied to any products in your shop.
Select a tool to easily and quickly add exit-intent pop-ups to your website. A few popular options for setting up exit-intent pop-ups are SumoMe, Bounce Exchange, and Gleam.
6. Request Shares With Order Confirmations
In e-commerce, your job isn't done once you make the initial sale — it's just the beginning. Once you get someone to convert and make a purchase on your website, you can use that relationship to connect with more prospective customers.
The key is to get your new customers to spread the word about your business. An easy way to do this is to include a message on order confirmation pages and emails that encourages buyers to share their purchase on Facebook or Twitter.
Image Source: Amazon
Here are a few strategies for prompting your buyers to share their purchases and spread the word about your business.
Make sharing purchase info as frictionless as possible. You can use, for example, a tool like Click to Tweet to build a pre-written message that new customers can share with their followers. With the message already written, buyers won't hesitate to share. An example of a message might look something like:
I just bought my brand new [Your product] from @[Your store name]! Can't wait to get it in the mail! Get yours today [link to shop]!
Incentivize buyers to share with an offer. Unless they're especially active on social media, many buyers might not feel motivated to post about their shopping experience without some sort of reward. Encourage your customers to share by offering a special discount to customers who share a pre-written social media post about their order.
With more customers sharing their purchases, your brand will be visible to a large number of potential buyers.
7. Send Social Engagement Ask Cards
Every company uses digital messaging — emails, pop-ups — to request social media shares, so buyers have become normalized to these requests. The more buyers become used to these requests, the less likely they'll notice and respond to them.
Shake things up for your customers with a new method of sparking social engagement — sending an actual printed card in customers' order packages that are designed to promote sharing.
Customers are excited and happy when their packages arrive, so it's the perfect moment to encourage them to snap a photo and tag your business on Facebook or Twitter.
Here are a few strategies for sending social engagement ask cards that motivate buyers to share:
Use your internal designer or hire a freelance designer to create the engagement ask card. Don't hand this design assignment to your intern — if the card doesn't look professional and polished, buyers will ignore its message and won't share on social media.
Incentivize your request on the card. Tell your customers that they will be rewarded with a coupon or free gift for sharing their social media update. Offering a reward will motivate buyers to actually engage with your brand on social media.
For buyers, receiving a social media engagement ask card is more exciting than getting an email from a company. Take advantage of the opportunity by carefully crafting your card to motivate buyers to share.
8. Send a "Buy Again" Email
While every business needs new customers, your returning customers are ultimately more valuable. They're twice as likely to place an item in their cart, have lower bounce rates, and convert nearly twice as much as new customers. With this value, it's critical that you do what you can to get customers continually shopping.
An easy customer retention strategy is sending buyers a "buy again" email. 10 to 15 days after a buyer's purchase, send the customer an email inviting them to make another purchase. Your email can include a link to the product they bought last time or links to related products.
Image Source: Amazon
To send convincing buy again emails that encourage returning customers to shop, follow these simple tips:
Manage and design your message with an email marketing software. Tools like Campaign Monitor make it easy to automate emails by setting up drip campaigns with specific triggers, such as "Send Email 15 Days After Subscription."
Incentivize making another purchase. In the email, offer something special in return for buying again, such as free shipping, an added gift, or a discount.
9. The Personalized Homepage
As shoppers become more tech savvy, their shopping experience expectations have increased. They know what technology is capable of today, so they want more than just an online store — they want sellers to curate a shopping experience that's individualized to their needs.
Personalizing your online store's homepage is a great way to provide buyers that specialized shopping experience. Tracking user behavior, your online store's content can be specifically geared to each customer. For example, you can set up your homepage to promote a product that a buyer was viewing, but didn't purchase during their last visit. Showing buyers exactly what they're interested in, your homepage will drive customers to make purchases.
Image Source: Amazon
To tackle this technical growth hack, we've got a few strategies:
Do your research. Personalizing your website takes a bit of technical knowledge
Use a tool to build out a personalized online store.
With a personalized homepage, you can target your online store visitors and bump up your conversion rates.
10. Set Up a Referral Program
An older, yet still effective growth hack is setting up a referral system.
Image Source: Harry's
The benefits of launching a program that rewards customers for sending new business are twofold.
You're given contact information to connect with new prospective customers.
Giving returning customers shopping rewards, like discounts, when they refer encourages them to make additional purchases.
The easiest way to get started with this tactic is to set up an account on a referral program software, such as Extole, Forewards, Sweet Tooth, or Ambassador. All of these tools will walk you through the process of building a custom referral program with no developer skills needed.
11. Cross-Sell and Upsell
When a buyer comes to your online store, they may only be looking for one item — but that doesn't mean you can't push them to buy more products.
Instead of settling for a single item order, drive greater sales with two sales techniques:
Cross-selling: encouraging customers to purchase additional complimentary items
Upselling: encouraging buyers to upgrade their purchase.
Ready-to-purchase buyers are already interested in your product and brand at the order stage — so it's the perfect time to cross-sell or upsell their order. Showing excited customers how they can increase the value of their order will push them to make a more expensive purchase.
Don't be afraid to guide your buyers' orders — by cross-selling and upselling, you're offering your customers more value in their purchase and boosting your sales.
12. Show How Customers Are Shopping
Motivating buyers to shop with social proof can be more than collecting reviews and testimonials. You can also drive shoppers to make more purchases by actually showing what other customers are doing on your online store.
Image Source: Bizzy
Highlighting these live interactions gives your business credibility. By showing live notifications about purchases and customer support assistance, you're providing online buyers proof of how successful and helpful your business is.
To get started, it's easiest to use a tool like Fomo. It allows you to add notifications of live customer interactions on your online store without any coding skills required. By integrating Fomo with Google Analytics, you can also measure the ROI of showing customer interactions on your site.
13. Set Up Retargeting Ads
Like exit-intent pop-ups, retargeting ads can capture those visitors who didn't purchase before leaving your website. This growth hack works by tracking who visits your online store and then displaying ads of your products on other sites they visit.
Retargeting ads are especially powerful because they highlight the items that buyers are interested in. Seeing exactly what they were hoping to buy, buyers feel driven to return to your store and complete their purchase.
You can begin creating retargeting ads for your online store sign-up with a tool, such as AdRoll or Criteo. These tools allow you to launch retargeting ads and track the performance of these ads.
14. Create Urgency to Fuel Sales
When it comes to buyer psychology, there's no better way to encourage sales than by invoking FOMO — the fear of missing out. By playing into people's desire to be included, you encourage your buyers to make more purchases.
An easy way to take advantage of buyer FOMO is to create a sense of urgency on product pages. Make your buyers feel like they need to complete their purchase by highlighting on your product page:
How much inventory is left
The time left on a temporary store deal
The time left on temporary free shipping
These urgent statements all make the buyer feel like they're about to miss a shopping opportunity. With FOMO kicking in, the buyer feels driven to complete their purchase.
A/B testing can help you determine the best ways of creating urgency on your product pages. Experiment with different urgent statements and see which ones lead to the most conversions. Use an experimentation tool, like Taplytics, to start setting up and tracking your product page A/B tests.
15. Offer Content Upgrades
Don't stop at just blogging on your online store — you can drive even more sales and nurture more buyer relationships by also offering content upgrades.
Content upgrades are additional resources, such as an ebook, within a blog post. You offer the reader the resource in exchange for their email address. With this contact info, you can add the reader to your email campaigns, nurture them through your sales funnel, and eventually convert them into customers.
Image Source: Interana
Here are a few strategies to start offering content upgrades in your blog:
Find your most popular blog post, and repurpose it into a content upgrade. Posts with high views and high conversion rates can be easily turned into a short ebook, checklist, or worksheet to drive even more sales.
Build an email drip campaign for users who get content upgrades. The first email in the drip series should contain a link to the resource. Any additional emails could include additional content the reader might enjoy and promotional offers for your online store.
By offering content upgrades, you can build relationships with buyers. You offer them value with the additional free content, and you nurture them through your sales funnel to make them long-term customers.
16. Launch Seasonal Campaigns
Holidays like Christmas and Black Friday are ecommerce gold mines — buyers are ready to make many expensive purchases, so you want to be prepared to encourage their shopping even further with a seasonal store campaign. It's important to be prepared to take advantage of the opportunities these seasons bring to your business.
While campaigns are typically centered around promotions, there are plenty of other ways your store can attract seasonal shoppers. You could, for example, get buyers excited with holiday-inspired packaging or you could add a new line of holiday products.
Once you've nailed down your seasonal concept, it's time to launch and promote your campaign. Here are a few tips to help you get started:
Set a clear timeline for your seasonal campaign. Give yourself at least 5 weeks of prep time to coordinate the design, launch, and marketing of your campaign.
Promote your campaign with user-generated content. Create an Instagram hashtag and launch a UGC campaign to promote your store's seasonal celebration. Starbucks, for example, had an Instagram #RedCupContest to promote their holiday drinks.
Image Source: taradawnart
17. Show Trust Badges
As an online seller, you can't overstate the value of gaining buyers' trust. Your shoppers can't meet with you face-to-face, so it's up to you to find online methods of establishing credibility so buyers feel comfortable making a purchase.
An easy way to build this trust is by adding visual trust badges throughout your ecommerce site. By showing the logos of software that keeps your site secure, you make buyers feel comfortable about sending their payment details and other secure information when purchasing.
Play around with different placements of trust badges, such as:
Your website footer
Your product pages
Your checkout pages
You can use an A/B testing tool, such as Taplytics, to determine which trust badge placements boost your sales the most.
18. Incentivize Your Checkout Page
Cart abandonment is all too real — according to research by the Baymard Institute, roughly 70% of shoppers leave their shopping carts without completing their purchase. Most users drop off at the first checkout page, so the key to driving more sales is pushing buyers along the checkout process.
An easy way to incentivize completing checkout is offering coupon codes that need to be entered on the last checkout page. Already motivated with their discount, forcing buyers to reach the last checkout page before entering their code makes it much more likely that they'll complete their order.
Here are a few tips for creating coupon codes that drive sales:
Make special offers widely accessible. Use promotional emails, social media ads, and other tactics to bring discount codes to tons of shoppers. The more codes you can distribute, the more users you'll have on the final checkout page.
Assign a discount code to every sale you have. Even if it's a general store-wide sale, attach a code to the promotion so that buyers are still driven to reach the final checkout page.
With coupon codes, you get to reward your customers with lower prices and reward your business with more checkout completions.
19. Reduce Input Fields
We all know the frustration of a lengthy online checkout. You're excited by the products in your cart and are ready to complete your purchase, but are required to fill in so much information — your mobile number, your optimal delivery times — to complete checkout. Many buyers would rather abandon their carts at this point than fill in all of this information.
Boost your sales by reducing checkout friction with less input fields. Only ask for essential information and try to fit the input fields in a single checkout page. Another tactic is to show the steps of the checkout upfront so the process seems more manageable to buyers.
Image Source: J.Crew
By reducing the amount of work for the buyer, they're much more likely to complete their purchase.
20. Embrace Conversational Commerce
Your store may be online, but that doesn't mean customers don't want to reach you. By making it easy for customers to communicate with your business, you can offer better customer service and build buyers' confidence in your brand.
Conversational commerce — buyers and businesses connecting through messaging apps — is the key to easy communication with your customers. Using round-the-clock messaging tools, your buyers can always resolve any issues they experience with your business.
There is a range of conversational commerce tools to consider. Many online stores use a conversational marketing platform, like Drift, that allows buyers to chat with the business from their site. Companies also use chatbots to connect with customers over platforms like Facebook Messenger and Kik.
Image Source: Sephora
You can learn more about implementing this technology with our comprehensive Everything You Need to Know About Chatbots in Ecommerce guide.
21. Write Guest Posts
If your company blog is mainly reaching loyal buyers, writing guest posts on outside blogs can be the key to reaching new customers.
By writing a guest post on a blog with a similar audience, you can reach plenty of new buyers who are most likely interested in your brand. Make a list of potential blogs that align with your products, and reach out to the blog managers to ask about guest posting.
Need tips on how to write your guest post outreach email? Read this blog post from Mention.
Once you have a guest spot lined up, follow these tips to write a post that wins new customers:
Don't make your blog post promotional. Writing a post to sell your product feels cheesy to people reading your guest post. Focus your writing around a topic that's industry-related and valuable to your reader. For example, the drink company Bai teamed up with the women's lifestyle blog Refinery29 to write a watermelon margarita recipe guest post.
Image Source: Refinery29
Instead of writing an article about why people should drink Bai products, the company showed Refinery 29's audiences why their product is great — it's a tasty margarita ingredient!
Link back to your blog in your guest post. Set up traffic tracking on your own blog so you can see whether the backlinks led people to your site. Refer to our Google Analytics guide if you need any help with setting up this tracking.
Instead of only writing pieces for your company blog, branch out and write guest posts to reach new audiences for your business.
22. Go Multichannel
One of the most common mistakes that eCommerce companies make is failing to go multichannel with their marketing and advertising efforts.
William Harris, Ecommerce Consultant and CEO of Elumynt, and a noted authority in ecommerce content marketing, warns that ecommerce companies should not hesitate to expand their marketing to multiple channels or they could be missing out on untapped revenue or connecting with their customers.
In a recent study by the Euro IT group, it was found that multichannel shoppers spend up to 3 times as much as single channel shoppers.
However, some eCommerce companies are still not keen on expanding. Harris explains that fear may be the reason.
"Most arguments against creating a presence on all the major outlets are usually rooted in risk aversion," he says. It takes significant energy to adopt a new platform and manage it, much less create your own.
The one legit eCommerce concern, he adds, is inventory management—or not being able to keep your products in stock when advertising aggressively.
"If you're selling to multiple outlets and you grow too quickly, even the idea of going dry is so scary to most companies that they don't see it as a solvable problem."
Harris adds, "Scaling can be a challenge for every company, but they shouldn't play hard to get with their customers. They need a presence where their customers shop."
Inventory management shouldn't be a challenge in today's modern times as there are digital tools available that help you automatically track and manage your inventory.
Instead of managing your inventory by uploading a CSV feed to each platform, Harris recommends investing in an inventory management tool like Sellbrite that will do all the work for you, tracking and updating continuously throughout the day. Disclaimer: Harris works with the Sellbrite team.
Purchasing a marketing tool ensures you don't sell out on eBay or get dinged for trying to sell an out of stock product on Amazon. 
23. Hire a Specialized SEO Team
Organic rankings and the traffic that comes with strong search rankings should be a top priority for eCommerce companies—particularly in today's competitive marketplace.
Unfortunately, many companies put their SEO trust in the wrong hands: the web developers and application engineers.
While the development team's job is to enhance company process, they are not typically trained in the technical intricacies of search engine optimization.
"I've seen companies lean on the wrong people, especially when migrating to a new platform, and the results are traffic loss and ineffectual redirects that create a bad customer experience. In other words, their SEO is a rat's nest that still requires an expert help to untangle."  
Harris recommends that eCommerce companies hire SEO pros who understand how to develop a healthy SEO "diet" and have a track record of success in eCommerce.  
24. Go All Out on Google Shopping Feeds
Speaking of growth, Google Shopping (formerly Product Listing Ads or PLAs) grew 52% year-over-year in the first quarter of this year.
Even Amazon buys into Google Shopping.
That enough for you? Most people just use the basic shopping feed that their website generates, but there are so many ways that you can improve that feed.
For example, you could place bids at the SKU level to make sure that you are profitable on every product—or you could remove the products from your feed that aren't relevant to Google Shopping (like the $2 product that costs you $3 every time you sell it).
Miscategorization in the shopping feed is a really common challenge also. If you're having this problem, that means your products are not showing up in searches.
Keep an eye out for this challenge and optimize as soon as possible.
25. Throw Some Budget at Bing
Did you know that the default search engine on spotlight or Siri for the iPhone is Bing?
That's a lot of very qualified customers looking for your products and if you're not there, you're basically refusing to show up for them.
In Harris' experience, Bing typically only has about a fifth the search volume of Google Ads, but it often converts slightly higher, which makes it a great place to advertise profitably.
Let's say that you spend $20,000/mo on advertising. One-fifth of that would give you a budget of $4,000/mo on Bing.
If you can get a 500% ROAS or more on Bing, which is not uncommon, you could be missing out on $10,000 – $20,000/mo in sales because you are not allocating enough of your budget to the better performing platform.
That's enough return to make most companies reconsider the power of Bing.
26. Work with Influencers
One way that e-commerce business owners are reaching their target audience faster is by hiring and working with influencers on social sites like YouTube, Instagram, and TikTok. In fact, 80% of businesses find hiring influencers to be an effective marketing tool.
Reaching people through organic posting and social advertising is becoming increasingly saturated and expensive. As a result, more brands are choosing to invest their advertising dollars in other ways.
Consumers put a lot of trust in other people when it comes to making purchasing decisions. When deciding whether or not to buy a product, they turn to their friends, family members or even strangers who have already purchased the products before them.
Hiring a well-known influencer to provide you with direct access to your target audience will help boost sales and grow your loyal following.
27. Build a Video Marketing Strategy
Video has become an increasingly popular marketing tactic to invest in and it's predicted to be even more valuable in the year ahead. Consider the following facts about the popularity and business case of video from Buffer:
Over 8 billion videos or 100 million hours of videos are watched on Facebook every day
10 billion videos are watched on Snapchat every day
55% of people consume videos thoroughly — the highest amount all types of content
4 in 5 millennials consider video content when researching a purchase decision
4X as many consumers would rather watch a video about a product than reading about it
The right video can do wonders in helping you differentiate from competitors, boost brand awareness, connect with target customers, and sell more products—it's all about having the right idea and the right strategy in place.
Learn how other e-commerce brands are using video to grow their businesses and start creating content for your business today by reading more about growing your audience with video content and video marketing best practices.
28. Optimize Sales & Customer Support with Messenger Bots
As e-commerce experts look for new ways to communicate directly with customers, many have already implemented 24/7 access to customer support via messenger bots. Among 24/7 availability, there's several other benefits as well.
As more people adopt chatbots as a marketing tool, new software is being introduced that can help brands reach and communicate with their audience at scale. Messenger bots make it easy for businesses to initiate conversion-based sales, marketing strategies and customer support.
29. Collaborate with a Dream Partner
Another one of the best e-commerce growth tips for 2023 is to collaborate on a product with a like-minded partner that shares your values, mission, and focus.
You might be thinking to yourself: a product collaboration will take A LOT of time– and you're right. That's why it's important to get started as soon as possible!
To find the right partner to collaborate with, follow these steps:
Step 1: Make a list of the business owners you know personally or through a connection, and the dream partners you'd love to collaborate with. Compile contact information in a Google spreadsheet. Again, try to think of products that serve a similar audience as you, or sell products that would complement your own.
Step 2: Think about what kind of collaboration you'd like to propose. Have a few ideas in mind, but don't worry about making anything too official. Having a few rough ideas can help get your foot through the door and the person you're reaching out to is interested in talking more.
Step 3: Reach out to a few companies from your list, and work to finalize a collaboration partnership. Decide on an idea, set specific goals and budget, and build your timeline.
Step 4: Put a clear launch and marketing plan in place. Make sure that you and your partner are both doing the heavy lifting (and spending) when it comes to promoting the collaboration to your audiences.
After landing on a concrete plan, it's finally time to launch. Working with a brand that aligns with your own values offers many learning opportunities and room to expand your audience.
30. Reward Your Best Customers
To kick sales and product awareness into gear right away in the new year, consider rewarding your customers with small gifts in the first few weeks of January. The purpose of the gift is to thank your customers for their support. The goal is to get them talking about you and buying from you again.
Types of gifts include:
A restock of their favorite product, or one that they order regularly
A free sample of a new product that you're getting ready to release
A handwritten thank you letter with a gift card or promo code
A customized or small-batch VIP product that no one else will have the opportunity to purchase
Customer delight can be an incredibly powerful and effective way to grow your business. In fact, 86% of buyers are willing to pay more for a positive experience.
All you need to do is put a plan in place and execute it as early in the year as possible. Come up with a gift idea that you can send to a small group of your best customers. Package it and send it out before the end of the first week of January.
31. Keep Validating New Product Ideas
If sales slumped over the last few months of the year, or if sales have never been better, it might be time to consider introducing a new product. Before you invest too much of your time and money, however, it's important to try to validate your idea.
The easiest way to do this is by creating and launching a product page that allows people to pre-order your product. By launching a pre-order product page, you'll not only find out how interested your audience is in your new product idea, you could also fund much of the production costs with the pre-order sales that come in.
Think about a new product that you could sell in your store. Create a landing page or pre-order product page to send people to. Send traffic to your page by creating new, high-quality content, launching social media ads, and sending personalized email campaigns to segments of your audience that you think would be most likely to purchase.
32. Value Your Employees
The 2020 pandemic caused a shift in work mentality and triggered the "Great Resignation", driving many people to quit their day jobs. Companies across the country are struggling to satisfy their employees as many opt out of high-pressure positions.
In 2023, take time to rethink your employment model and brainstorm how you can show your employees that you value their time and effort. Rewarding your team, providing regular feedback and creating a positive work environment are great ways to show your employees you care.
Acting as a positive presence in the lives of your employees will help ensure you have a strong support system as you work towards growth in the new year. To learn more about how happy employees can help grow your business, enjoy the short video below.
Explore Growth Hacking to See What Works
Being a successful growth hacker doesn't involve following a uniform strategy — it's actually the opposite. The tactics that fail for one business may work wonderfully for another company, so you have to experiment with different methods to see which are best for increasing your sales.
The trick is to move quickly and iterate constantly. Don't just aimlessly try new growth hacking tactics after one strategy doesn't work — think about why your previous method failed and use that insight to choose your next move. With fast, informed growth hacking, you'll quickly find the best ways to scale your business and increase your sales.
Generating leads and growing your business is simple with the help of digital marketing experts. Engage and convert new customers today by visiting Marketing Insider Group's weekly blog content service.
Get a Free Consultation
for Content Marketing