Building a successful startup is more than just creating a viable business plan. It's also essential that your startup marketing strategy is crafted to drive awareness and exposure of your brand to the right audience. Content marketing for startups could mean the difference between failure and success.
The major aim of content marketing for businesses in the startup phase is to get the word out. When your business is new, nobody knows you exist. A lot of content marketing advice is aimed at more established businesses, but it won't do you much good if you haven't even built an audience yet.
Additionally, when you're just getting started, you're unlikely to have a big budget for marketing. For this reason, content marketing is an ideal fit as you can run a very successful content marketing plan on a very small budget.
We've put together this guide as an easy step-by-step process that any startup can follow if they want to make the most out of their content marketing.
Quick Takeaways:
When your business is just starting out, content marketing is one of the most affordable and effective marketing methods
Put in the time to really understand your audience before you start creating content.
It's vital to set goals and track KPIs to ensure you're getting maximum benefit out of content marketing.
1. Set Goals for Your Content Marketing
It's critical for startups more than any other kind of business to make sure they're being efficient with their time and resources.
When you're trying to get a new business off the ground, you're often working with a small budget, a small team, and there are hundreds of business tasks that need your attention.
This is why startup founders have such long working hours – 80-hour weeks are common. When you're starting a new business, you're probably bootstrapping or working with other people's money, and the pressure is on. You're trying to do everything yourself and juggling many different things, all of which are critical to your business.
The last thing you want to do in this situation is waste time on marketing activities that end up not bringing you any benefit.
This is part of the reason why content marketing should be a major part of marketing strategy for most startups, as it offers a higher ROI than other types of marketing.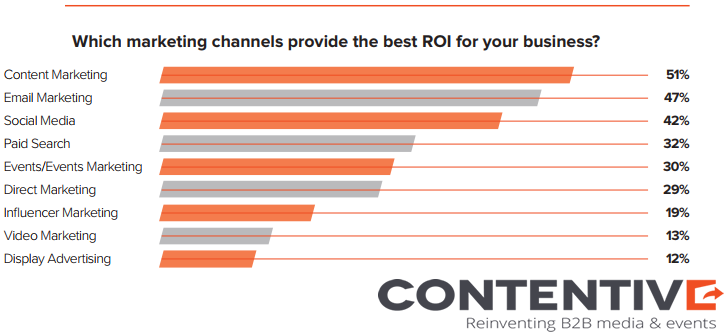 But you can't just assume a scattershot approach to content marketing and expect to achieve an impressive ROI without a strategic approach. It's essential to set goals and review regularly to ensure you're staying on track and being efficient with your time.
When you're setting goals, it's best to focus on a few main key performance indicators or KPIs. But before you can choose these KPIs, you need to have a clear idea of what exactly you want to achieve from content marketing. This might include:
Building brand awareness and trust
Driving traffic to your website
Increasing followers and engagement on social media
Generating leads and sales
Of course, most businesses will have all those goals and more. But it's best to concentrate on a few main goals when you're just getting started. Once you've nailed down your primary goals, you can define KPIs to measure and track.
Your KPIs will be related to your website, email, and social media metrics and should normally define specific numbers such as:
A specific number of people on your email list
Increasing your website traffic by a certain percentage
Achieving a specific number of social media shares
Improving your search engine rankings by aiming for a specific SERP position or increase for your main keywords
Increasing your brand mentions online by a specific percentage
Reducing your website bounce rate to a set percentage
Achieving a specific number of whitepaper or e-book downloads each month
Increasing your conversion rate by a specific amount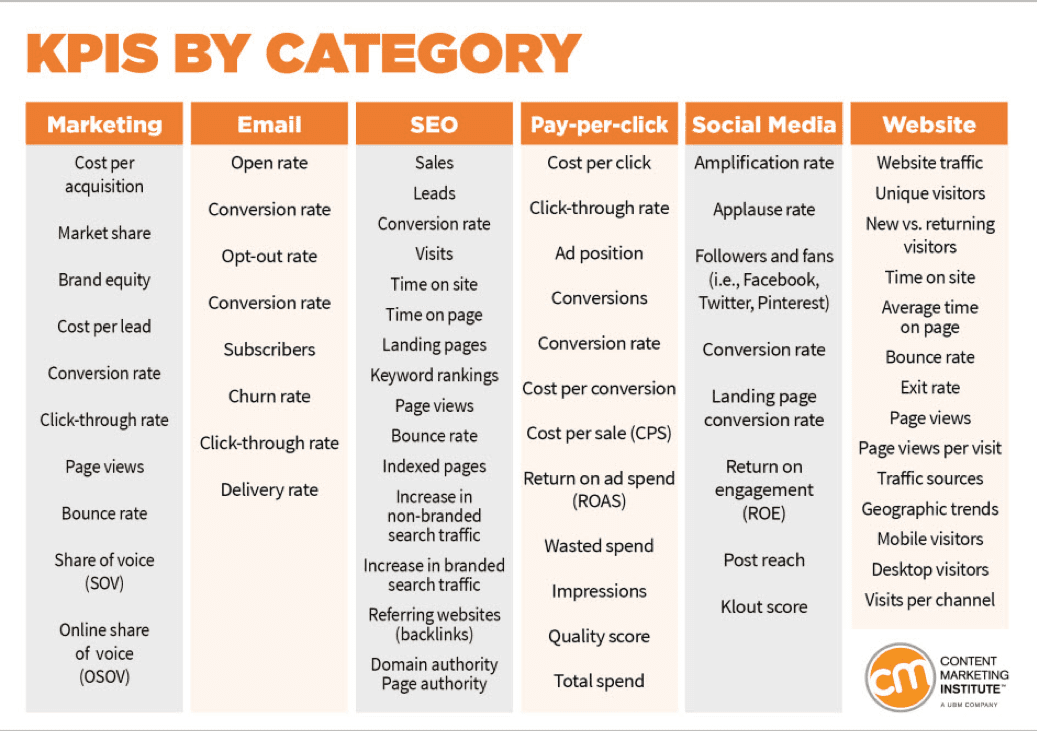 2. Define and Understand Your Audience
The next step is to develop a really clear understanding of exactly who you're speaking to when you create your content. This is an important process to go through as if you miss the target here, you'll be limiting the effectiveness of your content, no matter how high-quality it is.
A good tool for understanding your audience is by developing buyer or audience personas that represent key segments of your audience.
An audience persona is a fictional character that represents this particular audience segment. When you're creating content for an audience, it can be difficult to picture who you're writing for. A persona provides this mental picture and description for you, and it can help you to create better content as you're always writing with this person in mind.
The idea is not to create these personas out of thin air, but to research your current audience and target market so you can understand them better. Make sure this research includes:
Demographics such as age, gender, location, and income
Their likes and preferences
Their needs, problems, and challenges
How they spend their time online (including which social networks)
What type of content they prefer to consume (short social media posts, long-form blog posts, infographics, or videos?)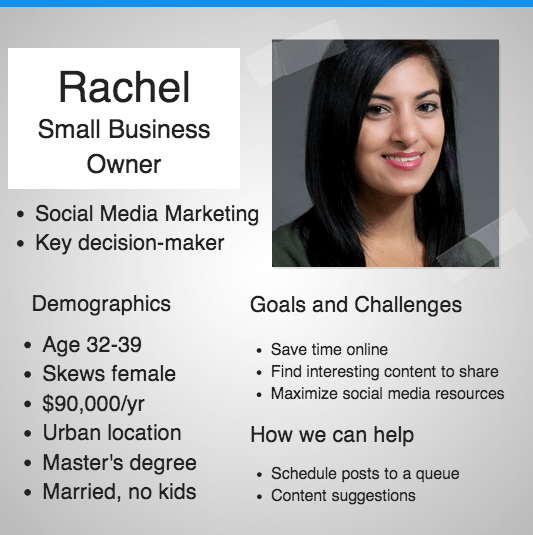 Your research should also include the questions your audience is asking, and how you can help them by providing the information they're looking for. The basis for this is keyword research, which will also give you insight into what sort of content you should create.
3. Research Competitors and Existing Content
As well as researching your audience, it's well worth investing some time in researching your competitors and other established businesses in your industry or niche.
What sort of content are they producing? Which content is seeing the most engagement? How is their audience communicating with them online?
Researching and answering these questions based on the most successful businesses in your space will give you a blueprint to follow to see success yourself. AI and automation software can help a lot here. Try out the plethora of competitive intelligence tools available in the market and use a couple that work well for you.
Of course, this doesn't mean copying all the content on another blog. But if you can see what type of content is performing best, you can save time and maximize your ROI by creating a similar kind of content yourself.
4. Plan Out, Publish and Promote Your Content
By now, you should have a good idea of what kind of content you're going to create and where you should publish it.
The next step is to plan out your content marketing activities in a content calendar. Your content calendar will help you stay on track with content production and promotion, and ensure that your content marketing is aligned with your overall marketing strategy.
No matter how limited your time and resources are, it's important to stay consistent with your content plan. Publishing a burst of new content for a few weeks and then going silent for months will do you no good at all. It's critical to stick to a regular publication schedule, and a content calendar is the main tool for helping you do this.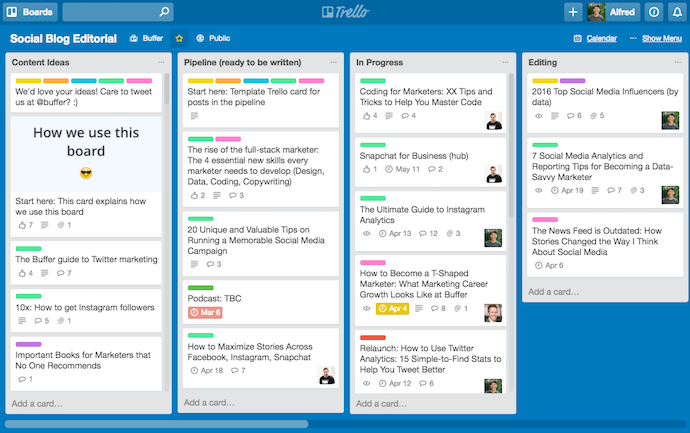 Content marketing isn't just about publishing content, and it's also important to make sure you're promoting your content in the right places. Your audience research should guide this, and most startups use a variety of content promotion tactics, including social media, email marketing, SEO, and third-party distribution.
SEO is the other side of the content marketing coin, so make sure you find some affordable SEO services and include it as a basic add-on in your content marketing budget
Content marketing tools can also be an effective way to manage and automate your content promotion efforts.
5. Analyze and Review Your Content Success
Your job isn't over once you've published a piece of content and promoted it on your major marketing channels. A key step that can't be overlooked if you want to achieve success in content marketing is continually analyzing your content campaigns so you can identify what's working and where you can improve.
This is the point where you refer back to your KPIs so you can measure your progress and optimize your content processes. You may not hit all your content goals as soon as you'd hope to, but this is OK. As long as you're tracking progress and identifying areas for improvement, you'll be ensuring your content marketing success and efficiency are increasing over time.
If you are ready to get more traffic to your site with quality content that's consistently published, check out our Content Builder Service. Set up a quick consultation, and I'll send you a free PDF version of my books. Get started today and generate more traffic and leads for your business.