90% of startups fail – many of them in the first year. This means that knowing how to market yourself effectively, and cost-effectively, is critical.
Once you have validated product-market fit, it's time to get the word out, acquire those first new customers, and learn how to scale growth. As I learned in my first startup, growth is an engine. And once it's up and running, you just have to keep adding fuel and test different ways to accelerate and scale that growth.
Besides revenue and growth and getting new customers, you know what else is important in year one: cash flow and predictability. A couple of bad months could break you – particularly if you're a bootstrapped startup.
This means it's key that your startup marketing plan isn't reliant upon hiring more salespeople and spending money on ads no one wants. Startups need to find those cost-efficient marketing approaches that are proven to get that growth engine going without breaking the bank.
And it doesn't happen overnight. Growth requires small, incremental improvements over time. And that consistent improvement multiplied over time delivers massive compounding "hyper growth."
So how do you find those critical first customers for your startup and the resulting revenue should play a big part in your year-one marketing strategy.
Let's take a look at what else you should be doing, and link you to some pretty awesome resources that will talk you through each step in more detail.
Identifying and Understanding Your Audience
Before you can do anything else, you need to know who you're marketing to – it's the only way you'll be able to target them effectively.
If you've done your market research, you should have a pretty solid idea of your target audience – however, you can, and should, do much more to ensure you truly understand your audience and what makes them tick.
Personas Are Great Except When They Suck
Developing personas of your ideal target buyer may seem, well, sooo last decade. But in fact buyer personas can be extremely helpful. While creating a mood board for "Millennial Mary" and "Boomer Bob" is exactly as ridiculous as it sounds, identifying the questions your buyers ask, the content your buyers want, and the channels where they consume it can inform your marketing strategy.
How To Build Your Buyer Persona (Infographic)
Building a crystal-clear picture of your typical customer is key to devising a strategy that works. This is an article I earlier this year that lists the recipe for building buyer personas that work.
20 Questions To Ask Your Target Customers
This article from Hubspot defines the 20 most important questions you should be asking your target customers in order to create a profile of their pains, challenges, wants and needs.
Knowing Your Audience: 7 Questions To Get to Know Them Better
Knowing your audience is central to any marketing strategy. So how do you get to know them? MarTech Columnist Timothy Carter discusses seven ways to learn more about your target audience so your marketing attracts the right people.
10 Ways Predictive Analytics Can Help You Achieve Your Marketing Goals
One effective way to build unique experiences for your customers is by using predictive analytics. Using critical consumer data can help you understand how your audience is engaging with you and how you should adjust your strategy in line with this.
The Ultimate Guide To Startup Marketing for SaaS
SaaS startups face several challenges when marketing their services to prospects. From brand name awareness, to lead generation, marketing your SaaS business requires maximum ROI for the lowest cost.
That's why SaaS companies win with content marketing. The results are measurable, and the costs are low. It's also why we use a SaaS-based model with our own content marketing. Small but steady investments can produce big gains, no matter how saturated your market might feel.
Setting Goals
The best-performing marketers set tangible, achievable goals for themselves and their campaigns. They do this because goals help them (and their team) focus their efforts, understand what they're trying to achieve, and measure their results.
In your first year, the goalposts might be changing regularly. This means you'll probably want monitor your progress and adjust goals accordingly at close intervals.
How to Set Marketing Goals You Can Actually Achieve
Set the bar too low, and your team might not be pushed to do their very best. Set the bar too high, and failure to achieve goals can damage morale. Getting the balance just right is key to maximizing results.
How to Set SMART Marketing Goals [Free Template]
While your goals should of course be "smart," SMART is actually an acronym for:
     Specific
     Measurable
     Attainable
     Realistic
     Time-bound
SMART describes exactly what your goals should be comprised of. The template above will make setting goals that meet the SMART criteria easy.
How to Set Marketing Goals Based On Business Goals
Your marketing goals are intrinsically tied to the goals your business is striving to achieve, but setting goals isn't as simple as saying "We want to grow our business and make more money." That part is obvious. This article shows how to tie the specific goals of your business in with the targets you set for your marketing campaigns.
The Affordable Guide To Content Marketing for Startups (KPIs Included)
The startups we work with love to share their passion with customers by providing them with exceptional products or services that they will love. But, to get customers on board, you need to build a brand that is going to create interest and instill loyalty in your startup. You must maximize your brand storytelling but you also need to be accountable to the right KPIs. This article will help.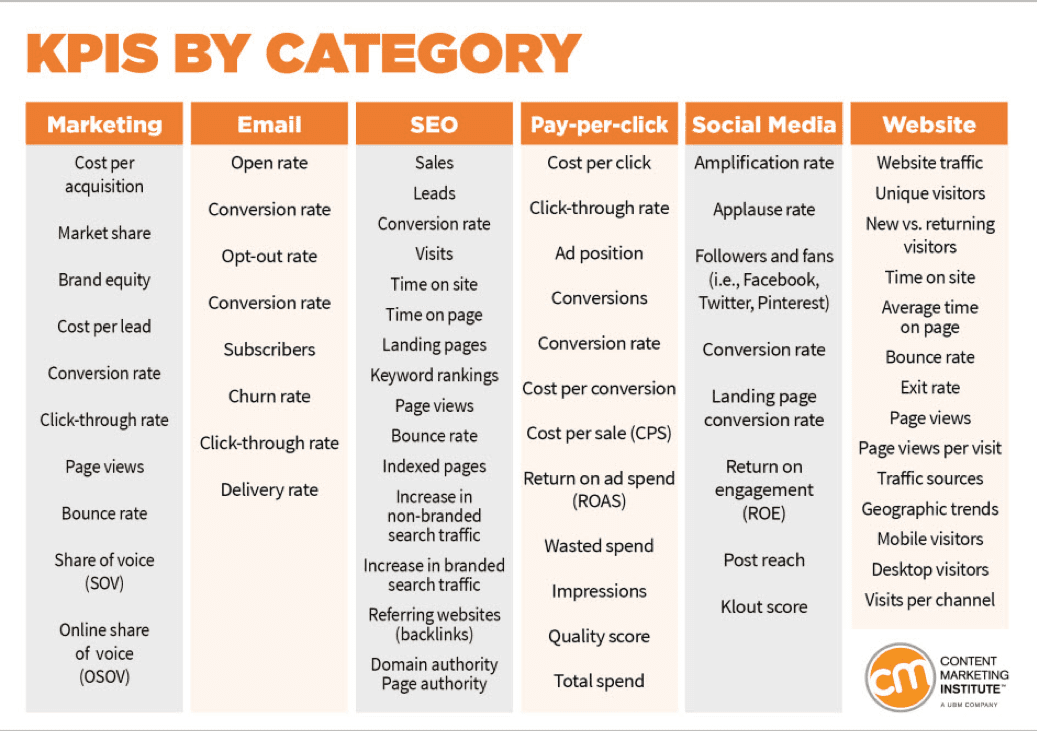 Performing Keyword Research
Keyword research ensures you target the right keywords on the right pages of your site.
It also plays a key (pun not intended) role in understanding your market. It should be a priority in every startup's marketing plan.
Many marketers' go-to keyword research tool is Google's own Keyword Planner. That's fine – Keyword Planner's a great tool – but it's only really useful for identifying generic, head terms (and terms that are very closely tied to your original search).
There are many more layers to a good keyword strategy. The articles below will help you dig deeper, discover how your audience thinks, and uncover the questions they're really asking.
How To Do Keyword Research For Beginners
This guide from Hubspot is great for those who want to dive in and spend some time doing it themselves. I personally think SEO should be outsourced to the experts and as a founder, would rather spend my time on things where I have the experience to add value for our clients. But hey, I appreciate those who like to do things themselves and learn
Keyword Research: The Definitive Guide
Spanning seven chapters, Backlinko's definitive guide to keyword research will take you through the basics, show you how to use keyword tools including Keyword Planner (and how to understand its limitations), help you identify long-tail keywords, and demonstrate the importance of commercial intent and keyword competition.
10+ Keyword Research Tools for SEO
This article takes a look at 10+ tools, at various price points, which can help you execute keyword research for SEO.
Driving Organic Traffic
Organic traffic is free, and once you have it, it tends to remain pretty steady. It's damn important. Unfortunately, getting your site into a position where it will receive a good amount of organic traffic isn't easy. It usually involves a heavy-handed combination of technical fixes, on-page optimization, and an off-page strategy designed to drive links.
It also takes time.
SEO doesn't reach completion in a week, a month, or a year. It's an ongoing process that really should continue for as long as you want traffic to come to your site. Here's one example of a client that saw steady and then massive growth in the 6th month.
Moz's epic "Beginner's Guide to SEO" has been read more than 3 million times. It's no mystery why: it's awesome. It's also updated regularly, which, in an industry that changes shape as fast as SEO, is really important. Read it. Bookmark it. Read it again in 6 months.
How Your Small Business Can Gain Massive Organic Growth
As a small business, your content strategy is the key to getting yourself seen. It drives traffic to your site, increases conversions, and strengthens your brand.
Creating blogs that rank, and rank well, isn't easy — but it's not impossible. This article covers how to write and rank content that customers and search engines will love.
15 SEO Tips and 9 SEO Best Practices
These are the tips and approaches to SEO that evert startup should use to grow blog traffic, gain awareness, get more leads and oh, without spending money on ads.
How To Find and Fix Common Website Issues
You've built an amazing website. This article shows you how to optimize your website for traffic, rankings, leads, and sales. You've invested so much time and energy into launching your new website and brand, so now it's time to make sure it's working for you.
Startup Branding and PR
The explosion of the internet has changed PR practically beyond recognition.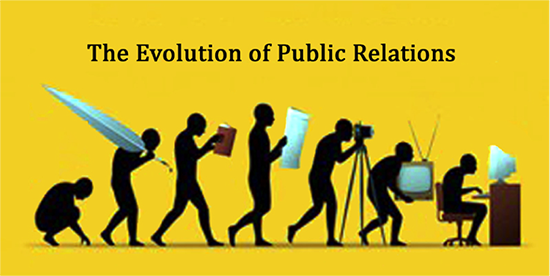 Today, digital PR is just as, if not more important than, offline PR. Executed correctly, it can be a significant driver of links and traffic – it's not just about press coverage and brand visibility anymore.
However, what marketers need to remember is that while PR can be a great way to build your brand and supplement your SEO strategy, it doesn't tend to be a direct driver of sales.
While that might be discouraging to the C-Suite, good marketers should know this doesn't mean PR is not worth investing in. There are many things that make consumers buy, one of which is knowing and trusting a brand. PR can, and should, play an important part in this.
Everything You Need to Know About PR To Do It Yourself
This is a pretty comprehensive introduction to tackling PR yourself, from understanding what PR entails, to key ground rules you should adhere to and what's actually involved in getting the press to cover you.
Complete Guide to Public Relation Tools
This massive list of 140 PR tools can help support and supplement your efforts.
The Ultimate Guide To Brand Building Your Startup
Making the decision to create your own startup is both exciting and daunting. You are about to bring your passions to life and make a living doing something you love. More importantly, you get to share that passion with customers by providing them with exceptional products or services that they will love.
But, to get customers on board, you need to build a brand that is going to create interest and instill loyalty in your startup. You must maximize your brand storytelling by ensuring consistent character and feel in everything you produce.
Content Marketing
Content helps build brand awareness and links. If you want to improve your performance online, you need to be investing in a content strategy.
Optimized content can rank in the search results and drive qualified traffic to your site. Shareable content can be promoted and drive links. Conversion content can target visitors at every stage of the sales funnel and turn a potential customer into a real-life, revenue-driving customer.
In short: content helps your site grow. Without it, you risk your website stagnating.
Best of all, a content strategy doesn't have to cost the world. The little guys can, and do compete.
Before you do anything else, you should probably come to grips with what content marketing actually is. In this article, I try to show you what it is, what it isn't and also how to show others how it is different from what most brands do (promote themselves).
The 12-Month Content Marketing Strategy for Startups
When you start a business, there's a lot on your mind: how to fund all the equipment you'll need, how to keep track of revenue and expenses, how to produce your goods and services economically enough to make a profit, and how to get the word out about what you offer. A content marketing strategy? Yeah it's important. So we've got you covered.
In this article, we show you the importance of consistency in making your content marketing effective. How often is enough to start showing results. This is the research that led us to the founding of our blog subscription service.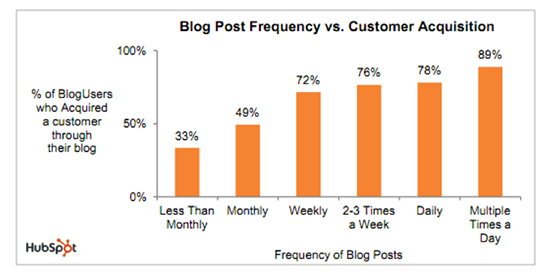 How To Write The Perfect Blog Post
This article demonstrated everything we learned in writing and analyzing weekly blog posts  for nearly 30 companies over the last 3 years. This includes the 20-point checklist we use and the template we recommend for every article page.
Social Media Marketing For Startups
Social media allows you to engage with your audience and begin turning customers into brand advocates. It can also help drive traffic to your site. But one mistake we see all the time with startups is they go hire a young kid or an agency to post on social platforms before they even have a content marketing strategy.
Social media only accounts for around 2% of company website traffic and even fewer leads. Even e-commerce companies only get less than 5% of sales from social media and most of that is paid!
Social media is important for your business. But it is not enough to drive your growth. So don't make the mistake of investing in social media until you have a solid content plan in place.
We recommend you keep a pulse on the latest trends in social media but try and focus on just one or two social media channels as quickly as possible. The biggest insights come from understanding how consumers respond to your brand, and if it helps you to begin building an audience, that's just a bonus.
The Beginner's Guide to Social Media
Here's another seriously awesome guide from those same wonderful people at Moz who brought us "The Beginner's Guide to SEO." This time, you'll learn about the value social media offers, best practices you should follow, how to measure success, and which channels you should be using.
132 Social Media Case Studies: Successes and Failures
Links to 132 case studies of social media done right, and social media done wrong. Read them, learn from them, and don't make the same mistakes yourself!
Email Marketing
Despite what some people may believe, email still matters.
"While email is a comparatively old, un-sexy technology compared to social media, the rallying cries of "Email is dead!" are simply inaccurate and undoubtedly hurting the bottom line of those businesses who listen.

Email marketing provides the most direct line of communication for turning leads into sales, which is why the savviest entrepreneurs have no intention of giving it up any time soon." –  Help Scout
In fact, data from email analytics company Litmus showed email offers a better ROI than PPC and banner ads, and a higher conversion rate than organic search and social combined.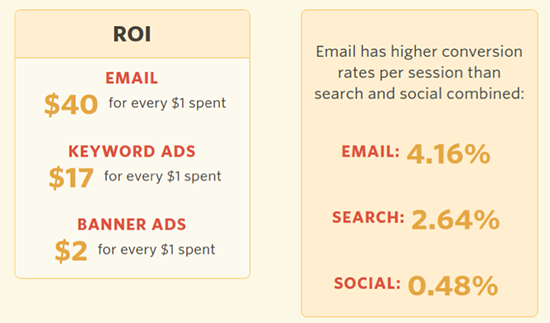 The Essential Guide to Email Marketing for Startups
Email marketing is a vital tool startups should use to reach customers, leads, and investors. Amazing email marketing starts with incredible content – both throughout email and elsewhere. Startups then need to figure out how to distribute all that amazing content in email in order to get and nurture leads.
How to Start an Email List from Scratch and Get 205 Subscribers in 48 Hours
This is a comprehensive strategy for taking your email list from absolutely nothing to at least something, in just 48 hours.
25 Simple Ways to Grow Your Email List
Getting those first few emails always feels the hardest. Once you're over that hurdle, here's 25 tactics you can use to keep it growing.
The Lean Startup Guide to Email Marketing
Here's an introduction to email marketing written specifically for startups, with a focus on how to learn what works.
49 Email Marketing Tips for Beginners
As the name suggests, here are 49 email marketing tips specifically for beginners, focusing on five key areas:
  Getting started
  Content
  Subject line
  Sending your email
  Managing subscribers
8 Ways to Segment Your Email List to Maximize ROI
You wouldn't send the same email to your best friend and your grandparents, so why would you put your entire email list into the same box? This article will talk you through eight different ways to divide your email list so you're sending the right messages to the right people.
It's been proven to work very well.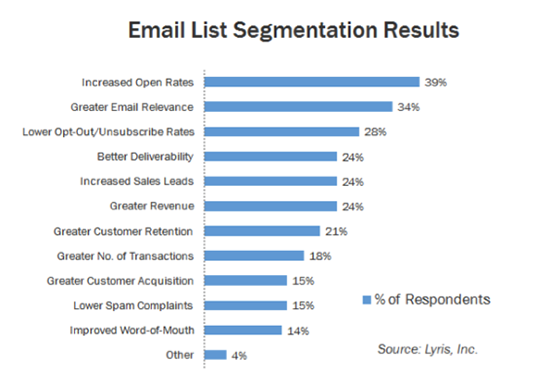 Everything I've Learned About Email Marketing
This article is a firsthand account of the ups, downs, and lessons learned from using email marketing to build a blog and a business.
Relationship Marketing and Customer Retention
Relationship marketing is about building long-term relationships with your customers. It's a more sustainable way of looking at building a customer base, rather than focusing all your efforts on securing that next sale.
I believe that relationships and customer retention marketing is so important and yet it actually is more like the lost art of marketing.
The goal of relationship marketing is to get your customers to want to stick around and keep buying from you. The consequences of this are:
  A higher customer LTV (life-time-value)
  More referrals and free word-of-mouth marketing
If your focus in the first year is to get as many customers as possible, stop, sit back, and take another look at what you're doing. Chances are it will pay dividends to focus on retaining and keeping a smaller group of customers happy, instead.
How To Use Content Marketing for Customer Retention
However, in today's world, where we can utilize predictive analytics tools to create highly personalized experiences for customers, it's critical to focus on delivering value over making a sale or focusing too much on cost.
Providing real value today and consistently into the future will help you connect with customers on a deeper level. They'll be more likely to remember you, admire you, trust you, and work with your business long term.
How to Rock at Relationship Marketing Like the Best Sales Pros
The best salespeople know that their ability to close a sale rests on their ability to forge a connection with the person they're selling to. This article details what those salespeople can teach us about relationships in marketing.
Implementing a Framework for Growth
The overriding goal of every marketing strategy is growth. However… you can actually boost the effectiveness of your marketing by implementing a framework designed specifically to drive it (growth, that is).
Growth is one of my favorite areas. I love implementing strategies to grow my own businesses, and even more, I love helping other companies to grow theirs. From helping one non-profit grow by 5x in one year to helping another marketing services firm double their leads in 6 months, growth is the name of game.
Since growth is sorta my "thing," I'm going to throw out some ideas for driving growth that we haven't covered.
Growth Hacking
Growth hacking is a term coined by entrepreneur Sean Ellis in 2010 to describe people and organizations who use creative, experimental approaches to drive fast growth on a budget. Since then, it's become a marketing industry buzzword and growth hacking strategies are being embraced across industries.
More than ever, it's clear that organizations of every size, shape, and industry must be innovative and agile if they want to survive, and growth hacking is one way to do it.
6 Growth Hacking Strategies You Can Get Started With Right Now
Using The Right Tools
As a growth hacker, I love to find tools and tricks to help me find the insights, cheap the system, win new customers – all without spending too much money. So finding and using the right startup marketing tools is one way to get there.
The 50 Best Startup Tools To Grow Your Small Business
Lead Generation
In order to grow your business, you need to find a way to manage leads. No one wants to chase leads that have no chance of converting.
An Inquiry vs. A Lead: What's The Difference?
One of the earliest lessons I learned in sales and as a startup marketer was to track the difference between inquiries and real sales leads.
We also need to learn to get creative in building more leads. In this post, I talk about some of the more creative ways I have found to get the job done.
Strategy and analytics are your best friend when it comes to lead generation. Here are the top five reasons your lead generation campaigns may be failing.
Influencer Marketing
Influencer marketing is huge right now. However, just like brands jumping on social media platforms that don't provide much lift or growth in traffic or leads, influencer marketing needs to be examined objectively.
Influencer marketing is probably not the holy grail many brands think it could be. But if done right, it can help to amplify your content and find new audiences.
I've been talking about influencer marketing for a while. My own initial strategy involved making lists of top marketers who I thought were doing and sharing cool things:
Once I had a list of people I'd like to work with, I reached out to them on social media or via email and let them know I mentioned them. I also asked them for quotes, to share the content, to subscribe to our newsletter, and in some cases to guest write for us.
Building this volunteer army of content contributors and a community of sharing helped us to get amazing content from really smart people and also helped us to amplify our content overall.
Ok this is article is nearly 4,000 words long so hopefully you found more than enough in this post that will help you to grow your startup through growth marketing in year one.
What do you think about marketing a startup in year one? Are there any strategies you believe companies definitely should or shouldn't invest in? Feel free to share your thoughts using the comments below. And if you're interested in getting our help, contact us using the link above.